Get the style you want with the Pujie Black Watch Face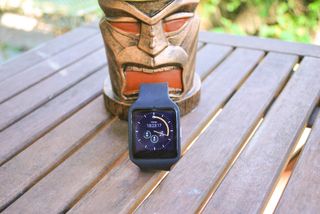 Some watch faces are built to catch your eye, others to supply all the info you could possibly need at a glance, and yet others are filled with more options than you can shake a stick at. Pujie Black Watch Face tries to go for all three, and manages to do it well. This app is really more like several watch faces in one, with its wide array of options for you to choose from. It's well designed, and made to be customized.
If you've ever craved enough customization options that you could get lost for an hour then the Pujie Black Watch Face for Android Wear is probably right up your alley. With all of it's many customization options, you can tweak just about everything about the face.
The watch face has an understated look, but packs plenty of information. You get an analog, and digital display of the time down to the second. Above the digital time readout is the date. Below it you have three information indicators. Each one gets an icon, and the three displayed by default are the battery lives of both your smartwatch and smartphone, along with a readout of the weather.
While the design of the face is pretty awesome, it's also entirely customizable. Everything from the color of the face, to the style and font of the numbers, to how the date is displayed, to what information is displayed through your indicators. Thankfully your options are broken down into several tabs; Analog Clock, Digital Clock, Calendar, Indicators, Background, Tick Marks and Numbers, and Miscellaneous. Style, Format, and Font are your most common options across all the tabs, but they have exclusive options as well.
You get a preview of all your changes to the face before you export them to your smartwatch, which makes it easy to make sure things look the way you expect them to. When you are finally ready to set a custom face you just need to save it, and then export it. To do this just use the buttons at the top left of the app. On the other hand, if all these options are a bit daunting, then you're still in luck. The Pujie Black Watch Face comes with no less than 14 different preset faces for you to choose from already on your phone, or there is the huge Pujie Wear community over on Google Plus.
Pujie Black Watch Face is an absolutely fantastic watch face to use. With all of it's options, you can easily change and tweak things so that this face changes to suit your needs. With custom colors, or a palette you can get to precisely what you want. With access to the additional custom faces on the Pujie Google Plus community, it has hundreds of options for you to take advantage of. So is Pujie Black Watch Face already your favorite, or will you be trying it now? Let us know what you think.
Get the Android Central Newsletter
Instant access to breaking news, the hottest reviews, great deals and helpful tips.
Jen is a staff writer who spends her time researching the products you didn't know you needed. She's also a fantasy novelist and has a serious Civ VI addiction. You can follow her on Twitter.