Get the style you want with the Pujie Black Watch Face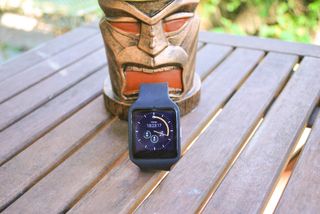 Some watch faces are built to catch your eye, others to supply all the info you could possibly need at a glance, and yet others are filled with more options than you can shake a stick at. Pujie Black Watch Face tries to go for all three, and manages to do it well. This app is really more like several watch faces in one, with its wide array of options for you to choose from. It's well designed, and made to be customized.
If you've ever craved enough customization options that you could get lost for an hour then the Pujie Black Watch Face for Android Wear is probably right up your alley. With all of it's many customization options, you can tweak just about everything about the face.
The watch face has an understated look, but packs plenty of information. You get an analog, and digital display of the time down to the second. Above the digital time readout is the date. Below it you have three information indicators. Each one gets an icon, and the three displayed by default are the battery lives of both your smartwatch and smartphone, along with a readout of the weather.
While the design of the face is pretty awesome, it's also entirely customizable. Everything from the color of the face, to the style and font of the numbers, to how the date is displayed, to what information is displayed through your indicators. Thankfully your options are broken down into several tabs; Analog Clock, Digital Clock, Calendar, Indicators, Background, Tick Marks and Numbers, and Miscellaneous. Style, Format, and Font are your most common options across all the tabs, but they have exclusive options as well.
You get a preview of all your changes to the face before you export them to your smartwatch, which makes it easy to make sure things look the way you expect them to. When you are finally ready to set a custom face you just need to save it, and then export it. To do this just use the buttons at the top left of the app. On the other hand, if all these options are a bit daunting, then you're still in luck. The Pujie Black Watch Face comes with no less than 14 different preset faces for you to choose from already on your phone, or there is the huge Pujie Wear community over on Google Plus.
Pujie Black Watch Face is an absolutely fantastic watch face to use. With all of it's options, you can easily change and tweak things so that this face changes to suit your needs. With custom colors, or a palette you can get to precisely what you want. With access to the additional custom faces on the Pujie Google Plus community, it has hundreds of options for you to take advantage of. So is Pujie Black Watch Face already your favorite, or will you be trying it now? Let us know what you think.
Jen is a staff writer who spends her time researching the products you didn't know you needed. She's also a fantasy novelist and has a serious Civ VI addiction. You can follow her on Twitter.
This watch is my daily driver on my moto 360. I have tried others but always prefer Pujie.

I've used this for a while now. I love the animations as it comes to life from ambient mode and vice versa! The customizations are just the icing on the smartwatch! FYI, the developer is great with help too! Posted via the Android Central App

Been using this app since December on my G Watch R. This, Ranger, and Google Fit are my go-to watch faces.

After I found out about Watchmaker, I have trouble using any other watch faces - let alone paying for them.

have tried all kinds but once I found this one, i've never looked back, this watchface does it so well and devs stay on top of bugs/issues release timely updates and new features. Couldn't be happier, I recommend this to everyone i see with a wear watch! Now if sony could fix that battery drain bug, i could wear both my smartwatches equally! -__-

I read that as "Pujie Black Face Watch"...yikes! Posted via the Android Central App

Been my 360 Watch Face for a long time. I've tried others (paid, free and custom), but keep coming back to this one Posted from my XT1080M

I use this watchface and really like it. My one complaint would be that it never seems to report the same amount of steps that I see in Google Fit or Moto Steps (on the Moto360). It usually ends up reporting a step count that is much higher than what the watch itself reports. Not a deal breaker and otherwise the watchface is excellent. Posted via the Android Central App

+1 Posted via the Android Central App

I have the same problem with the step counter too.. Really high count. - Love the watch face on my Sony SW3

What's great about this face is that it's great on battery life. Posted via the Android Central App

I used to love Pujie Black, but the past couple updates have turned it into a battery hog. I've tried so many setting changes trying to reduce battery usage, but I can't get more than 12 hours with Pujie running on my Gear Live. On the other hand, with Classic Dials watchface, at the end of a 16 hour day, I still have over 40% battery life remaining on the Gear Live (and my Nexus 6 battery has more remaining too).

One word describes this watch face maker. FABULOUS! Great job guys! The possibilities are endless!

ive been alternating between pujie and watchmaker but id say more time has been spent with pujie

Never looked back on my Moto 360, truly amazing piece of work! Posted via the Android Central App
Android Central Newsletter
Thank you for signing up to Android Central. You will receive a verification email shortly.
There was a problem. Please refresh the page and try again.