Soon after Cyber Monday comes everyone's favorite season! No, not that season. Tax season! Whoooo! Who's excited? I know I am. And you should be, too, because you can get a head start on it with Cyber Monday deals covering H&R Block tax software. Grab the Deluxe package with 1 state program download on sale for $22.49 from $45.
If you don't need to file your state taxes you can get the federal version of Deluxe for just $17.49. That's a discount from its regular $30 price. If you're self-employed, upgrade to Premium 2019 for $32.49, which is down from its regular price of $54, or take $30 off the Premium and Business 2019 software, which includes corporate tax returns.
No matter which one you choose, you'll save a little extra with a 4% refund bonus in the form of an Amazon gift card. You need to allocate some of your federal refund to the gift card to get this bonus.
Yay taxes!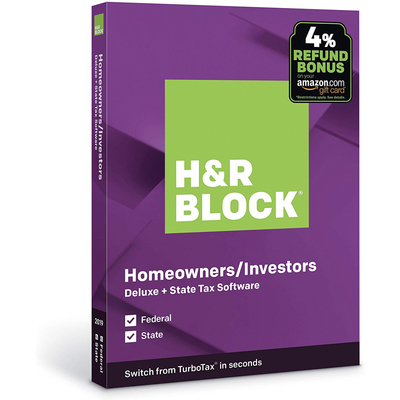 The software comes with five free federal e-files and unlimited federal prep. You'll also get one state program download. Guides you on maximum deductions and reporting assistance. Quickly imports your W-2 and other forms.
$22.49 $45.00 $23 off
The basic version of Deluxe includes five free federal e-files with unlimited federal preparation and printing. You'll also receive guidance on maximizing your mortgage interest and real estate tax deductions. The software gives you reporting assistance on investments, stock options, home sales, and more. You can even quickly import your W-2, 1099, 1098, and last year's tax return.
If you upgrade to the Deluxe + State, you'll also get one state program to download in addition to all the other stuff. If you know you have to file state taxes, this is the one to go with since that's basically an extra $40 for free.
The Premium version for the self-employed includes advanced Schedule C guidance for maximizing self-employment income with Schedule E guidance for rental properties.
Premium and Business version includes step-by-step Q&A for all available credits and deductions. You'll be able to file corporate and S corporation tax returns, partnership and LLC tax returns, and nonprofit tax returns. Go with this version if you need to create payroll and employer forms.
All of the software comes with live help via chat and a Help Center that contains thousands of informative articles to get you through the process.
We may earn a commission for purchases using our links. Learn more.