Gear S3 to support Samsung Pay even without a Samsung phone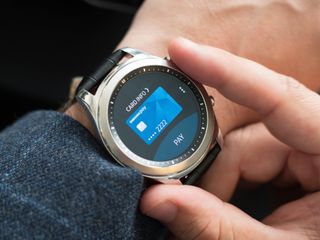 While most of the Gear S2's features work just fine when paired to a non-Samsung phone, Samsung Pay was off-limits unless your watch was paired to a Galaxy device. On the upcoming Gear S3 watches, it looks like that's no longer the case. The Samsung Pay Twitter account has confirmed to AC that the service will work just fine on the watch, when paired with any phone running KitKat or above.
To be clear, this doesn't mean you'll be able to use Samsung Pay on your non-Samsung phone independently of the watch, just that payments will apparently work on the watch without the requirement to use a Galaxy phone.
What's not clear is exactly how this will work. Obviously inputting card details on the watch directly wouldn't be ideal, so some sort of partner app on the phone would be needed. However, at present the Samsung Pay app is exclusive to Samsung phones. We've reached out to Samsung for further clarification.
It's also unclear whether both MST and NFC payments will be supported on the watch when paired to a non-Samsung device.
At the very least, though, it's a sign that Samsung wants to remove some of the barriers to entry for its payment service.
Get the Android Central Newsletter
Instant access to breaking news, the hottest reviews, great deals and helpful tips.
Alex was with Android Central for over a decade, producing written and video content for the site, and served as global Executive Editor from 2016 to 2022.
Very interesting development

Hey I reported this comment by mistake, sorry there was nothing wrong with what you said I just have fat fingers this morning I guess.

According to the spec sheet it does

Ordered mine this morning from T-Mobile should have it on Monday. It'll be paired with aS7 edge, but can't wait to try the Samsung pay without having it paired to my phone. I go without my phone when in the mountains or while fishing. Hate to fall in the river and crack the screen on a rock.... So having just the watch with me works great!

"...the service will work just fine on the watch, when paired with any phone running KitKat or above." This tells me it only works when paired with a phone, so I think you'll still need your device nearby.

If he has the LTE version from Tmobile, which I'm assuming he would, then he won't need the phone at all.

The launch for the S3 has been so rocky...it's supposed to go on sale today, but all I see are "pre-register" and "pre-order" buttons everywhere. I'll probably canvas BB/T-Mo stores today to see if any are actually in stock. Weird launch for sure.

Hi coolbreeze, Even I've preordered S3 with ATT. Status still says "In progress" and shipping date is Nov 18 today. Keep your status posted here if you get to see the watch in Tmobile store or bestbuy. This is just to confirm it had actually hit the market today. Thanks

This is good news, Coolbreeze78 will be glad to hear this.

Lol yep. Now I wonder what else, if anything is crippled by a non Samsung phone. I may buy this now... For some reason I'm skeptical of Samsung's response. It may be a social media clown mis-stating the facts. Isn't it supposed to launch today?

Now I'm really confused. On Samsung's website the fine print states that you can do around 5 transactions, depending on the card, without the need of a Samsung phone. Once the limit is reached out needs to sync back to the Samsung Pay app on the Samsung phone. I hope this article means they've changed it.

The only thing I can think of is Samsung will put the Samsung Pay app on Google Play for non-Samsung devices. This would be a very smart move, MST omission aside. NFC still works and they increase their adoption rate/market share for Samsung Pay. I'd use it on my Pixel XL...

Other than MST though, what benefit is there to using Samsung Pay over Android Pay? Only things I can think of are like the promotions Samsung Pay has and the cards supported, but personally all of my cards are supported by Android Pay right now so idk...

MST is a game changer because it (supposedly) works on almost any POS terminal. Apple Pay and Android Pay only work on the the recently updated terminals. Posted via the Android Central App

I understand, I said other than MST because he said he would use Samsung Pay on any Android Device even without MST support... and I'm trying to figure out why.

Awesome. Deciding to give up Samsung Pay will be very difficult if I don't want my next phone to be samsung. It's incredibly easy and convenient and now they have rewards!

How do you know if this is true or not? Samsung hasn't even confirmed this.

There is a broad assumption that @SamsungPay's twitter account is staffed by people who know. I'm skeptical since it's probably just a 23-yr old social media intern posting, but we shall see...

There's documentation on the website as well.

It literally says it on the Gear S3 launch page. http://s7d2.scene7.com/is/image/SamsungUS/FINAL_1028_Chart_Devices_1440x...?$feature-benefit-bottom-jpg$

I pre-ordered my Classic and it arrived Monday 14th (UK) with free 'Level' headphones. I posted YouTube Video upon opening, then 24hrs living with it, the bracelet/ strap and then on day 5. The biggest question I was asked, was on Pay.
To confirm in the UK on my Classic (and S6 mob) there is NO pay working on the Gear S3. Nothing on the Gear App on the mob. (I have Andr5PayOn my mob) . I contacted Sammy and they confirmed it's available in My Area !!!

Very interesting development

Seeing as the watch is rumored to work with an Apple iPhone as well Samsung would be wise to broaden the appeal of Samsung Pay to virtually any platform. That will hands-down beat Apple Pay.

Just bought one from a T-Mobile store. Heads up. It's HUGE. I have a 7" wrist and it looks kind of silly but I think I'll bet used to it.

Sarcasm? I'll keep my thoughts to myself I guess if so.

No. thanks for update that its available in Tmo store. I called bestbuy and it wasn't there. Also for the size thingy. I have bigger wrists so i hope it would fit.

Lol cool. Sorry, written words are hard to interpret sometimes. Let me know if there is anything you want to know. I cannot find Samsung Pay anywhere.. Nice.

Samsung Pay also works in standalone mode on the Gear S2 3g. I have been using the beta for a month or so and just received the update to final version, which is what is available for the S3, too. I have used it at the gym and out for walks at 7-11 and places like that. Works pretty well, but S2 requires NFC terminals. Having MST on the S3 will make the device truly independent of having your phone with you.

FYI there is no trace of Samsung Pay on the watch itself. And with a Pixel there isn't a way to add it. So looks like it's totally MIA. Guess we either wait on an update or call Samsung liars.

i saw some video which said it takes to samsung pay with a double press on 1 of the buttons in the watch. tried ?
Also, samsung pay and the cards can be added through samsung pay which is a part of Gear manager app itself. So check in gear manager if you could find it. All are purely based on what i read and saw. I don't have a watch yet.

Not in the app at all. Checked all the sub menus. No button combo brings it up. 13 days left for them to sort this out, else it's going back. It's false advertising at this point.

Check this official video of gear s3 by tmobile. just moved to samsung pay part of video. watch fully if u wish to ! https://youtu.be/5eStI-8jz04?t=48s

I realize that but it's completely missing if you have a non Samsung phone. All of the advertisements state that it can be used with any compatible Android phone. But Samsung pay is not there.

Did you try holding the back button for 1 to 2 seconds. That is how I got my Gear S2 to activate the Samsung Pay.

Yes. Doesn't work. The top button does nothing. The bottom launches svoice. It just isn't there.

I just activated my Gear S3 LTE from ATT. Have a Nexus 6P and no Samsung Pay either. Chatted with Samsung support and they informed me that it's not yet available for non-Sammy phones. Guess there will be an app launched via play store. Found the Samsung Pay on the online Play Store but said no compatible devices found. App doesn't show on my phone's play store app though. No Spotify yet either.

Yeah I returned mine already. Tizen is just missing too many Google services for me. Felt like a weird hacky pairing with my Pixel. It wasn't even the lack of Samsung Pay, but starting day one with a broken promise from Samsung was a no go for me. I absolutely don't trust them when they say "an update is coming soon." Nope. Nice hardware though.

True. Couldn't find it anywhere.No announcements when it would be available. Is it working for a galaxy phone now ? I use a non-samsung phone as of now !

If Samsung sells sooo many devices, does it really need to differentiate - you wont ever see APPLE services on NON apple devices, APple is gReedy but they do it right, if thats even plausible - samsung andblackbberry giving non devices access tot heir exclusive feautres is UMDB

But can you pair it initially with an android phone for the call forwarding from a specific number, THEN switch the phone to an iphone 7+ while the phone number is STILL forwarding to the s3. THAT would be amazing.

Samsung Pay on the Gear S3 is MISSING entirely. At least on the Google Pixel. So this is just not true..

Seems it's not just the S3. Interestingly, I just got a Samsung Pay update on my Gear S2 (via Gear Apps) which now makes it work with my S7 edge Duos which ironically does not support Samsung Pay.
Amusing workaround so now I can do my Pay stuff via the Gear App on my phone/watch whereas the phone itself does not natively support SPay...

Samsung pay on my s3 frontier (non LTE version) is there... Haven't used it yet but will this week.. No reason to suspect it won't work. Paired to my note 5. BTW, I use it on my note 5 everyday and it's the bomb (=good).

Hey there, I am also using Samsung Pay on my Note5, but I have no signs of Samsung Pay on my Gear S3 Frontier (Bluetooth). I was wondering if you had this problem too or if I have some screwed up version of the gear app. Thanks.

So Samsung Pay does not work when paired to my LG V20. When paired to my S7 Edge it looks like Samsung Pay is built into the Gear App and completely separate from Samsung Pay app on the S7 Edge. If they integrated it into the actual Gear App then I hope they release an update to add Samsung Pay to non Samsung devices.

Anyone having hiccups with pairing/sync issues on Nexus devices? I was really close to purchasing S3 until I caught this on Samsung site: "No email sync capability for non-Samsung phones. For best results, connect with compatible Samsung Galaxy devices." Dealbreaker if that's the case. Should I hold out for Android Wear 2.0?

This is false, as of now. I have the Pixel XL and just git the S3, no samsung pay....no sim slot for cell service either, maybe its the model i have...either way, Huawei maybe making a return to my wrist, not really an upgrade for me from what I can see.

I received an update for my Samsung Gear app on Thursday, 11/24. Samsung Pay now works on my Gear S3 paired with my LG V20. Not all the functionality I had with the Samsung Pay app on a Samsung phone like the G7 or Note 7. I do not have access to membership (bar codes) and gift cards but I can store and use my credit cards.

There was an update, i got notification that i can use samsung pay on the s3, but the gear app still doesn't have a downloadable app for the samsung pay on Pixel Xl...