The Quest 2 and PSVR 2 are rivals with a symbiotic relationship
VR devs use the Quest 2 as the baseline for their games, then augment PS VR2 ports with all the bells and whistles.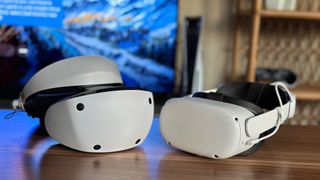 (Image credit: Michael Hicks / Android Central)
In the traditional console gaming space, Microsoft and Sony are fighting over exclusives, acquisitions, and fair competition, with the FTC as the arbiter. But in the more niche and new VR space, most "exclusive" games are only restricted by hardware limitations rather than contractual deals.
Even though Meta and Sony are VR rivals, both the Quest 2 and PSVR 2 benefit from (rather than hinder) each other. That's the impression I got at the Game Developer Conference 2023 in San Francisco when I spoke to several developers about their upcoming ports for both VR headsets.
While the language differed from one to the next, I heard the same core idea: porting a Quest 2 game to the PS VR2 doesn't seem to take very long. Unlike the PSVR 1, the PSVR 2 uses the same inside-out tracking style as the Quest 2, so its ports don't require any gameplay changes to function.
Considering the PSVR 2 hasn't sold especially well, this relationship especially benefits Sony.
VR ports are easier than ever
Promoting their upcoming PSVR 2 and Quest 2 game Pixel Ripped 1978, ARVORE developers Ana Ribeiro and Ricardo Justus at GDC explained how the third game has had a much less painless development process than past games.
Ribeiro described the difficult multi-month process of making Pixel Ripped 1995 work with the archaic PS Eye control scheme for the PSVR 1. Then, with Pixel Ripped 1989, they first designed it with PC VR in mind, which made it difficult to downgrade some of the assets and graphics to the portable Oculus Quest.
The third time's the charm with Pixel Ripped 1978. First, ARVORE partnered with Atari to borrow the company's famous arcade classics for players to dive into in VR. And second, they designed it specifically for the Quest 2 and then upgraded the graphics and features on the PSVR 2, apparently only adding a month or so to the development time.
Despite that, the game looked fantastic on the PSVR 2, as if it were designed natively with its increased graphical power in mind. I'm already stoked for the game to launch this summer.
I also spoke with Resolution Games — maker of Demeo, Angry Birds VR, and many of our other Quest game favorites — at GDC 2023 about their fun new mixed-reality shooter, Spatial Ops. But I also took the time to ask about their recent PS VR2 ports.
CEO Tommy Palm explained that because they'd already had a dual PC VR/ Quest workflow, incorporating the PSVR 2 wasn't difficult at all. He said that the art team loves the PSVR 2 in particular because it allows them to incorporate more assets without the Quest's processing limitations.
Palm didn't say this, but perhaps the difference would be that while PC VR game sales have never been high, Sony's more consumer-accessible headset is more likely to attract a large audience that can enjoy all those assets, making that dual workflow more profitable. Depending, of course, on how well the PSVR 2 sells.
Resolution Games is a fairly large studio compared to many indie VR devs, who have fewer resources to port to the PSVR 2 with new tech like foveated rendering and haptics to consider. Still, it's telling that the PSVR 2 launch came with such a large launch library; Resolution and ARVORE clearly weren't the only devs to find the process fairly seamless.
How the Quest 2 paved the way for PSVR 2
Sony let Meta dominate the VR gaming market for years, from the PSVR 1's twilight years to now; but when the PSVR 2 did arrive, it could comfortably launch with just one VR-only exclusive (Horizon Call of the Mountain) and a couple of 2D-to-VR updates like Resident Evil Village, because it took the cream of the crop directly from the Quest 2's library.
Just a month after launch, we had to pare down our best PSVR 2 games list so it wouldn't be too long! New owners will have no complaints about finding something to play, and we know some of Meta's biggest hits like Beat Saber and Among Us are coming later in 2023.
Meta is investing heavily in the VR gaming space, with 150 games in development from third-parties that will launch on the Quest 2 and/or 3. We haven't heard anything similar from Sony's camp. So it's lucky that Meta apparently doesn't insist on exclusivity deals with these developers.
Thus far, the PSVR 2 has only sold about 270,000 in its first month. Considering the cheaper PSVR only sold 1 million after a year, that's not a terrible number considering its high price. But it's certainly not close to Sony's internal hopes for a 2-million-unit launch window. If a developer had to choose between targeting 20 million Quest 2s or less than a million PSVR 2s, the answer would be obvious.
We hope Sony will push more AAA releases soon to attract more interest, whether from PlayStation Studios or third-party partners. But in the meantime, frankly, devs that already found success on the Quest are carrying Sony despite its own neglect.
Why the Quest benefits from the PSVR 2's existence
Sony's upside from this Quest 2/ PSVR 2 symbiotic rivalry is obvious. How does Meta benefit from the relationship? That's a little more opaque, but I suspect Meta will happily ride on Sony's coattails, too, when it comes to larger developers.
Meta needs little help when it comes to the VR community, as its Oculus Publishing initiative proves. But we haven't seen much buy-in from the biggest traditional game devs and their beloved IPs since VR's initial wave of popularity around 2016–2018.
Meta secured the promise of GTA: San Andreas and Assassin's Creed VR for the Quest 2, but it's been deathly quiet on the news front since 2021, and the third well-known property with a VR port (Splinter Cell VR) was canceled. Even though the Quest Store has generated $1.5 billion in sales, many devs just haven't taken advantage of it.
I believe that the PS VR2 changes the equation for these developers, who are used to selling games across platforms or getting paid for exclusivity. Instead of putting all their eggs in one basket — which must have felt risky due to Meta' financial woes from Reality Labs R&D — they now have the promise of Sony sales for the next few years at least.
The Quest 2 will give Sony an unearned relationship with indie developers. Meanwhile, Meta will benefit from the big-name brands that see the PSVR 2 as their excuse to dive back into a lucrative market; even if Quest ports look worse, Meta's profits should still eclipse Sony's.
The future Meta-Sony "rivalry"
I'm not sure how long this detente will last. Meta's push towards mixed-reality for the Quest 3 takes the upcoming headset on a different path since Sony hasn't released its passthrough API for gaming and only has a black-and-white camera. That means some MR games (like Resolution Games' Spatial Ops) may become Quest exclusives by default.
Meanwhile, the Quest 3 apparently won't have eye tracking, while the PS VR2 uses it for both enhanced graphics and unique gameplay mechanics — like jumpscares when you blink in The Dark Pictures: Switchback VR, or characters that make eye contact in Horizon. While exclusive PC VR games are rare because of low profits, we might see PSVR 2 exclusives from devs that rely on top-class processing power.
Given Sony's fight with Microsoft, it's a welcome surprise that things haven't turned acrimonious between it and Meta (yet). It's fun to compare the PS VR2 vs. Quest 2 from a specs perspective, but no one should want a real "battle."
Instead, VR gamers should welcome Sony and Meta propping each other up and not insisting on exclusivity, since we all benefit from it. And given the state of VR today, neither Sony nor Meta can really afford an acquisitions war anyway. Especially Sony, which needs to sell more headsets before it can be considered a true Quest rival beyond its hardware.
With a wide OLED display, highly accurate controllers, snug design, and its exciting new eye-tracking tech, the PS VR2 employs the power of the PS5 hardware to tremendous effect.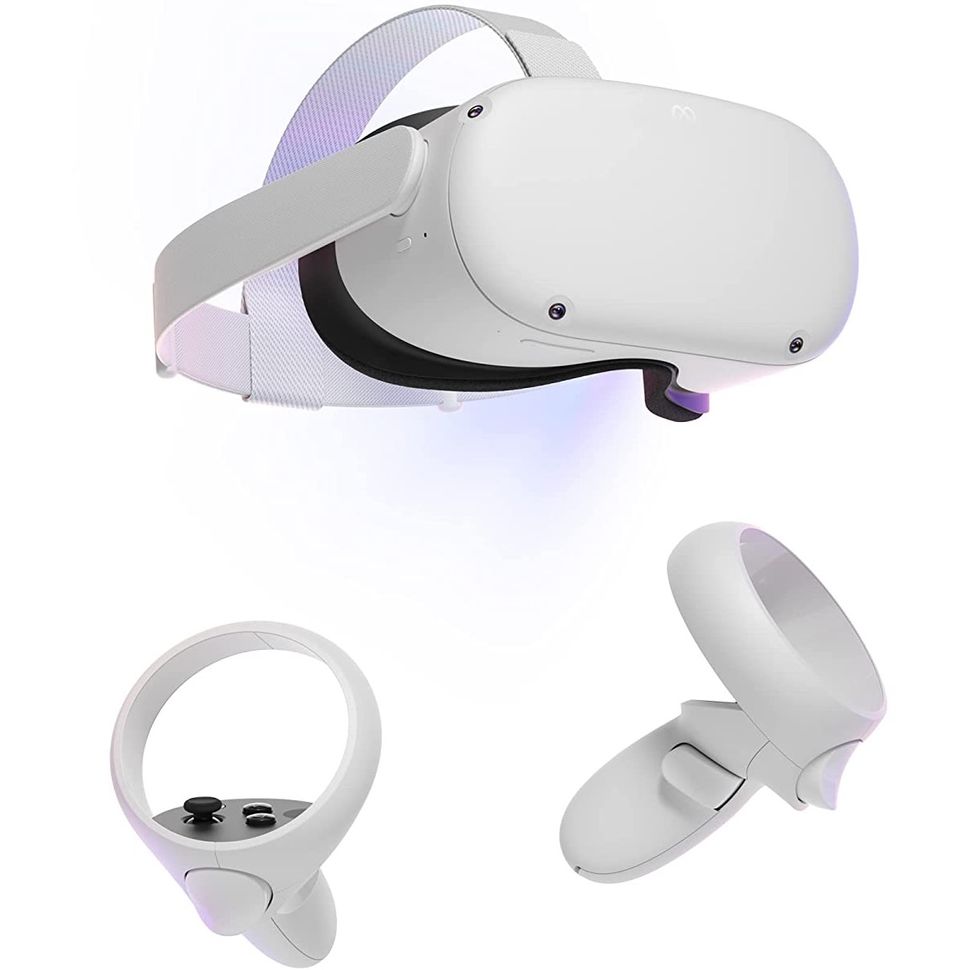 Get the best of VR with the Meta Quest 2, an all-in-one headset that works like a console and doesn't need a phone or PC to work. Strap it on and get playing today!
Sign up for Black Friday email alerts!
Get the hottest deals available in your inbox plus news, reviews, opinion, analysis and more from the Android Central team.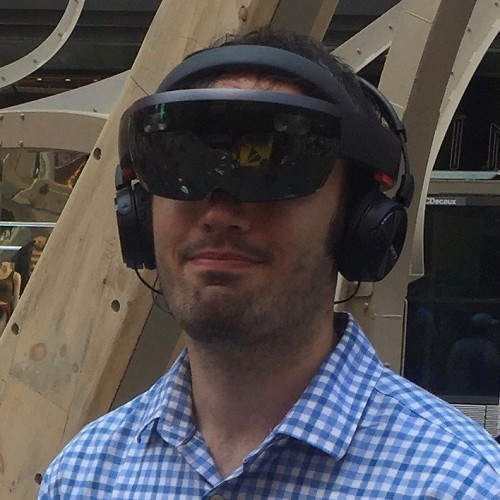 Senior Editor, VR/AR and fitness
Michael spent years freelancing on every tech topic under the sun before settling down on the real exciting stuff: virtual reality, fitness wearables, gaming, and how tech intersects with our world. He's a semi-reformed Apple-to-Android user who loves running, D&D, and Star Wars. Find him on Twitter at @Michael_L_Hicks.