The Galaxy Z Flip's 'Ultra Thin Glass' display may not be glass after all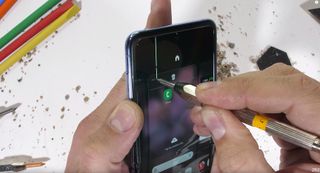 (Image credit: JerryRigEverything)
What you need to know
After a durability test, Samsung's Galaxy Z Flip foldable phone damages with the same ease as plastic.
Samsung contends that screen is more durable than other plastic displays.
Samsung will offer $119 screen replacements and a free professional screen protector application.
In a twist absolutely everyone saw coming, it looks like Samsung's Ultra Thin Glass — the brand new polymer developed specifically for foldable phones — is not quite as durable as the glass consumers are used to on most smartphones.
According to a durability test provided by YouTuber Zack Nelson, also known as JerryRigEverything, the Galaxy Z Flip's inner display scratches with the same ease as the Galaxy Fold's and Motorola RAZR's, both of which are covered with malleable plastic. This is despite the Flip reportedly using Ultra Thin Glass, which Samsung describes on its website (opens in new tab) thusly:
Based on that marketing, you'd be forgiven for thinking the phone screen's durability would not be too dissimilar to what you'd find on a Galaxy S20, which is covered by Corning Gorilla Glass 6. And even if that isn't reasonable given how difficult it likely is to manufacture actual, scratch-resistant glass that can fold up to 200,000 times, Samsung obfuscated that fact.
In a comment to The Verge, Samsung said that the Flip has a "protective layer" on the glass:
It also confirmed that customers will be able to get a screen replacement for a damaged Galaxy Z Flip display for $119 through the company's Premier warranty service, which is $30 less than one would pay for the same thing on the re-released Galaxy Fold. There's also a first-party screen protector that Samsung's retail warranty repair partner, uBreakiFix, can install on top of the protective layer.
The phone went on sale on Friday, February 14 for $1380, just three days after its announcement at Unpacked. Then Samsung provided reviewers 24 hours with the phone, which is unlike a typical review period for a flagship. Whether Samsung was trying to prevent this kind of negative media attention by limiting how long media had access to the phone isn't clear, but the phone proved extremely popular on its first day of availability, selling out in most retail stores and online.
JerryRigEverything's video is not the only negative attention the phone has received to date. A Twitter user in the UK reportedly received a review unit already cracked down the center of the display. He claims the unit was replaced within 24 hours by Samsung.
Another popular YouTuber, Quinn Nelson, whose channel Snazzy Labs has over 750,000 subscribers, experienced a different but similarly worrying defect on his Galaxy Z Flip. Samsung has not commented on his issue yet.
Despite all of this, Android Central's Andrew Martonik and Nirave Gondhia have had universally largely positive experiences with Samsung's new foldable so far and we're looking forward to putting the phone through its paces in our full review in the coming days.
Samsung Galaxy Z Flip
The Galaxy Z Flip makes clamshells cool again. It acts as a compact phone when closed, with a miniature 1.06-inch display that lets you take calls and see the current date and time. Open it up and you get a gorgeous 6.7-inch Dynamic AMOLED panel made out of glass. You also get robust internal hardware and great cameras.
Get the Android Central Newsletter
Instant access to breaking news, the hottest reviews, great deals and helpful tips.
Daniel Bader was a former Android Central Editor-in-Chief and Executive Editor for iMore and Windows Central.
Oh Samsung... 😂 I wouldn't buy this crap.

They can keep it. I don't need a folding phone. Ever.

I'm sorry, did you think we said foldable glass? No no no! We said foldable "glass"! The quotes are very important! -Samsung P.R.

I saw this coming, especially with all the negativity that was given to Motorola and the butt kissing to Samsung, I was sure it would backfire on them. Motorola and Sony make good products and all we get is bad reviews from the major tech review sources because of the pull Apple, Google and Samsung have.

They get good reviews because they're great phones. I have the Flip and a Note 10+. Zero issues, no problems with the hinge or the display. But then I'm not a dipshit and try to bend my $1,400 phone backwards.

Exactly. I haven't experienced one issue with this phone since I had it. 2 people all of a sudden pop up with cracked displays. I can see if the issues is widespread but that's not the case.

When was the last time Sony made a good phone, tablet, laptop, or anything else that directly competes with Samsung?

Tino, I totally agree with you. I am so sick and tired of hearing about the S20 phone family!! When Apple or Samsung make anything it is nothing but headlines. YouTube is so saturated with their products that it is nauseating...

And this...is the REAL issue. Thanks for your honesty... 😂

Regardless, Motorola's first effort into folding phones has its issues. Surprised to see a gen 2 Samsung foldable have these issues. It looks like Samsung's "foldable glass" is really just good for "finger feel" in terms of smoothness.

This is a very cool product. But I was taught don't buy a 1st year anything? always give a product a chance to mature. For myself, both the Z-flip & Razor are very fragile products and cost an arm & a leg, I'll wait & see how they devolop?

I knew it, I mean, it was kind of shocking to me how little actual attention that fact that Samsung invented FOLDABLE GLASS was getting outside of tech websites. It's like inventing transparent aluminum. It would be revolutionary. The fact that it wasn't worldwide news kind of showed me there was something fishy.

This is just plain stupid.
Who buys a $1400 phone and then TRIES to damage it just to prove a snark point?
Ooooo, Lookie here! I can damage the Galaxy Z Flip's screen with an Xacto Knife!! I can scratch it with a diamond-tipped inscribing awl!!! I can scratch it with my Fingernail if I push REALLY HARD!!! Well DUH! Samsung stated it has a plastic protective film over the ultra-thin flexible glass cover.
They never said it was Gorilla Glass. They never said it was "as strong as Gorilla Glass." What's next? "HEY LOOK! I can Damage it if I run over it with a Road Grader!!!!" stupid. stupid. stupid.
OF COURSE YOU CAN DAMAGE IT IF YOU TRY! That is why it's a FLIP-PHONE because you SHUT IT to protect the screen. idiots.

Jerryrigeverything is giving phones by the manufacturer to test durability. That is his job. His YouTube videos are to show what could happen to your phone in extreme cases. Like leaving a foldable phone unfolded an someone sitting on it. That might cause it to bend backwards. He doesn't review products, he only tests it's durability claims. And has proven a lot over the years.

Absolutely true, these extreme tests are far from the condittions a device can experience in the day to day use , but give always a good idea about the durability of the phones and their weak points.

He makes enough $$$ with millions Youtube views alone, so basically Youtube is paying for these phones. Or maybe even manufacturers give them him for free to test.