Galaxy Z Flip hands-on preview: Samsung just killed the RAZR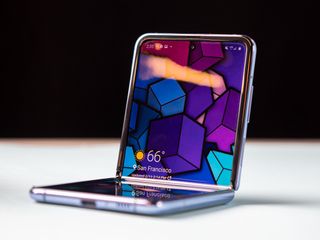 (Image credit: Daniel Bader / Android Central)
Just as expected, Samsung went ahead and unveiled the new Galaxy Z Flip alongside the Galaxy S20 series at its February launch event. In fact, it actually led the presentation with the Z Flip, which shows just how much it cares to put the spotlight on the new foldable after the Galaxy Fold's rocky launch in 2019.
I've had a solid hour with the Galaxy Z Flip, going over its every curve and getting acquainted with this new form factor. Here are my initial takeaways.
Design: Beauty, covered in fingerprints
Image 1 of 6
A massive wave of leaks of the Z Flip, along with Motorola's release of the RAZR, have tempered our expectations for this sort of vertical-folding clamshell form factor. Even still, it's quite a sight. Having this roughly square piece of hardware that unfolds to a tall-and-skinny modern smartphone form factor is just downright cool.
Outside of the novelty of its ability to fold in half, the hardware is typical Samsung quality. A metal frame rounds out on all sides with great symmetry, and the glass curves to meet it on the back. The one difference is the glass finish, which is incredibly fingerprinty. The super-mirrored finish reminds me of the Galaxy S7 ... but twice as reflective. Of course the issue was of course made worse by harsh lighting at the launch event, but it was impossible to keep smudges from piling up on this thing.
The fingerprint issue was minimized on the all-black model, but that color was so devoid of any interesting features that it makes you want to take on the color-shifting purple or rainbow-like gold and just deal with the fingerprints. After all, you're buying a Galaxy Z Flip to stand out, right? And you absolutely will. But it's not just looks — the hardware feels really nice.
When the Z Flip is either open or closed, the hardware seems rather ... normal. There's a regular volume rocker where you'd expect it, and a power button that integrates a fingerprint sensor. There's a regular USB-C port and speaker on the bottom, and nothing else particularly interesting anywhere else. And that's a good thing; Samsung made large swaths of this experience very "normal" despite the fact that it folds in half.
On the outside of the Z Flip you'll see a typical pair of cameras — a standard and ultra-wide — next to a tiny 1-inch "cover display" that shows quick information like the time and date, and incoming notifications. It's actually touch-sensitive so you can scroll through recent notifications, but it's so tiny you won't want to interact with it for long. It serves its purpose well for showing you time and date information without having to flip open the whole phone.
Hinge and screen: Learning from mistakes
Image 1 of 6
Less than a year ago, we were going through an entire saga of hardware issues with the Galaxy Fold, watching displays fail spectacularly. So it's amazing to see the Galaxy Z Flip debut with several improvements that, when grouped together, seemingly address all of the issues of Samsung's first generation.
First, is the screen covering itself: it's glass. Actual glass, and yet it still folds. It doesn't quite feel like the glass on any other smartphone, but I expected that considering the complex physics involved with it folding. But more importantly, it feels dramatically better than any other folding phone I've touched. The screen glass doesn't flex or dent, and unlike the Motorola RAZR it doesn't shift around when you press it hard.
You can still feel the crease in the middle, but in my time with it I didn't notice it visually. Even when tilting the phone at extreme angle, trying to catch the light in the crease, I barely could see the dip. And because it's glass, and folds intelligently to leave a gap between the panes when closed, I wouldn't expect the crease to get irregular or worsen over time.
I can't overstate just how much the screen being covered by glass changes the experience of using a foldable phone. The plastic screen coverings on every other foldable are an eyesore I just can't get over; here, you just feel like you're using a regular smartphone.
The screen itself looks really good, though I haven't used it outdoors yet. At 6.7 inches (21.9:9 aspect ratio) with FHD+ display the density is a little bit on the low side, but once again the glass covering completely makes up for it compared to any other "better" display being covered in plastic.
Samsung says it made several improvements to the hinge, including a new lining of fibers that will help keep dust and debris from making it behind the display — though there's still no IP rating here. The hinge is also much tighter than even the redesigned Galaxy Fold, and it's so tight that it can actually hold the Z Flip open at any angle. Samsung thinks you'll want to keep the phone open at a 90-degree angle or something more obtuse like a laptop, splitting apps 50/50 along the fold line ... but there really isn't enough screen space to use it this way.
The bigger thing the hinge tightness contributes to is making it more difficult to open and close the Z Flip with one hand. Even doing the classic "wedge your thumb in from the side" move, it's really hard to open up gracefully — though because the screen has glass covering it you're not worried about pressing your thumb on the screen in the process. When it comes to closing the Z Flip, you have to get it really close to closed before it snaps shut on its own. But between the tight hinge and magnets, it closes authoritatively.
More Galaxy Z Flip to come
I can't wait to use the Galaxy Z Flip longer. I still need to see what it's like to actually use a phone with this form factor on a daily basis. I don't know how comfortable it is to slide into a pocket, how awkward it can be to use one-handed with that super-tall display, how long the 3300mAh battery will last, and so much more. Samsung's execution is seemingly good, but there are still things inherent with this form factor that I need to figure out.
Get the Android Central Newsletter
Instant access to breaking news, the hottest reviews, great deals and helpful tips.
Andrew was an Executive Editor, U.S. at Android Central between 2012 and 2020.
I hope the z flip catches on to the point they drop the price a bit lol. I am excited to see this phone in person. I am Note guy, but i remember flip phones and how much easier they were to carry! I can still see someone making a two piece outer case for it, like the old razrs did. This looks so much more promising than the new razr, which should not be priced as high. My opinion yours may vary.

I love my Note too, but I'm lusting for this thing. I think those thin Aramid cases will be perfect for the Z, or even something from MNML.

"I am Note guy, but i remember flip phones and how much easier they were to carry!" Then get a smaller phone surely.

With these new flip phones, you don't have to get a smaller phone; they BECOME smaller phones.

It's still thicker though, 17.3mm to be exact. I don't mind something slim and long in my pocket because it doesn't stick out. The Z Flip would be more convenient for me if I kept it in my pocket open, which would defeat the purpose. However, if I kept it in a holster, backpack, or purse, then shorter and thicker would be better.

I swear I used that same wallpaper on my Lumia 925 Windows Phone!

Only in terms of internal specs. It's one of the ugliest iPhones I have ever seen.

The Z-flip ***** slaps the Lenovorola razor. Better specs, alittle cheaper but not by much. Is there a market for these types of phones? Probably?

Better specs but the screen looks worse.

In theory I like the idea of glass vs. a Plexi glass screen but I do think the Razr kills this phone on form factor though. It shuts tight and flush, the front screen is much more usable and makes more sense. and design, while subjective, IMHO the Razr kills it on design. On paper Samsung up the ante in the specs. but sans, the camera, if the performance is on par with each other, what difference does the spec sheet make? Especially when the razr runs much close to stock android. I do like that it's coming in at a lower price point, this is how competition is supposed to work, so hopefully that'll lead to a razr cut in price.

What is the point?
What is wrong with the slab of phone I'm writing this on? which has sweet cameras, is waterproof, I've accidently give swimming in the sea with it. Has wireless and super fast charging. Has very little to go mechanically wrong with it.
What makes these foldable phones so advantages over what we use every day? And what makes it so good to pay a premium over the already exorbitant prices that we already pay for phones?

Just like the Note series, the Flip and Fold aren't for everyone, and we're still in gen 1 for foldable devices. I'm impressed with the improvements they made in version 2 of the Fold's hinge, and Samsung has taken it several steps further in 4.5 months with the Flip. You couldn't always go swimming with your phone (how'd you accidentally do it?), but it could be possible in the near future with folding screens. Close off the internal components with the screen laying on top of that housing, the only point of entry is the screen's ribbon cable, and seal that connection with a gasket like they do with USB ports. It could also be gold contact points with no real point of entry for liquid. We're looking at an emerging device category while comparing it to a mature device category. I'm impressed that Samsung gave us a flagship tier device in a folding format. Yes, the price is high, but it's gen 1 and prices should level out in time. Curved edge screens were once only found on flagship phones, but now budget phones take the curve to the extreme.

But it doesn't answer the why. What problem is this solving. And I'd been out running in the heat, and jumped in the sea to cool off and forgot to check my pockets. The phone was fine, the car key however want too happy, but with a bottle of water and the sun we brought it back to life.

It solves my problem that phones are way too big for my pockets, so I have to keep them clipped to my belt. I've been waiting for this form factor since the galaxy s6.

Curved screens suck. No reason for them. More cons than pros.

Can we stop commenting about smartphones being fingerprint magnets EVERY TIME A NEW DEVICE IS RELEASED?? We all know shiny surfaces show fingerprints, and there's nothing we can do to change that other than periodically wiping them off. Get a dbrand skin or a case and move on.

I agree. It is really pointless to say this over and over, it's to easy and irresistible complain about petty stuff nowadays.

I thought the point of foladables was to turn a phone into a tablet? Not to make a phone tiny. If you really hate large phones you're going to just want to buy a small phone. The only foldable that looks decent so far is the Huawai Mate X. A decent size phone which turns into a tablet. Huawai are effectively dead outside of China now though.

Counter to that, i love having the best camera, but hate having such a big phone.
Smaller phone in my pocket is better.

Agree, the smaller the better. I have no desire to carry around those giant phones most have these days.

These things are the phone makers version of "3D TV's" from several years ago. Nobody asked for them or really cares, especially at the absurd prices. These are nothing more than gimmicks.

Razr has better form factor, flip has killer specs and some slick features. I too am soooo sick of flagship phones getting to be the size of small tablets or kindles! The problem with the flip is the lack of a useful external screen. If you could actually use the external screen and not have to open it for many basic tasks I'd really consider it. I think flipping it open EVERY time you want to check notifications, respond to a txt or check calendar entries, etc would get VERY old.

The crease is *extremely* noticeable.

I commend both Lenovorola & Samsung for trying something different. Yes, the prices are high but these are first gen products? If they continue in this area they will get better & cheaper, maybe? The question is will consumers buy these two phones at their current prices? I generally don't buy any 1st year product. I like to see what problems have to be worked out. But I do admire the concept! Hopefully there will be enough interest to continue this flipping not flopping?

'It folding up and down rather than like a book, and that's a better deal for everyone' Uh, no!?! This form factor is pretty useless; it folds to protect the screen, yet the phone is still more delicate than a phone that doesn't fold! At least the "book", ie the Fold, gives you more screen real estate... 'And the nice thing is you get a front facing camera' Uh, no!?! It's NOT nice to have the screen ruined by a hole! With a camera that I for one will never use...

If closing the phone can prevent accidental touches and butt-dials, then it would be a good thing for me. I am still trying to find a combination of security features that don't annoy me one way or the other. Unlocked means accidental touches, especially going in and out of pockets or purses. Locked means unlocking every time I want to use the phone. Easy to use when I am setting the phone on the table means annoyance when I go out. and vice versa.

Stay At Home Mom From New York Shared Her Secret On How She Was Able To Rake In $1500 Weekly From Online Work Just 3 Weeks After Losing Her Old Job ..Find out how HERe..