Is the Galaxy Tab S3 a suitable successor to an aging Pixel C?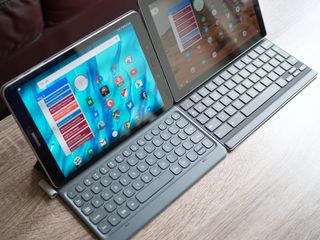 I was late to the party, but eventually became a big fan of Google's Pixel C tablet a handful of months after it was released. For all of its flaws in being heavy and inherently lacking app support, I loved it as an extra-portable backup computer with a really good keyboard and powerful internals. But the Pixel C is coming up on two years old now, and while it has aged pretty well, its flaws haven't seen any remedy since release.
That has me looking for a replacement, and it seems the only reasonable option for this type of high-end, large tablet with a keyboard is Samsung's new Galaxy Tab S3. Not only does the Galaxy Tab S3 have a similar form factor and feature set as the Pixel C, but it's a modern device with a much better screen that weighs less and arguably has a better tablet-focused software.
After using the Galaxy Tab S3 for a couple weeks following a year of still loving my Pixel C, here's what I found.
Hardware and keyboard
Given its age, the Pixel C actually still feels pretty modern in many ways. The metal construction is simple but plenty solid, and things like its stereo speakers and the USB-C port are still welcomed features. Unfortunately, the Pixel C is pretty heavy at 1.1 pounds and its screen is decidedly mid-range today. It surely doesn't feel like a $600 tablet by modern standards.
But all of that aside, the primary reason why you'd still be using a Pixel C today is for its hardware keyboard(s): particularly, the metal magentic variation. It isn't perfect, but the way it attaches via magnets, charges wirelessly, and offers a wide range of stable operating angles is fantastic for a portable keyboard. Even more important, the keys are easy to stroke and I can type on it just as quickly as I can a full-sized laptop keyboard.
Image 1 of 5
Samsung only offers one keyboard case for the Galaxy Tab S3, and it's closer to Google's "folio" keyboard for the Pixel C and very similar to Apple's keyboard for the iPad Pro. It's definitely more compact to match the smaller overall footprint of the Tab S3 and sadly doesn't have an adjustable angle. It is much lighter and doesn't require wireless charging or Bluetooth, though, which overall is an improvement. I've warmed up to the Tab S3's keyboard quite a bit in using it for a couple weeks, but its smaller keys and more compact layout don't let me type as quickly as the Pixel C.
Although the keyboard may not be as great as the Pixel C's, the rest of the hardware easily makes up for it. The Tab S3's screen is dramatically brighter and more colorful than the Pixel C, letting you actually use the tablet in the sun, and the speakers are better as well. It includes a fingerprint sensor, which is just as convenient on a tablet as it is a phone. The only hardware complaints I can make are that the bezels are still quite large, and Samsung's use of capacitive navigation buttons and a portrait-like hardware layout for a decidedly landscape-focused tablet makes little sense.
In terms of experience, the Tab S3 matches the Pixel C's battery life while also offering fine performance from a more efficient processor that lets the tablet be nearly 15% lighter and much thinner. Whereas the Pixel C is hardly usable as a standalone tablet, you could actually see the Tab S3 being used for media consumption or held up without a keyboard for a bit. You just can't say the same of Google's tablet.
Is the Galaxy Tab S3's hardware perfect? Not quite, but it definitely offers a lot more than the Pixel C. It's basically a scaled-up Galaxy S7, and there's nothing wrong with that.
Software and future support
This is where things start to divert. You probably know by now that I'm not as big a fan of Samsung's tweaks to Android as I am the clean look of Google's software, but in the case of a large tablet I understand Samsung's motivations a bit more. Sure the core interface of the Tab S3 isn't as clean or simple as the Pixel C's, and Google has actually made some good strides in the last couple of updates on its tablet, but when it comes to the actual tablet-focused software, Samsung is actually doing a better job than Google in some ways.
Samsung designs its overall interface, settings, and default apps to work with the extra screen real estate of a large landscape tablet, and it's just easier to use as a result. Samsung's multi-window implementation is far and away easier to manage as well, with proper pop-out windows, an easier way to manage split screen view, and simple (if not the prettiest) interface elements to handle it all. Multitasking on the Pixel C is still a bit of a chore, while many of its stock apps aren't in any way designed for tablet use, and it's surprising Google hasn't figured out the right formula for it yet.
The app catalogue for large-screened Android tablets isn't much better today than it was when the Pixel C was launched, but that's an issue on both devices. I can (and will continue to) complain about a lot of the fringe things Samsung does, but it knows how to make the most of a bad situation on its tablets and make the Android interface work on a larger screen even though third-party tablet apps are still bad.
When comparing the future of software support on these two tablets, you're at a bit of a crossroads. The Pixel C, coming up on two years old, should be in line for Android O, but that would definitely be the end of the road for the big tablet. When the Pixel C receives its Android O update, it's surely going to get it faster than the Galaxy Tab S3, which itself is only on Android 7.0 currently, but of course being newer has more possibilities for the next couple of years. Samsung of course has a shaky history of keeping its tablets up to date, but you're at least at an advantage having a tablet that's new in your hands than one that's nearing end-of-life status.
The Tab S3 is basically your only option for now
The biggest issue with finding a proper successor to the Pixel C is that you just don't have many tablets to choose from in general. Short of going with an iPad Pro (which some may cave in and do), the Galaxy Tab S3 is, at this point, a successor to the Pixel C just by default. But thankfully, the Tab S3 is also a pretty good big tablet that offers a very similar experience and feature set to the Pixel C with the modernizations you expect for a device released 18 months later.
The Tab S3's keyboard isn't quite up to the same super high standard of the Pixel C's, but everything else about the experience is improved. The Tab S3 offers a better total hardware package while also being lighter and more compact, giving you opportunities to actually use it as a tablet without the keyboard from time to time. And while Samsung's software can sometimes be annoying, it offers many tablet-specific features that help you make the most of your big screen better than Google's current offering.
If you dropped $749 on a Pixel C and have been using it all this time, chances are you see the value in this type of hybrid tablet-with-keyboard device. You want something thin, light, and portable that isn't quite a laptop but can masquerade as one when you need it and then lose the keyboard entirely and be suited to full-screen media apps. And if you haven't yet grown tired of those inherent compromises, but do recognize the Pixel C is getting a bit long in the tooth, spending $729 on the new Galaxy Tab S3 (opens in new tab) may not seem so crazy.