Is the Galaxy Tab S3 a suitable successor to an aging Pixel C?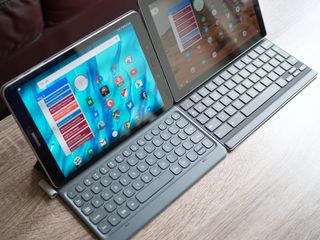 I was late to the party, but eventually became a big fan of Google's Pixel C tablet a handful of months after it was released. For all of its flaws in being heavy and inherently lacking app support, I loved it as an extra-portable backup computer with a really good keyboard and powerful internals. But the Pixel C is coming up on two years old now, and while it has aged pretty well, its flaws haven't seen any remedy since release.
That has me looking for a replacement, and it seems the only reasonable option for this type of high-end, large tablet with a keyboard is Samsung's new Galaxy Tab S3. Not only does the Galaxy Tab S3 have a similar form factor and feature set as the Pixel C, but it's a modern device with a much better screen that weighs less and arguably has a better tablet-focused software.
After using the Galaxy Tab S3 for a couple weeks following a year of still loving my Pixel C, here's what I found.
Hardware and keyboard
Given its age, the Pixel C actually still feels pretty modern in many ways. The metal construction is simple but plenty solid, and things like its stereo speakers and the USB-C port are still welcomed features. Unfortunately, the Pixel C is pretty heavy at 1.1 pounds and its screen is decidedly mid-range today. It surely doesn't feel like a $600 tablet by modern standards.
But all of that aside, the primary reason why you'd still be using a Pixel C today is for its hardware keyboard(s): particularly, the metal magentic variation. It isn't perfect, but the way it attaches via magnets, charges wirelessly, and offers a wide range of stable operating angles is fantastic for a portable keyboard. Even more important, the keys are easy to stroke and I can type on it just as quickly as I can a full-sized laptop keyboard.
Image 1 of 5
Samsung only offers one keyboard case for the Galaxy Tab S3, and it's closer to Google's "folio" keyboard for the Pixel C and very similar to Apple's keyboard for the iPad Pro. It's definitely more compact to match the smaller overall footprint of the Tab S3 and sadly doesn't have an adjustable angle. It is much lighter and doesn't require wireless charging or Bluetooth, though, which overall is an improvement. I've warmed up to the Tab S3's keyboard quite a bit in using it for a couple weeks, but its smaller keys and more compact layout don't let me type as quickly as the Pixel C.
Although the keyboard may not be as great as the Pixel C's, the rest of the hardware easily makes up for it. The Tab S3's screen is dramatically brighter and more colorful than the Pixel C, letting you actually use the tablet in the sun, and the speakers are better as well. It includes a fingerprint sensor, which is just as convenient on a tablet as it is a phone. The only hardware complaints I can make are that the bezels are still quite large, and Samsung's use of capacitive navigation buttons and a portrait-like hardware layout for a decidedly landscape-focused tablet makes little sense.
In terms of experience, the Tab S3 matches the Pixel C's battery life while also offering fine performance from a more efficient processor that lets the tablet be nearly 15% lighter and much thinner. Whereas the Pixel C is hardly usable as a standalone tablet, you could actually see the Tab S3 being used for media consumption or held up without a keyboard for a bit. You just can't say the same of Google's tablet.
Is the Galaxy Tab S3's hardware perfect? Not quite, but it definitely offers a lot more than the Pixel C. It's basically a scaled-up Galaxy S7, and there's nothing wrong with that.
Software and future support
This is where things start to divert. You probably know by now that I'm not as big a fan of Samsung's tweaks to Android as I am the clean look of Google's software, but in the case of a large tablet I understand Samsung's motivations a bit more. Sure the core interface of the Tab S3 isn't as clean or simple as the Pixel C's, and Google has actually made some good strides in the last couple of updates on its tablet, but when it comes to the actual tablet-focused software, Samsung is actually doing a better job than Google in some ways.
Samsung designs its overall interface, settings, and default apps to work with the extra screen real estate of a large landscape tablet, and it's just easier to use as a result. Samsung's multi-window implementation is far and away easier to manage as well, with proper pop-out windows, an easier way to manage split screen view, and simple (if not the prettiest) interface elements to handle it all. Multitasking on the Pixel C is still a bit of a chore, while many of its stock apps aren't in any way designed for tablet use, and it's surprising Google hasn't figured out the right formula for it yet.
The app catalogue for large-screened Android tablets isn't much better today than it was when the Pixel C was launched, but that's an issue on both devices. I can (and will continue to) complain about a lot of the fringe things Samsung does, but it knows how to make the most of a bad situation on its tablets and make the Android interface work on a larger screen even though third-party tablet apps are still bad.
When comparing the future of software support on these two tablets, you're at a bit of a crossroads. The Pixel C, coming up on two years old, should be in line for Android O, but that would definitely be the end of the road for the big tablet. When the Pixel C receives its Android O update, it's surely going to get it faster than the Galaxy Tab S3, which itself is only on Android 7.0 currently, but of course being newer has more possibilities for the next couple of years. Samsung of course has a shaky history of keeping its tablets up to date, but you're at least at an advantage having a tablet that's new in your hands than one that's nearing end-of-life status.
The Tab S3 is basically your only option for now
The biggest issue with finding a proper successor to the Pixel C is that you just don't have many tablets to choose from in general. Short of going with an iPad Pro (which some may cave in and do), the Galaxy Tab S3 is, at this point, a successor to the Pixel C just by default. But thankfully, the Tab S3 is also a pretty good big tablet that offers a very similar experience and feature set to the Pixel C with the modernizations you expect for a device released 18 months later.
The Tab S3's keyboard isn't quite up to the same super high standard of the Pixel C's, but everything else about the experience is improved. The Tab S3 offers a better total hardware package while also being lighter and more compact, giving you opportunities to actually use it as a tablet without the keyboard from time to time. And while Samsung's software can sometimes be annoying, it offers many tablet-specific features that help you make the most of your big screen better than Google's current offering.
If you dropped $749 on a Pixel C and have been using it all this time, chances are you see the value in this type of hybrid tablet-with-keyboard device. You want something thin, light, and portable that isn't quite a laptop but can masquerade as one when you need it and then lose the keyboard entirely and be suited to full-screen media apps. And if you haven't yet grown tired of those inherent compromises, but do recognize the Pixel C is getting a bit long in the tooth, spending $729 on the new Galaxy Tab S3 (opens in new tab) may not seem so crazy.
Get the Android Central Newsletter
Instant access to breaking news, the hottest reviews, great deals and helpful tips.
Andrew was an Executive Editor, U.S. at Android Central between 2012 and 2020.
I keep hoping Google will announce a new Pixel tablet, but I'm beginning to doubt it. If one hasn't come out by this summer, I may need to break my prejudice against Samsung tablets and buy one.

Well, the hope would be at least it'd be refreshed in the fall as we approach 2 years since the Pixel C was announced. That being said, of course I'm not filled with confidence that Google will do so.

I totally agree. I loved my Pixel C but sold it a few months ago (prior to the Tab S3 release) in anticipation of Android Apps on Chrome. Well the Android Apps on Chrome has not come to fruition but for a select few devices. I am hoping that Google I/O will shed some light on the Chromebook and Android Tablet space. If not, then I may consider the Tab S3... it is more interesting to me than the Samsung Chromebook Plus.

I've always loved the concept of and Android tablet to replace a laptop, and I'm always disappointed by the result. A $300 chromebook or one of small Windows based 2in1's like the Asus Transformer series just makes more sense.

A nice big tablet with a keyboard case definitely isn't a way to save money. For most people, it's about getting 1 device that can do more and that means you get a laptop.

This is exactly what Asus was doing with the transformer series and nobody bought those. I still use and love my tf701t today

I have had two of these, the idea was awesome. Detachable, big battery, usb ports, good build. But the hardware is mediocre even for the time and software was super laggy. I keep hoping they will make a modern edition but I doubt they ever will.

I was totally disappointed in the transformer series, from build quality, warranty work, ram management, nonexistent customer service, to lack of updates. I was even able to join a class action suit because a dongle was required to make the GPS work. Ugly experience. Now, Asus' nexus 7 2013? Beautiful piece of work.

I got a Windows 10 2 in 1 last year, it seemed like the android tablet market had largely stopped even trying to be compelling. And that doesn't seem to have changed.

Chromebook pixel C2 is the true replacement for pixel C.
imagine a tablet with 6.5 years of update with 6.5 years of android update with android app.

the tab S3 is way too expensive

Same price as other high end tablets, but I agree it's hard to spend that kind of money for anything iOS or Android.

I've been waiting for the s3 to hit verizon...not up to paying premium for a kb case, yet I'm so underwhelmed with the laggy bt kb experience.

"The only hardware complaints I can make are that the bezels are still quite large, and Samsung's use of capacitive navigation buttons and a portrait-like hardware layout for a decidedly landscape-focused tablet makes little sense." The buttons are in the best place possible for landscape use IMO. When in landscape the buttons are right next to my thumb on my right hand, I can't stand tablets that have the buttons in the middle when landscape like the original Tab S, it's uncomfortable to reach in and touch them.

The solution is to put the navigation on the display itself and not lock it into portrait or landscape by putting them on the bezel. Makes it harder to hold the tablet without activating them, and it makes no sense that you'd put them on the side with the "back" arrow facing down and the "recents" key vertically. I really have no idea what Samsung was thinking with this nav button decision.

Sadly I think their intention was to mimic Apple. Unless I'm mistaken they moved their buttons at the same time they released a 4:3 aspect ratio. I would enjoy on screen buttons if I could choose where to have them on screen.

I had the Tab S and hated it. I bought the pixel C and to this day, it still runs perfectly. While I'd like something lighter, I'll never go back to Samsung's touchwiz and bloatware. I'm staying pixel C until Google hopefully comes out with another

You had bloatware on a tablet???? I had the note 10.1 2014 and now the Tab s3 and there isn't any bloat

What version did you get? I have the same tablet (Note 10.1 2014) and have 10 pre-installed apps disabled.

I've never had bloatware on a Wi-Fi Samsung tablet, unless your calling Samsung apps bloatware, because in that case i can call all the Google apps I don't use bloatware as well.

Google apps you don't use are bloatware, as are those Samsung g duplicates.

Exactly. Samsung has customized android to suit their needs and utilizes their apps just like any android oem can do and that's why android is so great. What I don't like is that Google requires their apps to be on the phone. I would much rather download what I need like photos, Now, etc. I don't want Gmail or any other crap google apps.

Tablet market is dead. Companies have killed the market with pricing. Remember the $250-$450 tablets that had good screens, memory and processors. I do, we own several in our family. No reason to upgrade, since companies seem only interested in $600+ tablets.

Not a chance I buy one of these. I'm still running my Nexus 9 and it's horrible but I can get a OnePlus 5 with way more power for less money. As for a productive machine, heck an SP4 M3 doesn't cost anymore and is a real computer

Andrew, I have a hard time justifying these prices for an Android tablet experience. You talk about the differences between them, but don't really go into why you'd spend laptop prices on such a device. What do you use a $700 tablet to do?

The final paragraph lays it out:

"If you dropped $749 on a Pixel C and have been using it all this time, chances are you see the value in this type of hybrid tablet-with-keyboard device. You want something thin, light, and portable that isn't quite a laptop but can masquerade as one when you need it and then lose the keyboard entirely and be suited to full-screen media apps. And if you haven't yet grown tired of those inherent compromises, but do recognize the Pixel C is getting a bit long in the tooth, spending $729 on the new Galaxy Tab S3 may not seem so crazy."

These tablets with keyboards are inherently filled with compromises, but some people want them anyway. It's a small, light machine that's very portable and can get some of the basics done in terms of "productivity" (whatever that means to you) while also offering good possibilities in terms of removing the keyboard for media consumption with really strong battery life that no laptop/2-in-1 can touch. The unfortunate part about it is you have to pay extra for that, even though you're getting compromises as a result. But for many people, this isn't an "either / or" decision. Many people buying a $729 tablet + keyboard probably already have a $1000+ laptop and a phone, and wants something different to fill the gap. They don't want to own another laptop, even if it's a "better value" or "has better specs."

Hardware Nav buttons in a 2017 tablet is just plain stupid.

Take the "2017" out and you're dead on!

Yet the 2 best selling tablet brands use them.

I only got the Pixel C because it was $350 on discount. It's a couch/bed/toilet device, nothing more. There's no way I would've spent more. It does a great job for what I use it for. If I need to be productive, it's a laptop or my desktop. I believe Apple killed it with their new ipad. It's $329 and does a great job for what a tablet should be...consumption. There are way too many super light, powerful laptops for a fraction over the price of Samsung's offering (or Apple's ipad pro or Google's pixel c). To me, it's so much smarter to choose a good laptop for $800-$900 than a tablet for $700ish. Also, knowing Samsung's lack of timely updates in the tablet market, this thing will be outdated by fall. You'll be on android 7 with a 2016 processor. And looking at a site like Best Buy, and how this Sammy is selling, it seems the general public is passing on this tablet as well. It's WAY down the best seller's list.

Better to get an iPad for that price than the S3 with SD 820 and probably no software updates.

Good point, or for a couple of hundred more get a Surface.

If Samsung releases a version with 64 GB of internal storage I MIGHT consider it, 32 GB is a bit tight on my current Samsung tablet. I also have a bad taste in my mouth about the update experience from Samsung - taking over a year to finally release the Lollipop update for the Note 10.1 2014. I'm hoping Google releases an updated Pixel C this summer, I could use a new tablet and I'm VERY reluctant to go Samsung again.

The problem with this whole article is that it assumes a devices usefulness is nearing an end because of it's age. The SOC in the Pixel C is far from near it's end. Two new devices were released this year with it. The updated Shield TV and the Nintendo Switch both use the same SOC. They can do things that i suspect the SOC in the Samsung tablet can't do. I suspect it will be around a bit longer then many expect. The real question is simply does the Samsung tablet do things better which this article does address and those can be important to some people.

Agreed. Even the Snapdragon 835 in the new Tab S4 is not as fast (GPU-wise) as the Pixel-C's Tegra X1. Though to be fair, even though the new Tab S4 disappointingly uses the year-old S835, it would still be comparable to (or even better than) the TX1 in long-term GPU performance with obviously much better CPU. It's not really a dispute with the Tab S3. The Pixel-C is better.

Yep, the new $329 iPad is still a killer device from a price/performance/ecosystem standpoint. And when it inevitably drops to $299 or less it'll only get more momentum. That said, it feels way less premium and more dated than the iPad Air 2. Something with the Air 2 formfactor, screen, and updated internals for $329 would have been a world-beater. I still got a Tab S3 just because of the awesome screen & Type-C port. I use these things for gaming and content consumption 99% of the time so I have zero need for an S-Pen or a keyboard of any kind. S3 is an awesome tablet but it has way too little storage and too few improvements over the Tab S2 for $600. The value choice would be to get a Tab S2 T813 2016 Snapdragon 652 refresh. Good (not great) battery life, thinner & lighter than the S3 and without the fragile glass back. And a MUCH better case attachment method (the pins on the back versus the wobbly magnets). I just HAD to have Type-C and expandable storage in one device and the S3 is the only tablet on the market running Android that meets those requirements.

" Whereas the Pixel C is hardly usable as a standalone tablet, you could actually see the Tab S3 being used for media consumption or held up without a keyboard for a bit. You just can't say the same of Google's tablet." I stopped reading here... as the author and living on different planets. The Pixel C was by far the best android tablet I have ever used, and I really doubt that has changed much if Samsung's tablet runs as bad as even the GS8.

32GB on Samsung is awful. I love my 64GB Pixel C. There were so many apps on my Samsung Tab S that took up so much space that i didn't need. I love the cleanliness of the pixel and love that I can charge my Pixel XL with rapid charging from my Pixel C with a C-C cable

I'm still using my Sony Z2 Tablet...
I use a BT keyboard case with it (not Sony's) for the times that I need to type and don't need a laptop or PC because I use Chromecast on a 42" TV if I am needing the pc/laptop typing experience.
I mainly use it (the tablet) for reading emails, browsing the net etc with the added advantage I can watch the football while taking a bath and have no worries about dropping it in the bath!
The only time I'll upgrade from this is when it dies on me, so I'm hoping to get many more years out of it.
I'm totally against Samsung due to the way the reverse the buttons on their phones/tablets because it gets confusing when switching from phone to tablet and vice versa if they're the opposite way around. I had my S6 edge for less than an hour because of this.
To top it off, in the UK the price difference is another $200 to be added to the USA price so no way would I pay that much for something that is so out of date at its initial selling date, with no guarantee of any OS not security updates.

Now that Android Apps work fine on my Asus Flip I'll keep using it over getting either of these. Light, great KB and best of both Chrome OS and Android worlds and cheaper.