Galaxy Tab 2 7.0 Student Edition Bundle goes on sale tomorrow for $250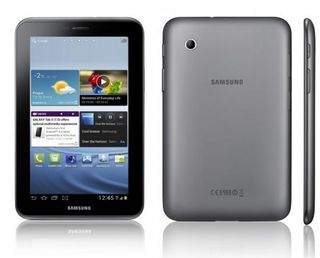 Samsung will be offering the special Student Edition Bundle of the Galaxy Tab 2 7.0 in select stores tomorrow. For $250 you'll be able to buy an Ice Cream Sandwich powered, 7-inch Galaxy Tab 2 (the 8GB version in a limited white color), a keyboard dock, and a USB adapter from Best Buy, Tiger Direct, Fry's Electronics, Amazon, or Costco. The keyboard dock and USB adapter will bring more functionality to the tablet, and Samsung is also including an insert of recommended education applications available at Google Play. This offer will only be available until September 1.
The price of this package is a hundred dollar savings over buying the individual pieces, so it's worth a look if you need a tablet with a keyboard. Of course, there is another 7-inch option out there in the Nexus 7, but the Tab 2 7.0 does offer an SDcard slot, IR blaster, and a rear camera. We just like to see all the different choices. Samsung's press release is after the break.
SAMSUNG Brings the Galaxy Tab 2 Back to School with Student Edition Bundle adding Keyboard Dock and USB Adapter at no Extra Cost
For Two Weeks Only Beginning 8/19, Bundle delivering $100 in added value to be available at participating retailers
RIDGEFIELD PARK, N.J., August 17, 2012 – Samsung Electronics America Inc., a market leader and award-winning innovator in consumer electronics, today announces that its Galaxy Tab 2 7.0 device will be available in a special Student Edition, beginning 8/19 and for two weeks only. The Special Edition includes a Galaxy Tab 2 7.0 in a unique white color, a keyboard dock and USB adapter in the box – a retail value of $350 - for an SRP of just $249.99.
Students will realize substantial benefits from the bundle, which will add a physical keyboard to the device as well as a USB adapter that supports plugging in USB thumb drives as well as peripherals such USB mice. With these accessories and the preloaded Polaris Office, the Galaxy Tab 2 is perfect for typing research reports or even creating presentations. In addition, the multimedia features on the Galaxy Tab 2 are perfect for enjoying movies and music.
"The education market is a significant priority for Samsung, and we are very pleased to deliver a bundle that is sure to be appealing to just about any student at a very competitive price point," explained Travis Merrill, Director of Marketing, Galaxy Tab, Samsung Electronics America. "A busy student can achieve a PC-like setup in the dorm room, yet still pop the Galaxy Tab 2 out of the dock and slip it into a pocket for usage while on the go. It truly is the smarter way to learn."
The special packaging for the new bundle also includes an insert with a series of recommended cool educational apps from Google Play.
Galaxy Tab 2 – Powerful, Smart, Easy to Use
The Galaxy Tab 2 7.0 is a powerful dual-core tablet running Android 4.0. The devices features an integrated IR blaster for universal remote capabilities, as well as an easily accessible memory card slot for convenient loading of multimedia files in a range of supported file formats.
The tablet also offers endless content access in a sleek design that can maximize the home entertainment experience. The Smart Remote App and built-in IR Blaster turns the Tab 2 into a universal smart remote, helping users easily find their favorite shows. Users can choose from over 450,000 apps, surf millions of web pages with Adobe Flash™ support, and access favorite movies and TV shows from Google Play or Media Hub.
In addition, the Galaxy Tab 2 is fully Google certified for complete access to Google Play and is competitively priced at $249.99, so students don't need to compromise when selecting a tablet.
The bundle will be available while supplies last, from 8/19 through 9/1. Participating retailers include Best Buy, Amazon, Tiger Direct, Costco and Fry's.
Android Central Newsletter
Get instant access to breaking news, the hottest reviews, great deals and helpful tips
Senior Editor — Google Ecosystem
Jerry is an amateur woodworker and struggling shade tree mechanic. There's nothing he can't take apart, but many things he can't reassemble. You'll find him writing and speaking his loud opinion on Android Central and occasionally on Twitter.
With a keyboard dock?! That's one good bundle.

all it needs is JellyBean and it's perfect. Was thinking of getting the Nexus 7 for my dad's bday, but this has expandable memory which he'd prefer more, since he doesn't use or know of cloud features and likes to keep his music on the sd card. But then again maybe ics is better since flash doesn't work with JB.

Seems like a good deal and I would pick it up for school but the the tablet will be in portrait mode in the keyboard dock. If the connector was on the side it would be a lot better for viewing and typing more then a few sentences.

Just when I thought I decided on the Nexus 7. Might have to re-think this.

I had the Samsung tab 2.0 7 .
The Nexus 7 is way better .
end of story.

You had a tablet.
A different tablet came out.
You formed an opinion.
Good on you. You trumpeted your opinion as fact.
You assumed the authority to say the story was over.

You then proceeded to over analyze his opinion with your opinion with your opinion attempting to degrade his opinion.

I don't have a problem with the opinion. He has a right to trumpet his opinion AS his opinion, but he stated his opinion as fact and said that was all that needed to be said about the whole issue.

Thought Jerry is a Apple fanboy now, since his rant on "google is evil" since they decided to fight back article?

Don't hurt yourself with all that "thinking".

I have this tab, and I am really loving it because I bought the wifi+3G version,like all the Galaxy Tabs 2 it comes with two cams and a memory slot, but this is something that I want to let you know, wifi on these tabs is a bit buggy, it depends on how you grab/grip it and on your wireless router,that being said if you buy it beware of this.
It is a very nice little tab though, and I will keep it for a long time just because the P-3100 is also a phone.

Man, the fact that this has an SD card slot and comes with all those extras is making me consider this over the Nexus 7. Must look up review videos. Or maybe try out a display one at a store.

I had two Nexus 7's. Both were defective. The first had a screen flicker issue. The second had a screen flicker issue and the screen was lifting. The screen flicker was enough to be quite annoying in low light conditions, and distracting during movies. Instead I picked this up yesterday (Best Buy didn't have them on display, but if you ask they will sell it to you). I personally feel the build quality on this one is better than that of the Nexus. It feels as though it has a chance of surviving should it fall out of my hands. The screen is solidly attached as well. No flickering issues at all, though you can notice the lower resolution when looking at small text. Mine came with a small dead pixel near the bottom of the screen, but it is hardly visible so I don't mind (I was actually looking for dead pixels when I found it). However, both Nexus 7's came with perfect screens when it comes to pixel health. The Nexus 7 battery seems to last longer than the Tab's. The Tab's is still acceptable, something like 6-7 hours with heavy internet use. The keyboard is surprisingly high quality and would be useful for taking college notes in class, without lugging around my (crappy) laptop that tends to overheat and whir the fan loudly. I haven't yet tried the USB connector but I can see it being useful for easy transfer of files to a USB drive. I like knowing I can connect an SD card for extra storage, though I haven't tried that yet as well. When it comes to speed, the Nexus 7 definitely feels faster, but the Tab 2 is not a slow machine at all. It streams HD without hiccups, and will run all but the most graphics heavy games no problem. I don't like the included Samsung apps you can't delete, which just take up space. Also, be advised, this "8gb" version has less than 5gb of actual device storage space with the OS hogging up so much room! Overall, the Tab is better for me, but what you should get depends really on what you want. P.S. TIP: The electronic keyboard on the Tab maps shift-space to a language change preference. When typing on the real keyboard, you will find this can be annoying and triggered by accident. Just download a different keyboard from the internet and it'll stop presumably due to different key mapping. I'm currently using SwiftKey for tablets.

Yes the screen quality and processor are better with the Nexus 7. Thats where it ends though. I went through several of the Nexus 7 models and screen lift and touch screen would stop working until reboot. The white version of this even feels more solid than the black. The build quality of this Galaxy tab 2 feels like an Ipad. The build quality of the Nexus feels like a Huwai Go Phone. Have a Nexus & and still feel like I am wrong? Press your thumb down on any of the 4 corners of the screen and watch the screen look like you are touching a 10 year old LCD. Even at $199 and $249 it should have better build quality.

I ordered one from Best Buy today and will pick it up on Tuesday. (I have to work tonight and Monday). I can hardly wait to start playing around with it. I can see this being successful for Samsung and competitors coming out with thier own specials. I see this a win for tablet users everywhere.

I ordered one of these bundles off Amazon. It'll be my daughter's xmas present, but I'll have to turn it on...for the sake of setting it up of course. :-)

You guys will be very happy with the device,you'll be even happier if you root it and remove some of the bloatware although it does not come with a lot, but it will help. I set up some of the developer options such as the animations I always turn them off and changed the background process limit down to 3,that helps too.
Once again I am very happy with it, and your daughter will be thrilled with it,well, so will you ;-)

Just walked in the door with mine today. It comes with too many advantages to let such a bargain slip by.

How do you set up a usb mouse to work on it? Is there a special program you need to download?

I purchased the Nexus 7 and just could not get comfitable with it.. Within hours I started to have issues with the screen not being responsive. Decided it wasn't for me..The next day I went to Best Buy and purchased the student Edition Tab 2 after reading about it on Android Central and I am pleased.. The Key board, very nice quality and Tab runs super smooth for me. I love that it is in white, pretty!
I feel very good about this purchase.. Thanks Guys for the heads up!
Android Central Newsletter
Get instant access to breaking news, the hottest reviews, great deals and helpful tips
Thank you for signing up to Android Central. You will receive a verification email shortly.
There was a problem. Please refresh the page and try again.