Galaxy Tab 10.1 shows off keyboard dock, Transformer gets jealous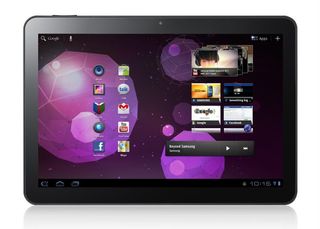 Youtube link for mobile viewing
I know we just told you about Logitech's new line of tablet accessories and Phil just made it known that the Galaxy Tab 10.1 should have been what Honeycomb launched on, so this next bit of news looks to enforce the latter and outdo the former.
On video we have a short clip of a Tab 10.1 docked into a Samsung-branded keyboard dock, which looks to be made specifically for the 10.1. Not much is shown in terms of functionality, but you can notice there's no trackpad and there is a 3.5mm headphone jack. Other than that, the video is a lot of comparing the Tab to the size of a laptop, walking around, and saying things in a language I don't understand.
I, for one, am excited about a first-party option in the keyboard dock department. What does this mean for the Asus Transformer, though? For now, it remains the undisputed king of tablets with docks. Perhaps a battle is brewing.
How's this sit with anyone else? Is this enough to set your sights on the Tab 10.1, especially over the Transformer? We're curious, so let us know.
Source: TabletD; Thanks Will Hicks!
Android Central Newsletter
Get instant access to breaking news, the hottest reviews, great deals and helpful tips
That is just Samsung's fixed angle keyboard. It is not hinged so you can turn it into a netbook or change the viewing angle. It does not add a trackpad, extra battery, SD card slot or USB ports. That is a keyboard not a dock, just like all the rest. It is not even Bluetooth. What he is saying is, "The Samsung must be jealous."

The Transformer is quite nice, and it folds like a laptop. It looks like this keyboard dock is designed to stay put while the user takes the tablet on the road. I think the Transformer wins for keybaord portability and practicality. But both are great tablets - the first two great Honeycomb tablets, IMO.

Oh, and that language is Thai

Jack talk Thai very well.

I'll stick with my transformer till the GT8.9 comes out. Hopefully that will have the microSD slot they promised back in February. No tablet is worth it to me without real expansion capabilities.

sorry, posted multiple times for some reason.

I wouldn't get any tablet without a keyboard that has a properly functioning trackpad.

What exactly would the Transformer be jealous about? Jeez can you guys remove your lips from Samsung's butt? From Android police the dock costs $110! This is without a SD slot, without an additional battery, without a hinged design to convert it into a netbook, without a trackpad (that recognizes gestures to boot) and without USB ports (I'm only seeing a pin adapter port). All so you can get a sound boost. So yes it is $40 less than the Transformer dock, but without any of the perks. Plus a 16gb Transformer plus dock runs you $550. A 10.1 plus dock will run you $610!

Pay more money for less functionality? The only company that can get away with that trick is Apple. That's not going to work with Samsung. The Transformer is the better value and I think that will be the tablet I go for.

This keyboard is zero competition for the Asus dock. I won't even waste my breath in the many ways it falls short, comparatively speaking. Besides, if this is simply a keyboard, why is it so chunky? Would've been much nicer if its profile was just the white portion.

These are tablets, people. If you want a keyboard, buy a laptop/netbook. Geez.

Would it have killed them to remove the trash from lunch before they started filming? I give them a failing grade for that alone.

Yea, these are tablets, but who wants to try to type on a tablet screen? I don't and neither do a lot of people. The Transformer wins hands down. I won't be buying any tablet that doesn't include an SD Card slot.

I have multiple devices: laptop, desktop, iPod, Android phone, iPad 2, and a Galaxy Tab 10.1 (I attended Google IO) and don't agree that a tablet PC needs a hardware keyboard. I understand everyone's use case is different, but to assume no one will use the on-screen keyboard is short-minded. I for one will never use a hardware attached keyboard. The on-screen keyboard on the Tab 10.1 is excellent and very functional. The biggest advantage of the tablet PC for me is size. Why double that size with a portable keyboard? That said, I don't see a tablet PC doing away with a laptop anytime soon. I tried...the software is just not there yet.

You don't double that size all the time, only when you need to do a lot of typing. The rest of the time, especially if you're travelling, you wouldn't need the dock. And when it's plugged in on the Transformer, you get two USB ports and another 6 hours of battery. Some websites/web apps just work better with a trackpad and cursor too. It's not a case of "needing" a keyboard, it's a case of having one around when it makes your life easier. For a lot of people - not all obviously - this means you can throw away the laptop.

I get that. In my quest to eliminate my laptop, I've found the problem is not the keyboard, though I understand the benefits. Instead, I'm running into limitations of available apps. In particular, have you tried creating a Word document (or any other format) and do any "advanced" editing such as creating tables or even different fonts for that matter? I can't believe how simplistic those apps still are on a tablet...even the iPad. What I've found myself having to do is remote into my laptop from the tablet and use MS Office or other advanced software that way. That is why I say "I" can't eliminate a laptop yet. And I'd say many are in the same boat right now. Google made an interesting statement at Google IO saying they found about 70% of business users can convert to the Chromebook. I don't know if that would apply to tablets or not.

And seriously, waving the tablet around, comparing it to the size of a laptop, and then waving the keyboard around without using the two together and showing us what they can do, isn't much of a demo. More like a wannabee reporter failing at demoing a product.

That dock looks like it would be a really good option for replacing laptops that usually sit on a kitchen counter, or half-wall, and rarely get carried around. The hinged and restrained keyboard of the Transformer would still be a better option for someone looking to be mobile with a keyboard (or even to be able to sit on the couch and type out something lengthy.) -Suntan

I feel like this isn't even close to what the transformer can do and you can get more for less with the transformer.

Who cares about the dock, but is that an SD Card slot in the video? This seems to be a white backed version but differnt from the I/O version. Why cant anyone confirm whether or not it will in fact have a MicroSD slot?

I don't see how useful the Samsung keyboard truly is, as it doesn't have a hinge. I've had my Asus Tranformer for 3.5 weeks and the keyboard/dock for 4 days. The keyboard/dock really pushed the tablet to the best device I've owned (so far). I really enjoyed the ease of having a touchscreen, but the keyboard really makes the tablet usable for all day. I tested the 16 hour battery claim and used the tablet/dock exclusively one day. By bedtime, I had 18% charge left. Amazing.

I would have to agree. I've had to retrain myself as I also own a MacBook Pro. I used to have to plug in whenever I was using it, or else only could use it for an hour or so before half the battery was gone. With the Transformer, I keep thinking "Oh, I've been using it for 3 hours nonstop (including watching video), so it must be needing a charge", and I am constantly pleasantly surprised to learn that it has full battery (because of the keyboard dock charging it). Let's just say my MacBook Pro has been gathering dust in the week I've had the Transformer. In fact, I haven't even considered opening it.

Cant wait to get my Transformer in a few days. My wife was has been wanting an I pad for a while and She is now sold on the transformer after she saw the Review from YouTube. I think I've even had a dream about having it my hands last night. I'm getting the 16GB and getting a 32 GB SD Card.

When is the Galaxy and Transformer supposed to be really available in brick & mortar stores?
Android Central Newsletter
Get instant access to breaking news, the hottest reviews, great deals and helpful tips
Thank you for signing up to Android Central. You will receive a verification email shortly.
There was a problem. Please refresh the page and try again.