Galaxy S9 and S9+ with 128GB or 256GB of storage now available for pre-order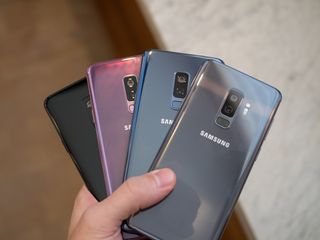 The Samsung Galaxy S9 and S9+ are great smartphones, and with 64GB of internal storage and microSD support, offer plenty of space for all your local files. If you find yourself needing more room, however, Samsung's got you covered with newly announced (opens in new tab) 128GB and 256GB versions of both phones.
These versions of the S9 and S9+ have all the same specs and features we already know, with the exception that the 64GB of storage has been upgraded to 128GB or 256GB. The processor, display, cameras, and everything else remains the same. Even with the increased storage, you can still expand them further with a microSD card.
Pricing for the new and old models is as follows:
Samsung Galaxy S9 w/ 64 GB — $719.99
Samsung Galaxy S9 w/ 128GB — $769.99
Samsung Galaxy S9 w/ 256GB — $819.99
Samsung Galaxy S9+ w/ 64GB — $839.99
Samsung Galaxy S9+ w/ 128GB — $889.99
Samsung Galaxy S9+ w/ 256GB — $939.99
After the pre-order period ends on May 17, prices of the top-end 256GB models will increase by $20 — to $839 for the Galaxy S9, and $959 for the Galaxy S9+.
The 128GB and 256GB S9 and S9+ are available for pre-order now and will officially launch on May 18. As a reminder, these versions are only being sold through Samsung.com and not through carriers.
Additionally, anyone who buys a Galaxy S9 or S9+ of any storage size before May 17 can get a free pair of Gear IconX (2018) wireless earbuds or purchase the Gear S3 Frontier for just $99 (normally $350).
See at Samsung (opens in new tab)
Joe Maring was a Senior Editor for Android Central between 2017 and 2021. You can reach him on Twitter at @JoeMaring1.
Much prefer internal storage to SD cards.
I've had SD cards fail and they never seem as fast. Hope the Note 9 comes with
256GB.

Much prefer SD cards to internal storage. I've had phones with no card slot fail and new SD cards are fast. Hope the Note 9 doesn't come with
256 GB.

No one forces you to buy 256 GB. The thing is offer 64/128/256 GB along with SD card option and keep everyone happy.
Glad that's what they are doing now.

Thanks for nothing samsung, I would have waited for a 128 GB had I known. I've been samsunged again. That's what you can do when you lead the smartphone market.

Rinkedink, I knew consumers would be pissed. That's a very huge failure on Samsung's part. I bet it's because the s9series is not selling as well as the s8series! Yikes!

I'm not much a conspiracy theorist, but Samsung S7 edge, S8+ and S9+ have all eventually mysteriously stopped seeing non-samsung micro sd cards. However, these same cards have worked flawlessly in other phones like ASUS, BLU and LG. Put a Samsung card in samsung phone and no problems. What a coincidence! I would have liked a 128 gb phone out of the box to have avoided this issue hapenning again, but no.

Lol you know, I had not thought about that! I noticed that, when I upgraded to the Note 8. I took a perfectly good SD card from my old phone and put it in the Note and no matter what I did, I couldn't get it to read. Bought my wife and myself a Samsung 128 SD card and absolutely no issues. Fortunately, found them on Amazon for a fairly reasonable price. So, I wasn't too upset. About $80 for both.

Personally I've got more than 1 SanDisk card in use with Samsung phones right now.

I have a Samsung card in my LG V20

I'm using a Sandisk extreme with no issues in my S9... What problems are you experiencing? Hope this isn't the case!

It just randomly stops seeing the non-samsung cards where I store google map downloads, photos, and downloaded music from google play.

Wow storage for years! I wonder how many will go for these.

Years? I can fill it up in 10 minutes. Lol

Oh wow, I wonder if you just have a lot of media or something because that fast is interesting.

I have 300 GB of music. I plug my phone in to PC and transfer my favorites. Takes only a few minutes.

Wow that's a great price for 256gb in relation to base 64 gb. Always prefer larger internal storage over sd card and this is a welcome addition to people like me who prefer having larger internal storage. Thanks Samsung.

I wish they'd be available at carrier stores. Harumph.

In the age of 4K and HD I'm of the opinion these phones should come with 128 GB of on board storage right out of the box. Yes, I know all about SD cards and so forth but in my experience it is not as reliable or as user friendly as on board storage.

I agree. It is insane that phones are coming with so little storage. 128GB of flash storage is cheap.

I switch to a new phone every 6-12 months so I definitely don't need that much storage. But I wish Samsung would give us this option at launch.

Finally Samsung does this even though I think they are the only company that manufacturs memory this size.

When OEM'S release their phone's they should stop with the regional restrictions. It's total BS! Make all features available to one & all!

Thanks Sammy. But I usually like to get kissed while I'm being screwed.

With or without tongue? That is the question.

Some questions are meant to remain unanswered, hopefully that'll be one of them

Well, it's nice to have to have the full scope of things ...

So the S9 is selling record LOW numbers. I'm willing to bet in a month prices get lowered and you will be able to get a 128gb version for what you paying for the 64gb version now. I suspect later in the summer there will be no 64gb versions left.

Where are you getting this information? Yes, they're are selling at record lows in their home country of South Korea but a new report says that Samsung shipped more than 8 million Galaxy S9 and Galaxy S9+ units in the first month of sales. That's apparently good enough to outperform last year's Galaxy S8's first-month sales performance - which is saying something with the S8's redesign and hype! All smartphones are suffering lately too! The S7 sold a cool mil more during the same first month...

I have a 128gb s9+ as that is all that is available in the UK. S9's come with it 64gb as standard over here.

Same in Israel, when you buy the 9 plus, you'll get it with 128GB as standard (bought mine almost 2 months ago)

Mother-fer! I just bought an S9+! Damnit Samsung 😑

Maybe you could look into returning it if that would work out better for you.

The fact that Samsung would release a better phone at or below the cost of the one just released 2 months ago, spitting in the face of early purchasers in the process, is just deplorable. How many people who purchased the S9 or S9 plus when it was released would have waited another 2 months for a version that offers double the capacity, or even more. I find it hard to believe that the larger capacity units weren't already in the pipeline when the lesser capacity units went live. What a ****** thing to do.

Complains, always complains. People will never be satisfied regardless of what happens. You're forgetting that Samsung still keeps the Micro SD card slot around which allows people to upgrade their capacity at a very small cost.

Yep lol... Its always something! I'm fine with 64MB... Just 2 years ago all you could get was 32MB and I remember the days of 8 & 16 lol

Me too, I use a 128gb micro s/d card in my s8+ and that's more than enough storage for me. On board storage is very nice but is the added price is higher. 64gb's of base storage is fine for myself & at least Samsung offers s/d expansion!

What people should be praising and be grateful of is the small price gap between each capacity storage. I'm not a Samsung fan, but only having a $50 gap between storage space is not something trivial, whereas all the other big OEM put at least a $100 price hike just to upgrade storage capacity. So kudos to Sammy for that.

Hey let's wait for everyone to buy up the original models and then offer models with more storage later.😂😂 Wow Samsung but to be fair these prices are a major steal. 256 S9+ for less than the base model iPhone X for comparison? Very fair pricing.

I was lucky in In India 128gb was launched only in 15 days after s9 launch...soo I brought 128gb S9+ coral blue and sold my Note 8...I was lucky as I decided to buy S9+ 128gb version was launched

Great price on that 256 9+! Pay attention Google. Knock off the 64 GB, and go straight to 128 please.

Well, not very pleased with this as a pre-order customer. Not really doing right by the people who showed up to purchase your new products right out of the gate, AKA- loyal customers/fans. 128Gb is the storage level I wanted and would have purchased immediately if offered upon release as it should have been. I won't even keep this phone for a year in all probability, but what this move does accomplish is making sure that I don't give the Note9 as hard a look as I would have, as I have had an interest in checking out the stylus capabilities and functionality. Oh well, whatever, only slightly p*ssed. I bought this phone mainly as a media consumption device, the same way I still have a Pixel 2 XL to check out the latest Android releases, but find myself carrying an iPhone in daily life for work and family. Good one Samsung, you got me a little bit this time, but you've made me look at your future products less and with a more skeptical eye. If that was your intention, then congratulations are in order, you succeeded. 😉

I'm assuming the storage bumps only applies to US Unlocked models, correct? And not to carrier variants?

That's my guess. I don't need that much storage with my SD card but I can't do the unlocked models. Lose wifi calling on Verizon

Same here... what definitely rubs me wrong is that I literally just bought myself a VZW S9+ and my wife an S9 yesterday... phone hasn't arrived yet and already have buyer's remorse. Only thing that will make it worse is if the larger capacity versions are available specific to each carrier. That would definitely hurt. Oh and even better, in the same order I also just paid for the icon x ear buds that they are now giving away. Feels great right about now.

I would return them since they're still in the return period and buy new ones with the free icons
Or they might be able apply this deal and refund u for the icons

Well, I'm happy with my phone but I would have purchased more storage if it was available at release. Poor move. This is the issue with getting new phones at release.

I bought mine preorder and got shafted. Right after they came out they started offering bundles, and now this. 🙄🙄🙄🙄🙄

No wonder I saw S9 refurbs for $500 at Best Buy. Each year manufacturers generate the hype for features that become old news in 3 months. (Of course I know it's the tech industry) Toss in memory cards, vr headsets, or wearables and people easily justify spending full retail.

I hope that means the Note 9 will have 128/256/512 options

I'm happy with my 64 GB S9 with it's slot stuffed with a 256 GB SD card. I'm not paying extra to eventually have to leave the memory behind when I move on to my next phone. I rather take it with me and not pay extra with every new device I get.

I think these are pretty good deals, though I understand why people who got phones as soon as they streeted are annoyed. I would be too. I am still paying off my Samsung S7 as I got an amazing deal on it 18 months back and have no intention of paying full price to make the jump now. I figure prices on the S9+ will be lower by year's end, and if Verizon isn't offering the 256 version, i will order straight from Samsung. I am one of the folks who need a ton of storage as I take a lot of photos and carry around my digital music collection with me.

Shame-sung 🤔 So that one returns their 64GB s9 for the 128 or 256 GB variant? couldn't you fo this at launch ?
who are you trying to play this kind of catch up game ?
IMO i think these are games for upcoming ODMs
or
do you wanna call these new storage options the early refresh cycle to be followed by a mid refresh later on?
are the the s9 sales that bad to come up with this kind of bs? not even apple plays such! hopefully it gets you anywhere with your forecast sales and your target audience for these specific storage options.

This is a better deal than LG wanting $930 for an LG V30 ThinQ with 6 GB ram and 128 GB storage. For basically the same price you could have the S9+ with double the storage and a newer processor.

Why get so much internal space when you have a microSD slot? 64gb plus a memory card is all you need. Don't cheap out on the card and speed won't be an issue.

How about giving us adoptable storage support while you're at it...

My next phone will either be a 64GB Note 9 or a 128GB S9+. Then again, if the S9 Active comes factory unlocked, I'll go that route, if only for the battery.

Samsung is doing everything they can to cuck their biggest fans on this S9 launch.

About time. The S9s were non starters for me with only 64GB. I bought an LG G6+ from Prime with 128GB instead. I've had it 6 months and I have 42GB full. Not a ton of pictures, little to no video. Little to no downloaded music. Some podcasts but not an overwhelming number. Some downloaded documents I'm sure I could delete but not a GB worth. I hate having to puck and choose what apps to keep because of storage.

Haha Google would never screw over their fans like this unlike Samsung lol. Heck even Apple wouldn't pull a stunt like that.

I really don't consider this a stunt. I'm happy with 64GB with 128GB SD card & since it's only unlocked versions I wouldn't have gotten a larger storage version regardless- most wouldn't since they get their phones from carriers. Apple's done worse and I know from your comments you LOVE Google(which is cool) but if you think their hands are perfectly clean that's laughable...

I switch phones WAY too often to buy this much storage at once.

Why do you switch so much?

I'm so pissed these weren't available when I bought mine. I was upgrading from a 128 gig S6, and even with an SD card I miss the larger storage.

They are doing that to hurt iPhone sales, this first, then wait until Note 9 is released (early) as well, then S10 and then Galaxy X
Android Central Newsletter
Thank you for signing up to Android Central. You will receive a verification email shortly.
There was a problem. Please refresh the page and try again.