The Galaxy S9 and its Hyperknit case are a match made in heaven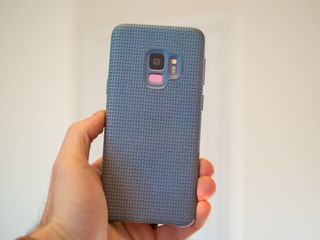 It's not often that a case speaks to me, but when the Galaxy S9 was unveiled in Barcelona and the beautifully-lit, cavernous demo area was opened up, I was almost (almost!) as intrigued by the first-party accessories as the phone itself. And I was not disappointed.
After gazing longingly at Samsung's Alcantara case last year — I bought one for the Note 8 — I wondered what else would be available, the alongside the practical, colorful silicone coverings I saw the true winner of the accessory crown, the oddly-named Hyperknit cover (opens in new tab).
It's difficult to describe exactly why it works so well, but the so-called "woven material" it's made from feels like nothing else I've ever used. It's light and grippy, almost cloth-like but coarser, with what appears to be a houndstooth pattern lending to its airiness.
Like this year's Alcantara case (opens in new tab) — an improvement over last year's model — there are real, reinforced plastic buttons on the sides, and the bottom is open, leaving the headphone, charging, and speaker ports open. Some have criticized this move, but I prefer it: the phone is already water-resistant, and the corners are reinforced to absorb any impact to the bottom part of the frame.
Image 1 of 3
Of course, being open this isn't a protective case — Samsung has its own (cheaper) Military Grade Case with Kickstand (opens in new tab) for that — but it's already saved my Galaxy S9 from more than a couple ignominious falls in the few weeks I've had it.
I also think it looks great. I have the grey model to accompany my purple S9, but there is a red version that would look fantastic with a black or grey phone. I particularly like the way the lilac glint of the fingerprint sensor contrasts with the muted ashen case.
If there's a minor criticism to level at the Hyperknit cover, it's the difficulty in activating the swipe-down notification gesture on the fingerprint sensor. The actual gesture requires the whole sensor to be covered, and such an action requires a bit of finesse, and maybe one or two repeats, with the case turned on. Andrew noticed the same thing on the Alcantara model, too, so it's not unique to this model, but it does hamper the experience somewhat if it's a common gesture, which it is for me.
The Galaxy S9, even the smaller model, is so slippery I actually feel like a case makes the phone better. I bought the GS9 with the Hyperknit cover and haven't felt the need to remove it which, given the number of cases I receive, is high praise indeed.
The Hyperknit cover runs for around $35, but it's a bit less than that on Amazon right now.
See at Amazon (opens in new tab)