Is the Galaxy S22 Ultra boring?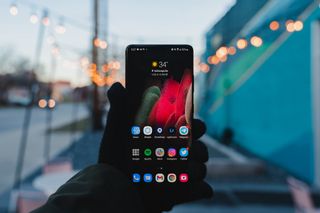 (Image credit: Hayato Huseman / Android Central)
Thanks to Jon Prosser of FrontPageTech and a tester with a flagrant disregard for Samsung's famous anti-leaking sticker, we recently got our first look at the hardware of Samsung's upcoming 2022 flagship phone, the Galaxy S22 Ultra. This could be one of the best Android phones of 2022, and as such, it is a pretty big deal.
In addition to confirming features like a built-in S Pen and hole-punch selfie camera, the leaked photos reveal a fairly ho-hum rear design for Samsung's next "Ultra" handset. The phone appears to be clad in black frosted glass, similar to the S21 Ultra, only without that device's prominent camera hump.
Whereas this year's flagship features a large raised portion covering almost a sixth of the surface area of the rear panel, next year's will instead opt for something closer to the LG Velvet's back design. If you'd forgotten what that looks like — and honestly, we couldn't blame you — it's essentially a series of minimalist lens protrusions that leaves the rear surface of the phone largely uninterrupted.
The black model pictured in recent leaks is just a little bit dull compared to its immediate predecessor. The S21 series features a distinct rear camera design across the entire product line, with the module surface blending cleanly into the outer frame of the device.
Compare what we've seen of the S22 Ultra so far to Google's latest Pixel phones, for instance. The Pixel 6 and 6 Pro is designed around its prominent camera bar, which extends along the entire length of the device. The Pixel is unmistakably a Pixel. The S22 Ultra shown in the recent leaks? You could argue it's pretty generic.
But this "boring" design is likely to hide some genuinely impressive technical innovations.
These early S22 Ultra appearances follow reports that two rival designs were in contention for the phone, the second sporting a P-shaped camera array. The fact that the bulge-free design has prevailed is notable because of the camera hardware we're expecting to see in the S22 Ultra. Folded periscope cameras like the one pictured often take up a considerable amount of space inside the phone, usually necessitating a raised area of some kind. Samsung, apparently, has engineered its way around this requirement.
A bulge-free design is also impressive, considering the presence of an S Pen silo inside this model puts pressure on the space available inside the phone. As well as housing what'll presumably be a large battery — at least 5,000mAh — and that periscope camera, a significant chunk of internal real estate will be used to house the stylus dock. Fitting all that stuff inside a phone — even a large one, like this — is no mean feat.
It's the antithesis of whatever OnePlus is apparently doing here, with the latest leaks for the OnePlus 10 Pro showing a design that fully leans into the idea of a camera bump, with results that can generously be described as a bit funny looking. This potential S22 Ultra design, while less remarkable, is closer to the platonic ideal of a phone that's entirely flat around the back and all screen on the front.
What's more, given that this will be the device to finally merge the Galaxy S and Galaxy Note lines, the sheer, flat back panel is a fitting complement for the rounded, Note-style side walls.
There's also the problematic nature of judging a product like this based on a few unflattering, low-quality photos. Phones in general, and Samsung phones in particular, are often used by testers in whatever the standard "black" color option happens to be, as opposed to more vibrant colorways that might be available at retail. That's exactly what we're seeing in these leaks. It's entirely possible, and in fact very likely, that we'll see Samsung address the blandness of the overall design by splashing a few eye-catching hues at launch time. (Rumors of an S22 Ultra in a bold red color have been circulating of late, and it likely won't be the only alternative besides black.)
The tendency of the press and the public to prejudge the designs of new products based on incomplete information or leaked photos is a major part of why many manufacturers hate leaks — beyond the obvious desire to control messaging around important products. There's a reason Samsung makes those little anti-leaking stickers in the first place, after all.
Fortunately for us, with an early February launch tipped, we won't have too much longer to wait to decide just how boring, or otherwise, its new flagship phone is.
Alex was with Android Central for over a decade, producing written and video content for the site, and served as global Executive Editor from 2016 to 2022.
Even with the separate holes for the cameras, it appears (from renderings) it will not be bulge free. Instead of a larger bulge it will be four small bulges.
To be unique they would need to do something similar to what Google did with the P6; hate it or love it, it makes the 6 more distinctive than 95% of the phones made today. Personally, I like the back of the 21 ultra...

And it will still outsell your ugly pixel 100 to 1

Beauty is in the eye of the beholder. I personally see nothing wrong or boring with the proposed camera array of the S22. To each his own.

Not just boring.... Ultra Boring! (I'll reserve judgement till I can hold one)

Really the only thing that separates phones from each other while someone else is looking at it is the camera array. This is vertical. That one is horizontal. The one over there is clustered. As long as they're not ugly it doesn't really matter. Most manufacturers have stopped caring about anything else in a design. It's all just the small stuff.

My Flip3 disagrees 100% on that.
Yes, the old slab design has been repetitive sales pitches the last half decade. Basically, who lies the best about what you get with the same components they're sourcing from the same plants? But Samsung is at least doing something no one else can copy in a functional way, with the Flip and Fold phones.

You're not wrong and the same goes for the Pixel 6 but even there it's a very simple coloring difference that does have some tactile difference. And with the Flip, when it's open it's barely distinguishable from anything else. It's defining feature there is just the length.

It is fascinating, honestly, that we concern ourselves with the look of a flat rectangle glass thing. It is quite a common topic.
Most people.... meaning almost everyone.... immediately cloaks the "sexy" device with plastic protective stuff, so it's almost like we just want to be assured that, under the ugly plastic cover, we've got some sweet looking bit of tech in there.

I feel the 10-20 line was minimal and the 20-21 was a little better justifying a jump but the 22 seems like a skip year for many reasons. Mainly what "new" could possibly make me want to change. The reality is without major jumps in design and hardware, it's getting harder to justify a jump year over year and even every 2 years.

I dont buy it that these leaks are unintentional. Publicity is never a bad thing and Samsung loves to hold the spotlight. The stupid stickers are targeted at the people seeing the leaked image not the leakers. Instead of calling this phone the Ultra why not call it the Galaxy S22 Note? Just a thought.

It seems that instead of camera bump, the device will just be thicker. About the thickness of the S21U in the area of the cameras

That seems to be the case. Even with the S-pen holder, it's disappointing that extra space isn't going to house a battery a little bigger than 5,000 mAh. Maybe the extra space is used for heat dissipation somehow. The cynic in me says battery sizes are slightly smaller than they could be in most smartphones to force obsolesce and avoid a situation where users get like, 3 years of really good battery life out of a larger battery.

I find it comical that people actually care what a phone looks like. I've had phones since the beginning, never once has anyone ever said "hey man, that's a nice looking phone". So silly.

Same thing about my wife... ;-)

Looks like I'm sticking with my S10 for a little longer.

Camera bump is a non issue for me.... In my case, a Note 20 Ultra camera bump is masked by the Otter Box Defender I use. Also, I don't honestly believe anybody cares about a cell phone look.... They are all rectangles and all have a purpose for different needs at different price points. An opinion I repeat a lot is that today's top phones do not need to be upgraded often and it is a bit irresponsible to do so as manufactures hope, every couple of years.... Lol... Back in the day... We had the same landline for over ten years😆. We'll see what 2024 or maybe 2025 offers... Lol. And even then, I'll feel a bit sick at dropping a tonne of cash on a goodness forsaken cell phone. Be well everyone.

Agree 100%. Now I keep my phones until they stop working, there isn't a compelling feature on the newer models over mine, just marginal improvements here and there that make no difference in day to day use.

With a built n S Pen why not just call it the Note and release it with the S22 an S22+? I guess they decided Note makes it sound niche.

A whole article based on a render :/ Yes it looks crap, so does the OnePlus 9 Pro, but who cares. Most of us put it in a case anyway.

Does anyone think Pixel 6 looks great? lol, all look basically same anyway with a case on ;)
Android Central Newsletter
Get the best of Android Central in in your inbox, every day!
Thank you for signing up to Android Central. You will receive a verification email shortly.
There was a problem. Please refresh the page and try again.