The Galaxy S20's night mode has this really cute animation you have to see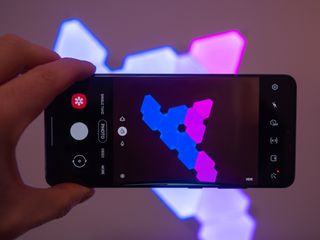 (Image credit: Daniel Bader / Android Central)
A few years ago, you wouldn't have found me lavishing praise on Samsung's software design team, but times have definitely changed.
The company released One UI last year, and with it came not an overhaul of how the company approaches its Android design, but special attention to many of the little touches around the operating system that we as users tend to take for granted.
It was in this context I was delighted by a change that Samsung made to its camera app in the Galaxy S20 series, specifically around the manual night mode feature. While we've already established that the quality of the phones' low-light photos is significantly better than on the Galaxy S10 models, the S20 also has a little animated flourish inside the shutter icon when the phone decides that it must spend a bit of extra time eking out as much light as possible from a dark scene.
One thing that's interesting about this is that, like the iPhone 11 Pro's night mode, Samsung now includes numeric draw-down in addition to this moon-shaped color fill to tell the user how long the capture will take. In contrast, the Galaxy S10 and Note 10 just ask the phone holder to keep steady as it extends the capture process, with no guidance as to how long it will take. This feels both more considerate and more useful. There's no word as to whether Samsung will backport it to previous Galaxy devices in a future version of One UI.
This animation only shows up when a scene is dark enough to extend the shutter for a few seconds. When there is enough light to keep the shutter open for less than a second, it just takes the photo as usual.
We're well into our Galaxy S20 review already, and have already posted a bunch of great photo samples, including some low-light shots that should reassure you that Samsung is really taking night mode seriously this year.
Until then, you can buy your own Galaxy S20 from Samsung directly.
Samsung Galaxy S20
Samsung makes it easy to save on a new S20. If you're just buying the phone and nothing more, you can get up to $200 in credits for future purchases. If you have a phone to trade-in, you can potentially get $700 off your purchase.
Daniel Bader was a former Android Central Editor-in-Chief and Executive Editor for iMore and Windows Central.
So much for the myth of being able to capture amazing amounts of light in the blink of an eye due to secrets and magic processing! It's a time exposure, and it's too long to hold your phone still with your hands.

Holy crap. What has happened to you people at AC? Never mind, I know. Phil. Phil was AC. Jesus.

I do miss Phil... and his character and insight added a lot to AC.
THAT being said, it is odd that we have an entire article about a shutter button animation, adding to the fifty or sixty different articles about the SAME phone.
Meanwhile, HTC releases a $250 crypto phone with two weeks of battery standby, and AC is silent.
Android Central Newsletter
Thank you for signing up to Android Central. You will receive a verification email shortly.
There was a problem. Please refresh the page and try again.