Galaxy S20 Ultra camera samples: A collection of Samsung's best-ever photos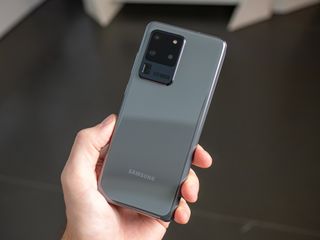 (Image credit: Andrew Martonik / Android Central)
Of all the improvements and changes on hand in the Galaxy S20 series, a complete overhaul of the camera system is one of the biggest. And for many of us, how well the new cameras perform will make or break our choice to buy one of the new phones. The Galaxy S20 Ultra has its own next-level improvements over the Galaxy S20 and S20+, making it even more appealing.
I've been using the Galaxy S20 Ultra for a couple days now, and that means it's time to share the first photos I've taken with it — and some of my initial thoughts on how it's performing as well.
Main camera
Samsung talked a big game about its new 108MP camera that uses 9-to-1 pixel binning to take 12MP photos with an absolutely massive effective pixel size. It should, theoretically, be Samsung's most capable camera ever.
Be sure to click on each image to view at full size.
Image 1 of 12
In my initial time with the S20 Ultra, I can tell that Samsung hasn't changed the "look" of its photos much. They're still "Samsung" photos, for lack of a better explanation, in terms of how the colors pop with a little extra saturation, how the brightness is kept high, and how HDR feels a little overdone in some scenarios.
But the fundamentals have clearly improved, because this sensor and lens are clear upgrades from the past generation and are starting the camera off on a much higher level. In good lighting, you can get some incredible detail and extremely crisp lines. Everything is surprisingly neat, and with this big sensor you get fantastic natural bokeh that makes me wonder why you'd bother with portrait mode (check the photo of the blue coffee cup).
That doesn't mean these photos are perfect, though. Even with improved fundamentals, it still feels like Samsung's processing misses the mark sometimes. It'll blow out the highlights or way overdo HDR sometimes to the point of being jarring. I would love to have seen Samsung scale back its HDR processing to be a little less obtuse, but it doesn't seem to have done so — it's a similar playbook as before.
Performed my night mode torture test on a bunch of new phones and it's clear off the bat the Galaxy S20 Ultra's massive sensor basically makes up for Samsung's mediocre low-light processing.

L-R: S20 Ultra, S20, Pixel 4 XL, iPhone 11 Pro pic.twitter.com/FAKaSuP7a1Performed my night mode torture test on a bunch of new phones and it's clear off the bat the Galaxy S20 Ultra's massive sensor basically makes up for Samsung's mediocre low-light processing.

L-R: S20 Ultra, S20, Pixel 4 XL, iPhone 11 Pro pic.twitter.com/FAKaSuP7a1— Daniel Bader (@journeydan) February 21, 2020February 21, 2020
And with just one night using the phone I'm far from putting my foot down on a conclusion with low light photos, but my intial findings are mixed. Night mode takes substantially better low-light photos than any previous Samsung phone, and because you're starting with such a massive sensor you get a lot of extra detail. There's still quite a bit of noise — which to be fair can look natural for a low-light shot — but the fine details are well-retained. But one thing of note is the night mode seems to require an incredibly steady hand or it creates very soft or blurry photos.
And for as good as night mode is, auto mode struggles with dark scenes (when it doesn't automatically engage night mode), which is unfortunate considering the 9-to-1 pixel binning that should address that somewhat even without the extra night-specific processing.
Zoom shots
Now, to the zoom shots. We have a good breakdown showing direct comparisons of the same scene at different zoom levels, so I won't get into that right now. These are just some of the best zoom shots I've taken in the past day.
Be sure to click on each image to view at full size.
Image 1 of 10
Right off the bat, I'm impressed by the S20 Ultra's zoom quality. Starting with 108MP, you can get good 2X and 3X shots with minimal quality loss. The camera seems to switch over to the 48MP telephoto camera at 4X, and even when switching to this theoretically inferior sensor I'm really happy with everything between 4X and 10X. Tapping the telephoto button in the viewfinder sends you to 5X immediately, which takes some getting used to after using so many photos that only jump to 2X. But the quality there is solid, with minimal drop-off from the main sensor.
It's after 10X where things get to be more hit-or-miss, depending on the scene, lighting and how steadily you can hold your hand. I got some great 20X shots with a really unique telephoto field of view, and when the conditions were right I even snapped some 30X shots that were solid. Everything beyond 30X is a total crapshoot, though — you need to be really far away from an object in order for the massive loss in quality to be worth getting a photo of something you just wouldn't be able to see otherwise.
And to be clear, all of this zooming does not make this a good macro lens. The minimum focal distance on the telephoto lens is over two feet, and taking zoom shots of anything relatively close to you just shows off how much quality is lost in the zoom process.
Ultra-wide camera
The new ultra-wide camera is shared between all three S20 models, with a new 12MP sensor that has larger 1.4-micron pixels and an expectedly middling f/2.2 aperture. It's probably the least interesting upgrade of the three cameras considering everything in the other two that's so exciting, but I'm still happy to see Samsung kept the ultra-wide around.
Be sure to click on each image to view at full size.
Image 1 of 6
In good lighting, the ultra-wide takes really strong photos that are comparable with the main camera. You actually get good colors and details, even if they don't always hold up to deeper inspection when you zoom in — much like the main camera on last year's Galaxy S10. Samsung hasn't taken out all of the lens distortion around the edges, but I actually like the look — the whole point of taking an ultra-wide shot is its unique perspective. You can tell this is an ultra-wide lens.
In mixed lighting or indoor scenes, things hold up decently, though I noticed the camera starts to lean on slower shutter speeds (down to 1/24 regularly) which can introduce blur in moving subjects or a soft overall shot if you don't have a steady hand. That's to be expected given the slower lens, though.
Impressive camera
Samsung Galaxy S20 Ultra 5G
A new set of cameras sends Samsung forward a full generation.
The Galaxy S20 Ultra is all about its cameras, from impressive 108MP main camera shots and out to super-long zoom shots. It's a big step beyond the Galaxy S10 series.
Android Central Newsletter
Get instant access to breaking news, the hottest reviews, great deals and helpful tips
Andrew was an Executive Editor, U.S. at Android Central between 2012 and 2020.
Nice camera review and good pics

Seriously?? These images are not making me go WOW at all and night shots are a noisy mess. This is why i never get over excited about the hype on such devices. Samsung has a very painted plastic look to images for trees and grass especially. And my old S10 was terribly mushy in the shadows. It's certainly not the revolution they make it out to be. That night shot of the city is horrible. And 100X Space Zoom lol

I see improvement from the previous gen, but I'm not seeing photo's that make me want to spend $1400 on a new Samsung. I will likely wait it out for new Note or Pixel before adding another device this year, especially at that new extra special price they are charging.

I'm an optimistic person but I've been skeptical of the promises they are making about the S20 Ultra. I've owned nothing but a Note or a Pixel since I left my beloved Windows Phone in 2015 (with a short detour to the underrated Moto Z Force Droid.) I get a Note in August and by October, I am using a Pixel. The camera is just that much better and most importantly, consistent. Daytime photos on my Note 10+ were awesome. Darker conditions, not so much. Selfies seemed washed out...Live Focus was good but not as great as Pixel Portrait mode. And it seemed like any movement, especially in darker conditions, were blurry. I want to LOVE the Note 10+...the screen is simply amazing and actually better and easier on my eyes compared to my Pixel 4 XL. I love the stylus...I find the edge screen useful so I can be nearly 100% widgets on my home screens. Dex is nice to have. This phone is a as close to a full computer in my pocket. And I love their accessory ecosystem...I think the Galaxy Watch Active 2 is the best smartwatch for Android Phones...Galaxy Buds are pretty nice...the charging pads for both phone and watch are convenient. I love my Gear 360 camera (that only works on a Samsung Phone)...and I use a Tab S6 Tablet. Sure, all of these can be used on any Android phone but works a little more seamlessly on a Samsung Phone. I am tempted to do the trade on my Note 10+ for the S20 Ultra. I will lose the stylus but if the cameras live up to the hype, I don't think I'll regret it. As optimistic as I am in general, I am a little concerned the S20 Ultra will not live up to the promise.

We all know Samsung can take good picture, both S10 and S20. What we don't know is how new S20 deals with moving subjects and indoor shots of peoples faces etc. That's where S10 was absolutely horrible and Pixel 4 trashed it

There's literally nothing in those photos that's remarkable. Definitely nothing about them that would make me want to go spend $1,400 on a device. You could have told me those photos were taken with an S10 or a Note10 and I would be like, "OK". It's actually pretty bad how soft the focus is in some of those shots. Color me very unimpressed.

Aaah, the same old problem of blurry photos of kids and pets due to any movement whatsoever. No thanks.

THIS THIS THIS!! Someone needs to address this problem! Every time there's a review of cameras on phones, No one takes pictures of moving subjects like kids or pets. I use my phone all the time on my kids and the pixel is the only phone that captures movement well... Maybe i need to cancel my Ultra Preorder...

Yes,,agreed,,,this is a Samsung software problem. I love my Note 10+ and Samsung Hardware and Accessories in general. But I am always back on a Pixel because of blurry shots, blurred movement and general inconsistent camera shots. I recently went back to my Pixel 4XL and I miss the screen, features and S-Pen of my Note 10+ but I had forgotten how good the camera was.

I've been pixel peeping the shots in Techradars camera shootout, and to be honest the Pixel 4 is a noisefest; it's worse than the OnePlus 7 Pro at times!
The Ultra has a tendency to oversharpen, but it's easily the best of the bunch...!

Yeah, I've never understood why it's nearly impossible to find reviews for a phone camera's ability to deal with moving subjects indoors. Clearly we are not alone in using for pictures of kids for example.

I just canceled my order based on this review. For $1400, it needed to blow me away. My Note 10+ is sweet and in September, I'll upgrade then. Hard to give up the pen too.

Some next level clowning here. 1. Non full res photos 2. Non final sofrware 3. No direct comparasion 4. Learn how to evaluate photos

Reviews like this needs comparisson shots; you can upload 30+ photos, but without reference shots, what we get out of them is highly subjective. I urge you to follow Steve Litchfield's example, and do camera comparisons with one or two similar smartphones. In this instance, comparative shots from a Pixel 4, an iPhone 12 Pro and perhaps a Note 10+ would give an actual indication of the level of the Ultra's camera.
Also, try to single out fewer but more representative shots; a cloudy sky, foliage and grass, an indoors detail shot, a night shot (say a street, NOT a skyline), a low-light movement (party) shot, a color shot, a zoom shot and a macro shot. Random pics simply don't tell much of a story...

Until a phone can photograph a dancer on a dimly lit stage from more than 10 feet away without blur, they all suck; Pixel included.

You missed an opportunity to say "Until a phone can photograph a prancer on a dimly lit stage from more than 10 feet away..."

It's difficult to overcome the physics of light when the body of the "camera" is only 8mm deep. Kinda puts a limit on sensor size, lol. I don't see us getting past that until we come up with a new hyper-sensitive material for the sensors. I could see the use you are talking about though. A friend was making waves in acting for a couple years, and I wish I could have gotten some shots of her on stage without being obvious. When they say "no cameras" and you walk in with a Nikon around your neck, it doesn't go well, lol. I was so entranced at the time that I didn't think to bring a camera for after the performance.

@PookiePrancer.You have a very interesting requirement for what makes a great photo 😃.
P.S Taking a look at your username........🙂

Some of the comments are a bit harsh, but I do agree that if you told me these were from the S10 series (I have the S10+) I would have believed it. No doubt the zoom is an improvement by that's not new for alot of phones these days. Instead of posting a big picture dump, you should really post a single pict a time, describe the camera settings/zoom level and add a couple comparatives for reference. At this point we all know that the current crop of flagships take remarkable pictures under MOST circumstances. You need to provide alot more detail and a variety of conditions if you going to try and create a useful review of the camera.

Nice photos, and good eye for composition as usual ;)
The natural bokeh on the coffee cup has nothing to do with sensor size though. The closer an object is, the shorter the focal plane is. I have two almost identical photos to the coffee cup; one of a cup at Tim Hortons, the other of a glass full of cola at Applebee's, and both of them have excellent natural bokeh.
For an extreme example of bokeh, see the photo of a hibiscus below. JUST the stamen is in focus, with the stigma in front of the stamen, and the pedals behind the stamen, all blurred naturally due to the tight focal plane. This is a an unedited photo as it came out of the phone, except for the resolution being lowered thanks to Google. In the original photo, you can see the individual particles of pollen sharply. The second photo is a stargazer, and I just love the droplets on the pedals. Right click and "Open new tab" works better.
https://photos.app.goo.gl/n8EL5WCnqCnirkNH9
https://photos.app.goo.gl/V9n8p7TDxCuyJkY37 Th rest of the pictures from the S20 Ultra are decent, and I'd keep most of them. They don't really jump out as being spectacularly amazing, but they are decent. The shot of the grinder I'd probably toss. And, was the shot of the books done in normal light? I did a similar test shot this morning, and the books were crisper with more detail from the U12+ than the S20 Ultra. That would be the updated version U12+, not the original.

Also when we will get a damn full res photos??? we are on a uber geek site, and its 2020???

Andrew, you took those zoom photos from the East Side Ferry dock at the end of N 5th Street, right?
It took a little triangulation in Google Earth, but it looks like you were standing on that dock or the one to the right of it. That point is 2.2 miles away from the Empire State Building that you zoomed in on, so that's pretty good.
Of course, someone could always get a Nikon B700 that has 60x optical zoom and 240x hybrid zoom, and you can get it for about $350. Just sayin' 😉

Hey everyone! If you're willing to shell out well over a thousand dollars for a mediocre camera, will you send that money to me? If all you need to get you off is a list of big numbers that you don't really understand, I will happily tell you impressive large numbers in proportion to the money you send me. I'll even send you a nice pocket camera that's in every way better than any cellphone camera, so you'll actually have a decent tool to take pictures with. The camera will not be wafer-thin, so if you desire something to shove into your back pocket as butt jewelry, I suggest buying an ounce of gold. It'll get people's attention, and when you've bent it all up because you forgot and sat on it, it's still worth an ounce of gold. Let's face it, a 108MP sensor that's just a big number to brag about, and is really a poor 12MP sensor is lame. The reason for excessive pixel binning is to get an acceptable signal to noise ratio, and a real 12MP would do that better. The reason why is because photosites (and every pixel in a Bayer sensor had 4) aren't flush against each other. There's a band between them for masking, and to keep the tiny blobs of colored jelly from mixing together. Using larger photosites means less area lost to these bands. Think of it this way: if you set out baking pans to collect rain water in a given area of your porch, which size would collect more water? Large or small, most pans have a lip of a given size. So a 12x12" pan with a 1/2" lip would effectively be an 11x11" pan. So for 144 square inches used, you'd have 121 effective square inches, and 23 lost. Using 6x6" pans would be 5x5" effective, for 25 out of 36 square inches. Four 6" pans would take up the same area as a single 12" pan, but only have 100 square inches of collecting area. So there's about a 20% difference between using actual large pixels and 2x2 binning to simulate them. Do the math and you'll find that you lose another 20% from 2x2 to 3x3. That's a 40% loss in areal density! But who cares, as long as you have a big number to show off, right? As an amateur (and sometimes professional) photographer who appreciates the skill it takes to get good sharp focus, I am sad to see that the "bokeh grande" fad drags on and on. Of all the photographic effects, that has got to be the laziest one, and having to endure this one trick pony time and time again gets tedious. That people are paying extra to make pictures blurry has me sore from face-palming. It's a real shame that the younger generation is growing up not knowing so many basic things, like what a zoom lens, and the difference between the lens and the effect called "zoom". That's why I'm sincere in my offer--send me $1400 and I'll send you a lovely $400 camera with a real 40X of zoom and an honest 20MP sensor. And if you really want to see what 100 power zoom looks like and have deep pockets, I'll be happy to assemble a real 100 power parfocal zoom lens with camera and other necessary equipment. We're talking about $200,000 for the lens alone, so it's not really to buy for personal use. But everyone should get to use one once in their lifetime.

Hopefully you felt better getting that off your chest...? I'll confess I stopped reading after the third line, as likely did everyone else.

All I heard was mmmmmmmmmmm

These camera tests continue to be useless. You need real world samples. You know, ones with people in them. These are mostly "vacation" scenery shots and people aren't always on vacation. They take pictures of their family and friends, their children and their pets. Much of the time there are moving and can't keep still. That should be the focus of these camera tests. Not a picture of a street light and or sign or building.
Android Central Newsletter
Get instant access to breaking news, the hottest reviews, great deals and helpful tips
Thank you for signing up to Android Central. You will receive a verification email shortly.
There was a problem. Please refresh the page and try again.