Galaxy Note 4 available in red for Christmas, but is limited to South Korea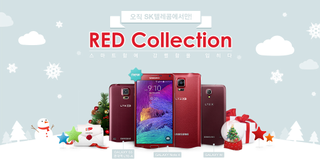 Those who reside in South Korea and wish to pick up the Galaxy Note 4 will be able to grab the smartphone in velvet red for Christmas. According to the SamMobile report, this colored variant of the Galaxy Note 4 appears to be limited to South Korean carrier SK Telecom. Put simply, don't get your hopes up on purchasing one if you do not live in the region.
Inside the device, it's identical to every other Galaxy Note 4 variant available, excluding the case resembling the festive holidays. Before making a purchase, we recommend you read through our in-depth Galaxy Note 4 review to see what we made of Samsung's massive phone.
What do you make of the Galaxy Note 4 in velvet red?
Source: T World Direct, via: SamMobile
That look good Posted via the Android Central App

Looks good in red, I would buy it. Rich it is time to stop using massive when referring to the note. It is actually starting to be small... Posted by my soon to be retired Note 3

I actually saw one on campus yesterday.... Thought it was an S5 (clearly I saw the screen and it was off) it's not as huge feeling as the Note and Note 2. I actually one handed it with little issue. "I'm da Blur boys!" - Me with 600 ping.

It is massive. I use the word ginormous. As such, the Note only represents a few percent of the smartphone market. So, whatever! It serves a niche market admirably. Fact: Over 78% of the market prefer 4.7"-5.0" form factors. Don't read this. If you do, disparage it. Call it click bait if you feel threatened. http://m.ibtimes.com/iphone-6-plus-takeover-apple-grabs-41-percent-phabl...

Make them in assorted colors for the US.

I want it Posted via Android Central App with LG Google Nexus 4

I would get one with a black front and that red back Posted via the Android Central App

I wonder how many South Koreans read AC?

Looks great. I wish red would've been an option initially. I'd have been all over it

I would like to see a copper one! Would sell my black note 4 for it Posted via the Android Central App

Do they even celebrate Christmas in south Korea? Posted via the Android Central App

Was thinking the same myself, but I don't want to judge.

I'm sure they wouldn't market to a region that it couldn't target............. A simple Google search can save life's

It's Santa's way to tell North Korea that they've been naughty and South Korea's been nice.

Are there Christians in South Korea? Posted via the Android Central App

Yes, a very significant number. More Christians than Buddhists.
http://www.pewresearch.org/files/2014/08/FT_14.08.04_Religion-in-South-K...

South Korea gets everything, first it was Kingdom on Fire 2, now its the red Galaxy Note 4. Humph Posted via the Android Central App
Android Central Newsletter
Get the best of Android Central in in your inbox, every day!
Thank you for signing up to Android Central. You will receive a verification email shortly.
There was a problem. Please refresh the page and try again.