Galaxy Note 3 up for pre-order on T-Mobile from Sept. 18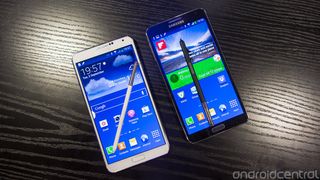 T-Mobile U.S. has announced that it'll begin taking pre-orders for the Samsung Galaxy Note 3 from this Wednesday, Sept. 18. The 5.7-inch, stylus-toting phone can be yours with a down payment of $199.99 and 24 monthly payments of $21 on T-Mo's Simple Choice plan.
Pre-orders are expected to arrive "on or before" the launch date of Oct. 2, so with any luck you'll be waiting just a couple of weeks. The carrier adds that it'll also be selling the Galaxy Gear smartwatch in stores nationwide from the same date.
So, any takers?
Galaxy Note 3 hands-on
Source: T-Mobile (opens in new tab)
Alex was with Android Central for over a decade, producing written and video content for the site, and served as global Executive Editor from 2016 to 2022.
About Time! Posted via Android Central App

The Note 2, is a fantastic phone but some of the software enhancements to the Note 3 have me seriously considering getting this phone. Posted via Android Central App

Im getting this Android Central App

Im getting this Android Central App

200$ Down. 21$ for 24 months is 504$. Totaling 704$ not including taxes and such. Basically buying the phone full price? Yikes!

That's the whole point. When you're done paying in regardless of if it's sooner or later your bill goes down that 21$. Opposed to subsidized where it never changes. Posted via Android Central App

I understand the plan, but perhaps it's just me. I rather do an upgrade with two year plan on the choice of phone. That's what im planning on doing when Sprint takes on the Note 3.

You will pay more with sprint and its $40 more for monthly service. Posted via Android Central App

T-Mobile still has the 2 year contracts. Just go to bestbuy.com. you can still get a subsidized phone with the older plans. Posted via Android Central App

You pay the full cost for a new phone one way or another. You can pay it all up front, or spread the payments over 2 years. But either way, you gotta pay to play.

Waiting for the Sony Xperia Z Ultra Posted via Android Central App

I really like the Ultra. I just wish they had outfitted the camera with an LED flash... Posted via Android Central App

I would have loved ond but the flashed killed it for me too Posted via Android Central App

I'm seriously considering this phone, but not until the next Nexus (Nexus 5?) is released. My GE Galaxy Nexus is working just fine. I can wait a couple of months.

Great news exactly what I was waiting for. I'll be ordering as soon as possible on the 18th. I would of held out to at least try the Z Ultra but still no news on a US date or if at all.

I was certain was going to get the note 3. But now I think I will wait and see what the new Nexus offers before I commit to something. Posted via Android Central App

The next nexus needs to be announced already so I can decide on a phone.

Sounds like, you've already decided lol. Posted via Android Central App

Doesn't seem that way to me. I'm also waiting for the Nexus announcement before I make a decision. I think the original comment was more about wanting to make an informed decision (ie: wait to see all the players) rather than "I just want to buy the nexus, no matter what it is"

This is a surprise? Note 2 was the same. Posted via Android Central App

Idk if i should go with the G2 or the Note 3. Im not sure if im gonna likethe bigger size but the removable battery and sd card is making me lean that way Posted via Android Central App

The LG G2 is gorgeous. Go down to an AT&T store and play with one. You'll fall in love. Posted via Android Central App

Very true. It is a really nice phone. But I suggest waiting till you can get both phones in your hands and decide then. Posted via Android Central App

I loved the phone but found it VERY cheap feeling and even a bit thick. Coming from a GS3. I'm hoping for better from the new back on the Note 3. If the Note 3 feels a bit more premium, I'll go with it. Otherwise my backup is the G2 or maybe an N5

From what I hear the black one feels better which sucks cuz I really like white phones. And also I think the white texture will be impossible to clean if it gets smudged. And maybe the black will hide the stitxhing a little. Either way one of them will be mine.

Uh oh....an article about the Note 3 & T-Mobile? Brace yourselves, Richard Yarrell is going to be coming by & trolling soon.....

ZOINKS, Scoob!!! Let's make like hockey sticks and get the p-p-p-puck outta here!!! Posted via Android Central App

Post of the Day. Top Quality.

If you long-press your own post in the AC app you can delete it. Select 'Edit Comment' and there will be a 'Delete' option in the bar at the top of the screen.

Thanks, Scott! Posted via Android Central App

Awesome. I was going to delete the comment, but I'll leave it for others. Thanks for the tip :)

I'm tired of carrying a big a$$ phone. Looks like it's the G2 for me! Posted via Android Central App

That's me too Stallings... Sold my Note 1 and went back to a 3.5 inch phone / 8 inch tablet.. could not be happier.. I found an old case I had for the Note 1 and could not believe how big it was in my hand.. It's nice to just throw my Prism 2 in any pocket jump on the motorcycle and go.. Must be nice to have $200.00 down pay another $120.00 to rent this phone for 6 months then use your upgrade to move on the S5 next spring.. that $320.00 is $40.00 short of 1 year's service on my T-Mo $30.00 a month plan..:-)

Hope we all (carriers that is) get lucky on receiving the Note 3's sooner than later. Posted via Android Central App

I'm still waiting for Sprint to announce when they will get the Note 3? I owned the original Note on At&t, I currently own the Note 2 with Sprint, and I'm looking forward to the Note 3. What separates the Note from any phone on the market is the S-Pen. This talk about deciding between the Note 3 & (name your device), seems inappropriate since the Note is in a category all buy itself. I use the S-pen all the time. In fact, I also own the Note 8.0. If you can envision a use case in your world (like I have) where the S-pen will be used, then it makes so much sense to own both the Note tablet and phone. What you hand write on the Note phone automatically syncs with the tablet and vice versa. They don't talk about it much, but this feature comes in handy when I'm in a meeting, taking notes, using the tablet, and then leave for lunch and know I can jot down additional notes on the phone and have them sync up as one document. I have not found any other phone/tablet combo which allows me to do this, using my own handwriting, as seamlessly and effortlessly as the Note. I do own a Galaxy Nexus which I occasionally switch out on the weekends and use. But during the work week, the Note is the ultimate productivity device, in my opinion anyway.

No indication on the TMO website about the presale. Where is this info from? Called TMO and they said they hadn't heard of it being on presale Wed.

I'm excited, the Note 3 is on my list along with the One. Waiting to see what the Nexus 5 is about, and to see a review of the Note 3 before I decide. Hoping it is pure awesome.

Be careful before buying any Samsung phone, It is a android based phone and all the updates are given by Google. Even though Google updates the OS frequently, Samsung holds the update and gives to the customer only when they desire. I bought a Note 2 a year back which was loaded with 4.1, Google released 4.2 around 4 months back and last month they released 4.3, but Samsung has never gave these updates to its customers on time. They will give it probably after 4 or 6 months, but by that time Google would have release 4.4 and many more updates. This is one major drawback buying a Sumsumng Phone. The customer is always outdated in spite of spending a hefty amount. Even thought God(Google) gives, the Priest(Samsung) will not give.

That it's just a stupid comment, God and a priest? That's the best that you can do? Your comments are nothing new with Samsung or most other manufacturers for that matter. Posted via Android Central App

today is 18th, but still dont see it yet, is it just rumor?
Android Central Newsletter
Get the best of Android Central in in your inbox, every day!
Thank you for signing up to Android Central. You will receive a verification email shortly.
There was a problem. Please refresh the page and try again.