Galaxy S8 Active training manual leak confirms 4000mAh battery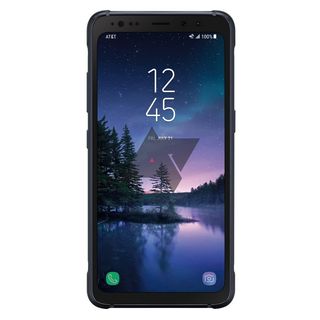 Late last week, a user in the AC Forums posted images of the Galaxy S8 Active in the wild, showcasing the hardware on offer. A new leak from Android Police — which details the training manual for Samsung's upcoming phone — gives us another look at the overall design and internal specs.
The leak confirms previous rumors regarding the Galaxy S8 Active: the device will feature a 5.8-inch QHD Super AMOLED shatter-resistant display, Snapdragon 835, 4GB of RAM, 64GB internal storage, microSD slot, IP68 and MIL-STD-810G rating, 12MP dual pixel camera, 8MP front shooter, Bluetooth 5.1, NFC, and a 4000mAh battery.
On the software front, the S8 Active will run Android 7.0 Nougat out of the box. The phone will also offer a dedicated Bixby button, but there are no physical navigation keys. The screen doesn't quite have the same effect as the Infinity Display on the Galaxy S8 and S8+, but the added durability should more than make up for it.
Like its predecessors, the S8 Active will likely be exclusive to AT&T in the U.S., but there's no carrier branding at the back this time around. What are your thoughts on the Galaxy S8 Active?
Harish Jonnalagadda is a Senior Editor overseeing Asia at Android Central. He leads the site's coverage of Chinese phone brands, contributing to reviews, features, and buying guides. He also writes about storage servers, audio products, and the semiconductor industry. Contact him on Twitter at @chunkynerd.
Now all we need is for Samsung to release a Note 8 'Active'... and on all Major Carriers.
Hey, one can dream.

The screen doesn't quite have the same effect as the Infinity Display on the Galaxy S8 and S8+, but the added durability should more than make up for it. Shouldn't this statement apply to all phones? Please stop with the ridiculous curved screens.

Had this phone been available a couple weeks ago I would have picked it up. Instead, someone other than Samsung got my money. I hate curved screens. I understand the edge to edge display, but curved screens are ridiculous, as you said, and unnecessary.

If only this phone would be sold unlocked also. These exclusive deals is the reason so many people choose iPhone. Not to mention there is no reason for this phone to have 7.0.

Just wait for a week after lunch, and but it discounted at SWAPPA

Unfortunately due to the unique nature of this phone it tends to hold on to its resale value. Not a good thing for prospective purchasers but a good thing for those who have AT&T and can get one.

These specs should be on all phones at minimum. The 4000 ma battery is a huge plus for me. My wife is willing to leave her priv for this because it is rugged and she doesn't have to really worry about a case. If I don't hear anything about an all touch TCL BlackBerry with flagship specs then I may jump ship also.

I don't care about the military specs, give me any phone on Verizon with dat battery!!! With the efficient processor and battery capacity, that phones going to have amazing no compromise battery life I think.

I agree. The active models are the only phones I would consider from Samsung, I just wish they'd come to Verizon. Carrier exclusiveness is so stupid.

I would have bought this if it came out when the s8 did

Training Manual?
I know what Haresh means, of course, but let's have noobies pass training before getting a flagship :) Also a 4000 mah hour battery is better than a 3500 or a sub 3000 one, but let's not get carried away here. It won't be significantly better and won't last a regular two days for most people. The best I've seen was the Lenovo P2 with a 5200 or something battery, 1080p Amoled display, 32/4 gb and the SD 625. (I decided not to buy because of mass reports of screen cracking, so got a cheap run out Moto G4)

This is based off of a Samsung employee training manual, not sure what you are getting at. It is literally from a training manual.

I accept that now. I don't click on every link and it wasn't clear just reading the blog. Just thought it was an accidental typo or regional language thing and played off that.
Apologies for the attempt at humour, and misspelling Harish. (tough crowd in this week!)

What about the Zenfone Zoom 3

Gotcha. That one has a 5000 mah battery too. I think there are one or two others around.

If it has a flat screen, I'm sold. Can't stand these curved screens.

The flat screen and big battery make this very tempting for me (and I'm on AT&T). I have zero desire for the regular S8 or S8+ because of their curved screens.

It's coming out pretty late this year...

Just a shame it's not available on Sprint

Wish the s8+ had that battery. Sigh.

I'm stoked hope the note 8 has this battery that be great .

I will be the bearer of bad news: It won't. It'll have a smaller battery than even the S8+.

I'm assuming this will support new bands? 66...14, etc?

+ flat screen
- rounded screen corners
+ big battery
- phablet sized
- dedicated Bixby button
- no navigation buttons
? headphone jack
- long/skinny screen aspect ratio
? just ATT

Ya know...I've just refused to pay the $$'s for Samsung products for a while now, so it says 5.8"...that's in the new stupid resolution, So, me being stupid (:D ), How does the screen size compare to a 16:9 phone? I know it's taller, but is it just a tall 5.1" phone or what....I think I would go for it if the screen was equivilent to a standard 5.7" screen. Flat Screen, durable, ok, more durable. Just a great looking (to me) phone. ..but alas, I don't like the weird dimensions. I'm guessing calling it 5.8" is misleading. Nice battery size too.

The 18.5 to 9 ratio on a 5.7" screen is about the same as a stretched out 5.1" screen stretched out as you guessed.
They are all starting to use these funny numbers now.

Bluetooth 5.1? I'm pretty sure Bluetooth 5 is the newest version.
Android Central Newsletter
Get the best of Android Central in in your inbox, every day!
Thank you for signing up to Android Central. You will receive a verification email shortly.
There was a problem. Please refresh the page and try again.