Future Essential Phone could have a pop-up selfie camera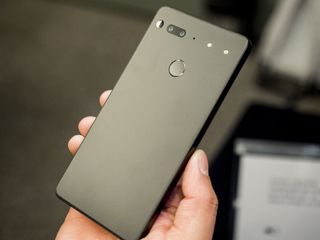 We saw a lot of exciting tech at this year's Mobile World Congress, but one phone that stole our hearts the most was Vivo's Apex concept phone. The Apex is Vivo's idea of what our phones could look like in the near future, and one of the most stunning parts of the Apex was its 90%+ screen-to-body ratio. Rather than adopting the infamous notch, Vivo achieved this by hiding the front-facing camera in the top of the phone's body.
This is one of the more original smartphone designs we've seen in quite some time, and shortly after people started raving about it, Andy Rubin revealed on Twitter that Essential filed a patent for a very similar design in May of 2016.
Similar to the Vivo Apex, this patent shows a smartphone with a front-facing camera that can pop out from the top of the frame and then go back down into hiding when it's not in use. In addition to looking cool, this also allows for virtually no bezels without sacrificing parts of your precious screen.
The Essential Phone was the first smartphone to be released with a notch in its screen, and while its take on this particular design trend is one of the least offensive ones we've seen, no notch is always preferable over any sort of notch — no matter how small it is.
It's unclear when Essential will release a phone that takes advantage of this patent, but seeing as how Rubin publically touted it on Twitter, I'd say there's some chance (even if not that great) we see this come to life with the Essential Phone 2.
Essential Phone 2 — How Essential can have a much more successful Year 2
Android Central Newsletter
Get instant access to breaking news, the hottest reviews, great deals and helpful tips
Joe Maring was a Senior Editor for Android Central between 2017 and 2021. You can reach him on Twitter at @JoeMaring1.
So much respect for the Essential brand already. It's very clear they've taken quality hardware into consideration from the scratch. You'll only understand what I'm saying if you've felt the Essential Phone in your hand....the feeling is different. Maybe, just maybe, only HTC or Sony flagship phones come half-close to the Essential Phone's build quality. With an already improving software to go with...and camera, of course, there are good things ahead for this brand.

The Essential phone is one of the best phones, if not the best that I have used since a Nokia Lumia 930. I personally think the software issues were overblown.

The software issues were extremely overblown!! Other than the camera it's a perfect phone. (unless you want wireless charging and audio port)

It is overblown but there was some software quirks that a lot enthusiast, which were the target market of PH-1, didn't expect coming from a company that is headed by Andy Rubin. I really wish them luck on the next iterations. Hardware is top notch already.

Go fast and break things! I think the PH2 is going to blow the competition away.

I like the notch, and I like the essential phone. I came from a G6, and I prefer the software experience on the PH 1 better. The build quality and design of the essential is unmatched. The software issues didn't affect my experience much, and right now I have zero software issues. The Camera takes good pictures. I am used to the picture quality of my Sony Mirrorless Camera, so all modern day smartphone pictures look the same to me as they don't come anything close to what I am used to on my pro Camera. At this point I don't pick phones based on Cameras anymore. They're all decent, even mid range ones.

Its funny, when I saw the Vivio Apex at MWC, I said, and you can read my comment on YouTube, make that the Essential Phone 2 and I'd be happy. Lo and behold, they had the patent for years. Can't wait to see if the design comes to fruition

Where does Essential put the phone earpiece? The Vivo used some weird 'vibrating screen' tech instead of a traditional earpiece. Some things really have to face front, no?

They can use a small slot between the edge of the screen and the frame. Only needs to be half a millimeter or slightly less.

Way better than the asinine notch. I have an old camera that had a flash that popped up like this. It still works great so the system could work. I highly doubt they'd ever do this though. Adding a mechanical part like this is a big no-no now days. I'd buy an Essential phone if it didn't have the notch. I don't care how much people justify the notch or say you forget it's even there I will never own a phone with one. The rounded corners in this design are still dumb and serve no good purpose. Video content is not designed with rounded corners so I am not sure why phones would have rounded displays. A 16:9 rectangle is what a display should be and is what is compatible with most content.

Really, why is this so hard? No notch, no curved corners. Phones are increasingly being used to consume video content, so why are their screens getting more and more ridiculous?

How about they fix their software? PH1 is a great phone, with awesome hardware and crapp software. Such a shame from the founder of android.

Explain. What's wrong with the software? That's right... nothing.

Bluetooth randomly turns off.
Hardware or software, the cell reception is the worst I've had on any phone.
The camera STILL isn't that great.

I've had zero of these issues

Can't agree more. Worst cellular reception of any cellphone I've owned.

Definitely a cool trick. However, when I look at that diagram, my first thought goes to durability - both in terms of long term use, as well as if it accidentally gets dropped or banged on a table while protruded.

As long as it use durable and strong material then it should handle a few tumbles here and there.

Yep. I can see that pop up mechanism being a potential issue. Just another point of failure. Especially after drops. Under screen fingerprint scanner might just lead the way for under screen cameras. I personally don't have an issue with the unibrow look of the S8. Too many compromises just to get and all screen phone.

Cool, a moving part to break. I get the notch hate, I hate the notch, but a notch isn't necessary. A completely bezelless phone isn't even necessary. Another solution searched for a problem.

It's seriously beyond me where this stupid trend came from. It's only a talking point by so called tech enthusiasts; there's absolutely nothing wrong with bezels, and a pop up front facing camera is a remarkably stupid idea.

Speak for yourself. I've been waiting for a phone with a true edge to edge screen for ages. That said, as much as I despise the notch, the pop up camera seems like a pretty awful idea as well. I can't imagine that would be very helpful in reducing the size of internals either. The only reason I'd be okay with it is because I'd never use it anyway.

I'll hold my judgement for a later date for Essential.

My name is Bond. James Bond.

I'm sure it is, thanks for sharing

Ah, yes. Remove the notch. It did add some flare to the phone but I still rather not have anything on the screen.

You can say that it's the screen that goes through the bezels szving room for the statut bar up top

Never used the selfie camera (on purpose) so could remove it completely as far as I'm concerned.

I loved my essential phone, but I couldn't stick with it. The cellular reception on my essential phone was the worst I've ever experienced with a phone. I'm assuming this has to do with the materials used for construction but it made owning the phone useless on more than one occasion.

Having bezels that's around just 3 % smaller and a mechanical part for the selfie camera (which makes taking pictures kind of slower lol) is not really futuristic
Android Central Newsletter
Get instant access to breaking news, the hottest reviews, great deals and helpful tips
Thank you for signing up to Android Central. You will receive a verification email shortly.
There was a problem. Please refresh the page and try again.