Fitbit is gradually rolling out its big app redesign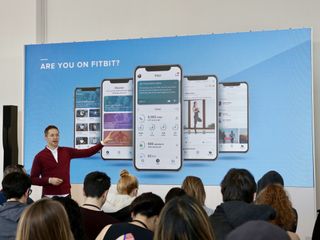 What you need to know
The new Fitbit redesign is rolling out to some users now.
The new app streamlines the design by using three tabs at the bottom instead of five.
The redesign has been seen on v2.95 and v3.0 of the Fitbit app and is dependent on a change made on the server side.
One of the best parts of the Fitbit experience has to be the app, and now it's getting a fresh new redesign. The first thing you'll notice are the tabs at the bottom. Instead of having five, it has now been consolidated into three tabs — including Discover, Today, and Community.
The Today tab is now where you'll find all of your stats such as steps, distance, calories, sleep stats, and more. Pretty much everything that was previously in the Dashboard tab.
The Discover tab is where you'll add new tools in the Today tab to keep track of your sleep, heart rate, weight, and others. It also includes a section with exercise videos to help you find new ways to get in shape.
For those of you searching for the missing Challenges tab, it has now been moved into Discover. So, from now on when you're looking to challenge your friends, family, or even yourself, just head on over to the Discover tab.
The third and final tab is the Community tab, which remains largely unchanged. You'll still find your feed, friends, and groups located here.
As for notifications, with this tab removed you'll now access all of your notifications through the inbox icon in the upper right-hand corner.
I'm a big fan of the new redesign. It really helps streamline the app while cutting out the clutter. Unfortunately, the app redesign has still not rolled out to my device (though it is live for our News Editor, Joe Maring).
As far as we can tell, the new design is not dependent on any particular version of the app. So far, it has shown up on v2.95 and v3.0, but despite having the latest version I've still not been treated to the new redesign. That means it must be a server side change and all we can do is wait and hope it will roll out to us soon.
Android Central Newsletter
Get instant access to breaking news, the hottest reviews, great deals and helpful tips
Is this for iOS as well as Android?

FitBit stopped supporting Android Pie (9) in early August 2018. Through many app updates and work-arounds, many people can still not use their FitBit device through Android Pie. I use a Pixel 2 XL which is as close to stock Android as you can get while using the most basic of pedometers (FitBit Zip). FitBit has removed my phone from the supported list and dropped the FitBit Zip device. Look in their forums there countless people frustrated for almost a year that FitBit and Android do not function well together -- if at all. So before they go about redesigning the look and feel of their app they should first get the functionality working.

My Fitbit Ionic works just fine with my Galaxy Note 9.

It still does not support strength training tracking which is why a lot of people left (including myself)

Ah, so THAT'S how Fitbit spends its time, instead of adding Citi credit cards to the Versa, as requested by 1000's of their customers over the past 3 years. Shove it, Fitbit!

I personally think fitbit should look closer at feedback. Unless there's an actual usage change or a suggested feedback put in place I'm not really interested. I've put two comments on the fitbit suggestion board in the past two years. One for staying they should create a family dashboard option, vs switching back and forth from parent to child mode. And for it to also allow multiple guardians to be added and share the same account for a true family account. The other was a more recent suggestion to allow someone to manually enter glucose test results. This would make the fitbit app itself all the more versatile. They still haven't come out with the ability to create and print reports either. That would be great to be able to print and show your most recent info to the doctor. Fitbit, if your going to strive to be the best and most desirable app.... You've got alot to do before you can even begin to think about looks. Listen to your customers a little more please.

What I would like to see on the FitBit app is a place to add my notes, I.e., took my FitBit off for some reason (charging, etc). It wold be helpful to show when my glucose level is low or if I have an illness that would affect the stats for the day

All well and good having a redesign on the app. But comments to the community that fitbiter users really want is a reminder to hydrate on the Fitbit (just like the reminders to move) I personally suggested it 3 years ago and repeatedly suggested. And with 1000s of others agreeing that this would be advantage that the 'under consideration' for these years should now be reality and before you grand redesign! The lack of this option is hindering my choice of up grading.

What I would like to peer on the FitBit app is an area to feature my notes, I have took my FitBit off for some purpose charging, and many others. It wold be useful to show when my glucose stage is low or if i have an infection that would have an effect on the stats for the day.https://www.calculatorall.com/credit-card-calculator
Android Central Newsletter
Get instant access to breaking news, the hottest reviews, great deals and helpful tips
Thank you for signing up to Android Central. You will receive a verification email shortly.
There was a problem. Please refresh the page and try again.