First look: WatchAir Smart Antenna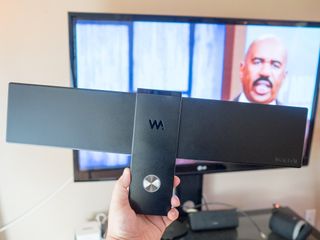 A decent part of my hiatus away from Android Central has involved one thing — cutting the cord. And I've taken the $150 a month we were feeding to the cable company and whittled it down to about $83 with streaming services. That's a savings of about $800 a year, which I'm now free to waste on other toys. (That's how I see it, anyway.)
But this huge step into the future has also taken a step backward, with the use of an over-the-air antenna. Those of us of a certain age remember when an antenna was the only way to watch television. But they never really went away, and now they can handle high-definition signals. They've still been kind of dumb, though. You plug it directly into your TV, scan the channels, and go from there.
To do things right you want your antenna to be as elevated as possible, and facing toward the weakest signals. That's not always possible, though, meaning I've got HD antennas attached to my windows, pointing the wrong direction.
WatchAir hopes to end that, taking what basically has been a dumb operation — antenna sucks in signals and feeds them to your TV — and make it smart. I got in on the Kickstarter campaign at $161 total. (They've since sent out review units, for what it's worth.) There's a lot of potential here, and a lot still left to do before this is a viable product I could recommend.
Let's take a quick first look.
What it is
The idea of WatchAir is simple. It's a high-def antenna that takes the TV signal and beams it to your phone or tablet. Or to any number of streaming boxes, like Roku, Android TV and Apple TV.
Or at least it will. It's important to note at the outset that we're in the early days of this project. The basic functionality — playing on a phone or tablet — works pretty well at this point. Other features, not so much. But WatchAir has a public roadmap of what it expects to have working in the weeks and months ahead. I'm eagerly awaiting proper support for streaming boxes, as well as Chromecast.
The other major feature is (erm, will be) the ability to record, either to the 7GB of available internal storage, or onto a microSD card, or USB storage.
WatchAir is a singular product with two forms. One is "Upright mode," wherein it acts as an OTA antenna and is mounted on a window or wall — wherever you can find the best signal. To that end, the WatchAir app (once connected) will help you find the best mounting location. For me, this was a pretty big selling point. I've been using OTA antennas for a little while now, but neither of the televisions in my house in a place where I can face an antenna to the west. And so I have issues with some local channels. I've got WatchAir in a different room, mounted against the glass. (The power cord is a little unsightly, but I'll do my best later to tuck it out of the way.)
Image 1 of 2
Image 2 of 2
You also can use WatchAir in desktop mode. That's where you connect an existing antenna (via an adapter), then use the app and recording features in the same manner. So you essentially get a cool little high-def over-the-air DVR. Do note that this isn't a streaming service in the traditional sense. You've got to be on the same network to watch anything.
What it's like to use
Setup is simple enough, I guess, if you're used to setting things up all the time, and are used to the quirks of Wi-Fi Direct, and can deal with quick-start instructions that fail to mention that at some point you need to actually plug in the product. (Ah, the joys of Kickstarter.) WatchAir did run into some early software setup issues but quickly communicated them to users, and I was up and running in just a few minutes.
The apps themselves — on Android and on iOS — are nearly identical. They're easy enough to use, but they're not great. Design elements native to Android and iOS tend to be ignored. (Though I'd say they're a little worse on Android than on the iOS version.) The thumbnail views are a nice touch, but the schedule grid is a little easier to quickly browse — at least until you end up in a subcategory that's blank and leaves a ton of empty space. Like I said, the app still needs some serious work.
Either way, you tap a show, then hit the play button that appears at the top. (I'd rather see an option to play right from the thumbnail.)
Image 1 of 4
Image 2 of 4
Image 3 of 4
Image 4 of 4
If that seems like a lot of little gripes, well, it is. But don't let that overshadow my excitement for WatchAir. This is the sort of bridge that we need to see between the archaic, analog world and the digital, smart future. Taking free, over-the-air content and doing something smart with it.
That's not to say that you should rush out and buy WatchAir right this second. It's very much still in its early stages, and growing pains are evident. If you're an early adopter and don't mind a little wonk — and have some money to spend on said wonk — have at it. The more cautious among us should wait. But if you're a little adventurous and looking for a cool little way to make cutting the cord a little more mobile friendly, give WatchAir a look.
BAH GAWD, KING! THAT'S PHIL NICKINSON'S MUSIC!

Phil!!! I miss you. Ok bye...

Hey look, that's Phil Nickinson there!

Who is this Phil guy anyway?

http://gph.is/2c93qek Phil!!!

So this like an HDHomeRun with the additional feature (not yet working it seems) of recording shows. If the recording feature works well, looks like a winner. Otherwise, the HDHomeRun Connect runs for about $100 on Amazon.

It would also be good to discuss how this compares to a HD Homerun using the new Plex DVR functionality.

Phil, can you make a comparison between WatchAir and HDHomerun? I have been using HDHomerun for about a year. I currently do not have it setup as a DVR, but it works very well to deliver OTA TV to all of my devices (even my Chromebook) when connected to the same network. Just curious how the WatchAir compares to HDHomeRun.

Damn Phil, we've been blaming the other guys for all the not android content on Android central and you come back with... Not android content. I guess I'm too old school for you guys.

Well, in all fairness he does talk about the Android app for this device - it's not like PlayStation news or something..... ;)

It's Android content though? I mean...it works with Android?

Phil - Somewhat unrelated, but I saw somewhere (Twitter maybe?) that you swapped Sling for PS Vue. Care to share why? I'm going through a similar process, but with as little as we watch Sling, mostly for ESPN, I'm thinking I may drop it all together. Didn't see anything more compelling about PS Vue, but maybe I'm missing a use case I haven't thought of.

I switched from Sling TV to PS Vue a few months ago. PSV has seemingly unlimited cloud DVR, more channels I actually want, a much faster/better app/UI (though it could still be improved), and doesn't stutter and glitch anywhere near as much as Sling TV did. I recommend PSV highly.

I like PSVue but they don't have El Rey Network and I am addicted to Lucha Underground.. So Sling TV it shall be.

I thought about Cloud DVR as one of those benefits, but it seems everything I would record is available on Hulu or CBS All Access. I've definitely noticed that Sling buffers more than the other streaming services we use. Another thing I just realized, is that Sling really doesn't care what device or where you are located, where PS Vue doesn't want you to log in from anywhere other than your home address, or so the terms and FAQ lead me to believe. The great thing about all of these services is that there is no commitment, so you can try the services and cancel without fee if they don't work out for you.

Soooooo, it's like Tablo, just 3 years late to the party.

I was just going to post something similar when I saw your post. I picked up a Tablo earlier this year to migrate from Windows Media Center and I've been really happy with it streaming to devices like my phone and Rokus. Nearly turnkey DVR setup - just have to add a USB hard drive - with multiple tuners.

Please come back Phil. Please!!

Glad to see you back Phil.

Good to see you Phil. How does it get it's program guide? With only one tuner, I would find it hard to recommend this. For just a little more cost and effort, you could hook up one of the newer HDHomeRun network tuners. The newer ones support streaming automatically. The DVR is a little more difficult... personally, I have two of the older 2 tuner units (4 tuners total). I've set up a TVHeadEnd back end server for PVR and streaming, and it works great. I can use pretty much any of the devices (e.g., Amazon Fire, Roku, Android, etc.) for live and DVR viewing. Currently, I'm using a Nvidia Shield TV and it works great. It should be even easier if SiliconDust would ever release their PVR software.

They have released something well it's in beta and you have to pay to get access to it. I bought my first HD HomeRun Extend last month and I love it. paired it with a outdoor antenna and it works just fine. hope to add another extend down the line

Yes, I'm aware. I'm just not keen on paying to be a beta tester. The TVHeadend route is a bit more complicated, but also less expensive. I pay $25/yr to Schedules Direct for the programming information. I also have TVHeadend record it's shows to a folder that is linked to my Plex server. That way, I can watch recorded shows on all the things. It actually does a really good job.

alright I didn't know you knew about it. honestly I haven't even use it since joining the beta. don't like the way it looks. when I got access to it, I had no idea other options were available. like Plex DVR for example. I'm using that currently but I might switch cause I only use it for the DVR aspect. I'm not gonna stream anything from Plex so everything else it does for me is a mute point. I might try it tvheadend we shall see.

I cut the cord a few months back. No ragrets. My, the "who we are" org chart looks rather...homogenous.

Phil is back? Does this mean we get that iconic AC podcast intro back?

It's really cool seeing antenna TV taken to the 21st century. If I lived on my own I might consider getting this so I could have some TV for the few times I might want to watch it!

Does this at least have support for the Chromecast, FireTV, or Roku? I was able to fake Chromecast support with the HD Homerun, but it was a pain in the ass. Still probably not worth the $70 more than the HDHomeRun.

January 1, 2017 and WatchAir still doesn't work with Roku.
Android Central Newsletter
Get the best of Android Central in in your inbox, every day!
Thank you for signing up to Android Central. You will receive a verification email shortly.
There was a problem. Please refresh the page and try again.