First images of the Samsung Galaxy Tab S 10.5 reveal textured back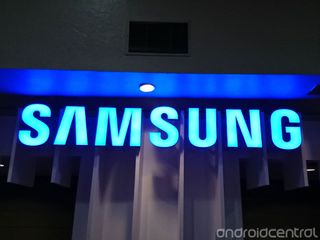 Earlier this week, we've heard that Samsung's long-rumored AMOLED tablet will be called the Galaxy Tab S. The Wi-Fi only tablet will be available in two variants: one with an 8.4-inch screen size and the other with a 10.5-inch screen. While there wasn't any actual information as to what the device might look like, a set of leaked images posted by SamMobile today reveal that the Galaxy Tab S features a similar textured back pattern as the Galaxy S5.
From the image, we can make out that the front of the Galaxy Tab S is similar to that of the Galaxy Tab Pro, with a home button at the center flanked by a multitasking button on the left and a back button on the right. The bezel size also seems to be lesser on the Galaxy Tab S when compared to the Galaxy Tab Pro 10.1. While the home button on the tablet does not look any different from other Galaxy tablets, it is said to feature a fingerprint scanner, through which users will be able to unlock the tablet, login to multiple accounts, authenticate PayPal purchases and more.
Hardware specs of the Galaxy Tab S include a 10.5-inch 2560 × 1600 AMOLED display, octa-core Exynos 5420 SoC with four 1.9GHz Cortex-A15 cores and four 1.3GHz Cortex-A7 cores, 3 GB RAM, Wi-Fi a/b/g/n/ac, Bluetooth 4.0 LE, IR blaster, GPS/GLONASS and LTE connectivity. The tablet will run Android 4.4.2 KitKat out of the box and feature Samsung's TouchWiz Magazine UX user interface.
The back of the tablet is where there is a more radical change, as the Galaxy Tab S features a perforated design. On a 10.5-inch tablet, the design does not look as gaudy as it does on the Galaxy S5. It looks like Samsung is intent on bringing its flagship device designs onto its tablets, as the Galaxy Tab Pro line featured the faux-leather back that was originally seen on the Galaxy Note 3. The image of the tablet also reveals two dots on either side, which SamMobile claims are proprietary connectors for Samsung's upcoming book cover.
It is unclear as to where the Galaxy Tab S would fit in. The Galaxy Tab Pro series and the Galaxy Note Pro have only launched earlier this year, so it does not make much sense for the manufacturer to launch yet another high-end tablet so soon.
Source: SamMobile
Harish Jonnalagadda is a Senior Editor overseeing Asia at Android Central. He leads the site's coverage of Chinese phone brands, contributing to reviews, features, and buying guides. He also writes about storage servers, audio products, and the semiconductor industry. Contact him on Twitter at @chunkynerd.
Beveled edges Posted via my Nexus 7 (2013) running CM11

FINALLY a tablet with AMOLED display... I'm definitely gonna check out 8.4inch version Posted via Android Central App

Those deep blacks for watching movies, AHHH... BTW Samsung should really get their shit together when it comes to naming for their next gen of tablets, here's an idea:
- Call the current cheap Tab line "Tab Lite"
- Include Wacom digitizers and styluses on higher end tablets, get rid of the Note name
- What's the difference between the leaked Tab S and Tab Pro, none, merge them
- Call the higher end tablets "Tab Pro" Results:
- Tab line (cheap ones) becomes "Tab Lite"
- Tab S (leaked one) and Tab Pro merges and becomes "Tab Pro"
- No more Note tablets since higher end tablets should all have awesome digitizers

Interesting. Looks like a Note 2014 with an Amoled panel. I'm guessing too much so given the .5 inch difference in size... Posted via Android Central App

Looks dated to me with that chrome border. The Galaxy devices this year really aren't very good looking to me. The Amoled display is nice though. I really like Amoled displays. Though I can't wait to see how many people freak out, especially in forums, about the "mura" or blotchy ink effect that Amoled tends to have on black screens. It will be much more noticeable on a large tablet I think and I bet a lot of people are going to think it's a defect. Here is a picture of a Vita with a black screen. This same effect can be seen on any Amoled screen and a lot of people think it's a defect but it is just a side defect of manufacturing these types of screens.
http://i880.photobucket.com/albums/ac9/HDPeeT/original2.jpg

You are comparing Vita to sAMOLED? Lol Posted via Android Central App

Doesn't the Vita use an OLED screen?

That is what I jus found with a few searches. I can tell you for sure the SAMOLED displays on my Galaxy note 1 and 3 don't have that problem at all. Not only that but at night on a black screen background you can't even see the dam phone edge at all.

The vita slim uses oled but the vita amoled

Basically all OLEDs produced are AMOLED. "AM" stands for active matrix as opposed to a passive one to allow for larger displays, higher resolutions and increased brightness. This argument that each of you are having is pointless.

I remember the GS2 had the issue with some SOCs. It is not an issue with the OLED, it's the GPU not properly calibrated or simply not working properly. Never seen it on any of my phones though.

I have been using Sammy stuff for quite a while. Fanboi if you will. I'm just about out of this phase of my life. While I think that that the note 3 is still one of the best phones, I can't get on board with the golf ball effect, or the amount of tablets that are so similar to each other. I'm typing this on my 12.2 note. It's a great tablet. Thinking about selling, because the main reason is that I no longer can use it for 100% of my job. It's basically become a expensive browser game player. I can replace it with a nexus at this point. Not to be ungrateful, but the new regime at work, went to all apple. Very hard to get used to an iPhone after the note3. But I'm starting to manage. Along with that phone is an ipad 4, and a mac book pro. Loving the macbook, which also runs windows. I have found that I can do as much stuff without the spen on the ipad than I would have thought. For the first time, I'm actually ok without a Sammy product (just about) to do my life's stuff on. Terrifying at first thought to not have it, but the lack of lag is winning me over. And there it is. To many products that are too similar to one another. Apple is all the same, and I'm not an apple Fanboi either, but at least your not wondering why did they just release an almost similar tablet to the one I just bought. You know why apple does...it's all they do, but at least you knew that. Time to look elsewhere within android devices for a while me thinks. Posted via Android Central App

Weirdest argument ever to switch to an iDevice... :) "Too easy to find a Galaxy device that fits exactly my wallet and preferences..." You know, the reason Apple are releasing more and more sizes and price points of their products is just because of that, that they don't have enough alternatives for the buyers.

Lol! Trust me, I'm conflicted on everything I said. I need therapy.....keep going back and forth between the stuff. Posted via Android Central App

Wow what a radical Band-Aids design we never seen before! Good job Samsung team ...inovation in different forms of cheap plastic feel :D

I wonder... if I was a new customer and choosing a tablet, how on earth I would know which Samsung I would buy or which android at all? There is like million differend kind of tablets from Samsung. I would be so confused. I understand why people pick up iPads.
Samsung, you really should clean your playground. It is enough having a budget line and pro line. I have been using Android for years and own differend kind of devices from Samsung, reading news etc., but I dont even know what tablets are current line with Samsung. There are too many lines... tab, tabpro, tabpro neo... lite..., note, notepro, and whatever... not even sure if im mixin these lines with their millions lines among phones.. Whenever I read news about android, I see a new product line coming from Samsung... Posted via Android Central App

Yeah, choice has always been something consumers hate. ...oh wait, I think I forgot the sarcasm thingy at the end...

How would you know which tablet to buy? (1) ONLINE RESEARCH- read the reviews (helpful) and the opinions (maybe not so helpful). (2) HANDS ON EVALUATION- Does a colleague, friend or family member own the tablet you're thinking about buying? If not, you can always check it out at a brick & mortar store like Best Buy or Fry's before buying.... HURRY UP, SAMSUNG, I WANT A 10.5" GALAXY TAB S (or whatever it will be named) and I'd like that in a "Note" S Pen version please !

Or maybe... "Wiki about how to buy Samtoy" :D A customer in a shop:
1. At apple desk
"Excuse me, What is the difference...."
- the screen size and resolution
"Ok, i take that one" 2. At samsung desk
"Excuse me, what is the difference between this and that..oh wait and this.... this one too... and this... oh that too..."
- well ...
"Ok, now im confused, what was the first one again... " In a reality, not many of us read reviews and tech-stuff before going to get some toy. I know I will and you will too, but there is lot of people that dont read reviews and arent even interested in reading them or making comparison. Those are not tech savvy people. They just want to go the store and pick up some toy easily. If it is too difficult and frustrating, too many choices, they will skip that product. This is the reality. Posted via Android Central App

Well said. Better than my wandering post above. Posted via Android Central App

I'm with you 100%.. Most of the buyer, they're just a typical looking for something expensive & premium only for show off or self-satisfaction without knowing how far the products they're buying worth for.. Even if they buy the right products, it's such a waste since they totally use it without utilized it to it's full potential.. These premium line supposed to give benefits more on those who're looking to fulfill any multitasking jobs (maybe like CAD users who's looking for light mobile devices) of their career life, not likely to housewives for playing games (I'm passed on the hi-quality games which is true) & browsing only.. I'm totally waiting for these one, Tab S is more suitable to be the true successor of Tab 7.7 rather than Tab Pro. At last I could change my precious Tab 7.7 as I've been used it for almost 3 years which is why I should replace it (I've been hesitate to get a replacement since there are no other SAMOLED tablet products, I've been in love with SAMOLED since then), unlike those geeks who always keep changing their old for the latest products to consumed self-greed satisfaction (as usual, without utilized it's true full potential).. Such a waste...

Black please..and under 500, I can dream can I? Posted via Android Central App
Android Central Newsletter
Get the best of Android Central in in your inbox, every day!
Thank you for signing up to Android Central. You will receive a verification email shortly.
There was a problem. Please refresh the page and try again.