First alleged Samsung Galaxy S4 Zoom render appears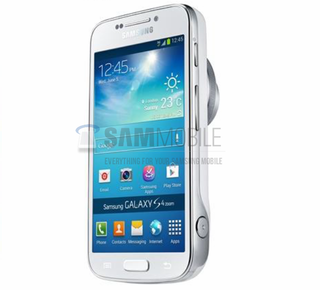 Galaxy S4 variant infused with Galaxy Camera DNA
We've seen the Samsung Galaxy S4 Mini and Galaxy S4 Active, and next up could be the Galaxy S4 Zoom. The device has been rumored for the past several weeks, and supposedly combined Galaxy S4 Mini-level internals with a 16-megapixel rear shooter and 10X optical zoom capabilities. If it exists, it's an interesting twist on the "cameraphone" concept, as we discussed in a recent editorial.
Today brings us our first possible look at the actual hardware of the S4 Zoom. The Samsung rumormongers at SamMobile have published the shot above, which looks like a Galaxy S4 infused with some Galaxy Camera DNA. There's an S4-like front, complete with speaker grille, a zoom lens around the back and dedicated camera key (without a zoom rocker, oddly.)
We'll have to wait and see whether this will be the device to complete Samsung's "Premiere 2013" line-up. We'll be on the ground in London on June 20 to find out -- in the meantime, share any theories down in the comments.
Source: SamMobile
Android Central Newsletter
Get instant access to breaking news, the hottest reviews, great deals and helpful tips
Alex was with Android Central for over a decade, producing written and video content for the site, and served as global Executive Editor from 2016 to 2022.
Hmm... this looks familiar.. OH I know! the Samsung memoir!!

Considering Nokia's 808 and soon to be released EOS, I can't say I'm that impressed with this phone. But I think it's a great new way camera phones will be heading and these two companies will be leading the way. But it's obvious this will be in direct competition with the Nokia EOS. Considering Nokia track record with hardward and better camera, I'm thinking the EOS will be the better route. Plus it's thinner. But I'm intrigued with this phone now.

My official guess is that the volume rocker converts to zoom in camera mode. I think I have said for years that if someone did this, I would be in love. When I saw the Galaxy Camera, I said "If that could make calls I'd be in love." I think I could actually get past the abortion of a UI that is Touchwiz for this phone... *glares angrily at recently purchaced, non-optical zoom toting HTC One*

I think samsung is about to shoot themselves in the foot with 100 "variants" just as HTC did. : / Just in time for Moto to re-establish itself in the Android space.

You are wrong... what they are doing is good by giving people exactly the device they want. It's the same basic device... they are just tweaking certain aspects to cater to different markets.

Yeah the Samsung employee is right!

Wow.....keep fragmenting the market!!

This looks like a joke. Surely in 2013 they can do better than that monstrosity.

of course no Zoom Rocker, you can always pinch to zoom to do that

APPLE SAYS: WAIT A MINUTE !!! WE HAVE A PATENT ON THAT DESIGN !!!

Nokia 92x owners are pissing themselves laughing.

Samsung is just flooding the market when they don't need to.

Next month guys...the S4 refrigerator and the S4 dishwasher! -get ready! /s

I'm waiting for S4 toaster.

It was originally supposed to run WebOS.

What happens if a person wants a Samsung Galaxy S4 but also wants a proper camera???? Just because a device isn't for you... it doesn't mean it shouldn't be made!

Mid ranger, has nothing to do with the S4 bar the design cues.
Sad specs.

This is a monstrosity. Seriously, an eye sore that bleeds puss from a sac filled with fecal matter. I will carry my phone and my DSLR together if taking pictures for a specific purpose. Otherwise, my phone's camera is just fine for those spontaneous shots.

Hideous. But it's an interesting concept.

This is exciting! I wish the phone was more like an S4, but this would end the sub-par cell phone camera era. I'm not worried about the thickness of the device, as it would make the phone feel better in the hand. That's my complaint about phones now. They are so thin, they are hard to grip. My Galaxy Nexus has slick sides, and I feel like i'm about to drop it without a case attached. I like my phones with a little bit of hip.

Fugly! Couldn't they just use/refine a similar lens set up like the Kodak EasyShare M590 which is the worlds thinnest 5X optical zoom camera?.. Then the device could have optical zoom whilst keeping more of the phone shape/thinness ..

I agree. That picture is a joke. AC and SamMobile just got trolled. And it's not even a remotely reasonable troll. The only way anyone would fall for that is if they were high.

Gee, based on the real world photos of the Zoom, looks like you're the one that got duped.

This is underwhelming after seeing what Nokia has been able to do with the 808 and the soon to be revealed EOS...

Is that a tumor on your back or are you just happy to see me?

The Galaxy S4 Zoom is not an engineering achievement like that of the Nokia EOS. It's more camera than phone. There's a balance that needs to be struck and I think Nokia has done a better job than Samsung at finding the middle ground.

*throws money at the screen* Seriously... this is so what I've been waiting for. I'm cautiously optimistic that they'll put a decent-sized sensor and glass in here. There's certainly enough space for it. :-)
Android Central Newsletter
Get instant access to breaking news, the hottest reviews, great deals and helpful tips
Thank you for signing up to Android Central. You will receive a verification email shortly.
There was a problem. Please refresh the page and try again.