Facebook's Portal TV is powering my socially-distanced Thanksgiving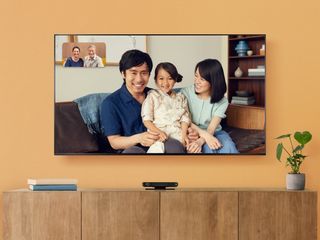 (Image credit: Facebook)
Every year, for as long as I can remember, my family has gathered on Thanksgiving and Christmas at my grandparents' place. For some of us, it's the only time we see one another throughout the year. It's a relatively simple tradition that's, surprisingly, lacks the holiday horror stories you hear about families fighting or food being ruined.
This year, we're not gathering together. My grandparents are up there in age, as you can imagine, and their health is more important to all of us than any one event. I knew this was going to be a video chat Thanksgiving months ago, but computers aren't exactly my grandfather's favorite thing and my grandmother's hearing aids rarely mix well with the small speakers on most laptops and phones. Webcams, while great and plentiful on the market, weren't the solution. I needed something dead simple to use where they could sit and be comfortable and not need to strain to hear and understand everyone.
Facebook's Portal TV was the only practical solution. I wish I had better photos to help illustrate why I feel this way (you'll quickly see why that's not happening), but trust me, the results were worth it.
Socially distanced set-up
I've been safe for the last nine months, all things considered. While I'm not 100% locked down due to absolute emergencies and food, my collection of masks is extensive and my small bubble of friends and family are very good at sharing when they need to put visits on pause for a couple of weeks until they're confirmed safe again.
Given what we know about the risks associated with even small doses of COVID-19, you couldn't pay me to step inside my grandparents' place right now with anything less than a full biohazard suit. That makes setting up an internet-connected video chat box somewhat complicated, so to make all of this work in the first place I needed to get creative.
My grandfather unpacked the Portal TV and we got it all plugged in together over a phone call, but when it came to setting up the accounts and getting started, he needed help. Facebook's Portal UI relies largely on wireframe animations of the remote to get started with no words at all, and this pictographic animation was not something he could decipher. If the screen had said "hold down these two buttons for a few seconds to pair" he would have been fine, but the animations weren't enough for him. Even if he'd gotten past that initial setup screen, asking him to type in the 15 character Wi-Fi password we'd set up for him by navigating the on-screen keyboard probably would have resulted in the camera on top of his television being politely placed in the garbage.
To make all of this work, I asked my grandfather to place the remote in his mailbox so I could come pick it up. I then stood in the large bay window outside his living room and used that remote to complete this configuration.
My grandparents barely use the internet for email, so of course, they don't have Facebook accounts, which made Portal TV setup more interesting. You can use WhatsApp if you don't have Facebook, but there are a few extra steps. This process involves using your phone to scan a QR Code on the TV, which is perfectly easy when you're standing in the same room as the TV, but somewhat less easy when you're 15 feet away and there are multiple layers of glare-ridden glass with a bright blue sky up above. After a couple of attempts, the camera was finally able to focus on the QR code, and finishing the account creation was possible.
I used my WhatsApp account and my phone number to create an account for them. It was now time to show my grandparents how to use this new box.
Adventures in group calls
My family has done video chats loads of times before, but usually one of the grandkids is there in the room or nearby. When one of us is far away, the others are usually there to help. This year, my grandparents are going to need to push all of the buttons on their own, and that isn't something they were excited about at first.
WhatsApp on Portal TV allows you to set up Favorites so you can see them on the homescreen and easily connect to them, but it doesn't allow you to create contacts from within Portal TV. In fact, when browsing ways to make all of this work, including using the recently announced Zoom access for video chats, I found a number of support documents included the phrase "Portal TV not supported." It seems this version of the Facebook Portal family is not exactly seen as equal to the others, leading to situations like mine where I must create a contact on my phone then wait for that contact to be synced to the Portal TV so I could then add it to the Favorites. Fortunately, it was still above 50 degrees Fahrenheit outside while I attempted to set everything up. I set all of the family members as Favorites so they sit right on the home screen for my grandfather to easily access.
Once my grandparents could see the names of everyone to call, they quickly navigated the interface with ease. Click on the face you want, click on the camera icon, and wait for a person to show up on the TV. The loud speakers on the TV made it easy to communicate, and the clever software in the cameras allowed the folks on the other end to see whoever was talking clearly, even though they were sitting across the room in their favorite chairs. The TV was also big enough for groups of people to connect at the same time and still be able to enjoy everyone.
That last part, the group call, was the part that seemed like magic to my grandparents. While they had done plenty of one-on-one video chats with family before, Portal TV allowed them to see multiple people in multiple states at the same time, and allow everyone to talk to one another. For most of the folks reading this, that feature is neither new nor special. For my grandparents, who have been wrestling for weeks with the decision to "cancel" Thanksgiving, seeing this new way to have everyone together made them smile in a way I had not seen in nearly a year.
Thankful, and a little hopeful
My grandfather is often more right than I am willing to admit when it comes to technology. He's not a fan of how dependent everyone is on these gadgets, especially those among us who can't function when those gadgets stop doing things. He finds value in knowing how things work and being able to take them apart to learn more. While I apply that logic a little differently, it's true that many consumers expect magic when they hold technology with no consideration for how it works and what to do when it stops. In his mind, it's better to do things manually than become reliant on something he can't understand.
Today, my grandfather used words like "intuitive" and "easy" to describe his experience with Portal TV. He asked why more technology wasn't like this, where you just pushed a button as got someone on the other end. I watched him not just follow instructions on how to place a call, but get excited about exploring this system and trying out voice commands. He recognized it was only that simple because it was set up for him, but actually using of the thing was so easy it made him want to call as many people as he could just to enjoy feeling like they were in the room.
This year, for my family, that ease of use will be the difference between a very lonely Thanksgiving and one full of smiles and conversation and something vaguely resembling normal.
Facebook Portal TV
Connect this camera to your TV and instantly turn it into the biggest Facebook Portal you can find, complete with epic video chat and streaming video features for everyone to enjoy.
Get the Android Central Newsletter
Instant access to breaking news, the hottest reviews, great deals and helpful tips.