Facebook now lets you upload and share 360-degree photos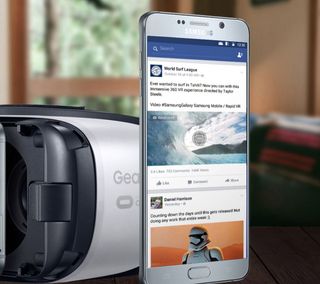 Facebook is now allowing the many users of its social networking service to upload 360 degree photos to their accounts and to share them with others.
Owners of Samsung's Gear VR headset will be able to view Facebook 360 degree photos in a virtual reality environment.
Does this mean we can finally upload Photosphere images as well? Edit: so I tested this, but it didn't work for me. Anyone try it out? From my Nexus 6P or 5 via the cooler than cool Android Central App

I tried it from my LG 360 Cam and it didn't work either....

LG 360 does't work on fb but ricoh theta works!

That was posted two weeks ago. FB has been posting LG 360 Cam photos for at least 13 days. Try to keep up. Posted via the Android Central App

Still won't upload to facebook properly for me - must have already stopped working. KEEP UP.

It didn't work for my nexus 6p photosphere photo either.

Did not work for 360 or panoramic.

"Rolling out today" was Facebook's response to me. I guess we all got a little too excited...

Yeah I tried a photo sphere and it didn't work either. I tried through the app though, so maybe the app needs an update

I tried both web and app uploads, and uploads through the 360 Cam app and none worked. I think the press release beat the tech.

I have just successfully uploaded one to my facebook wall, the implementation is great, but the picture quality is HORRENDOUS!!!!! Really awful.

LG 360 Cam uploads not working. I tried uploading from Google Photos app and from the LG 360 app, and I tried editing EXIF to RICO/RICOH THETA S, FB still not offering 360 view.
Now Google+, that works like a charm!

Gear 360 works in the UK, though the degradation is very disappointing.
Android Central Newsletter
Get the best of Android Central in in your inbox, every day!
Thank you for signing up to Android Central. You will receive a verification email shortly.
There was a problem. Please refresh the page and try again.