Eyes on the new Hisense Pulse Google TV set-top box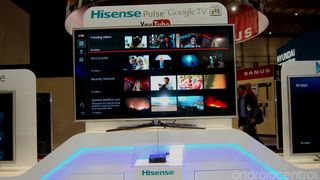 Officially unveiled prior to the annual IFA 2012 show in Berlin, Hisense were on hand at the show in to demonstrate their first Google TV box for the first time. The Pulse as it goes by name, is the latest product of a Google TV partnership, and packs a potentially killer feature. Its price. Like the low priced competitor, Vizio Co-Star, the Pulse is priced to move at just $99. But, even at such a low price point, it still needs to deliver the goods. Whilst on the ground in Berlin, we tracked down the Pulse and took a first look at this latest entrant into the Google TV arena.
In terms of hardware, the Pulse is a rather un-assuming black box to look at. It's relatively small though, and should fade into a front room set up with very little effort. It won't stand out, but it won't look out of place either. It's all glossy plastic, which doesn't give off the impression of a high quality product, but at $99 we wouldn't really expect that much more. The expected ports are all present, a solitary USB port on one side of the box, with the HDMI, ethernet and power sockets all on the rear. Also to be found on the rear is a connector for an IR blaster.
The Remote too doesn't exactly strike the same impression as that of a high end TV, but importantly it offers full functionality. On one side is a full QWERTY keyboard packed with rubber keys. Typing isn't too difficult, the keys feel just like a regular old TV remote. There seems to be ample space between keys so as to avoid hitting the wrong ones.
Flipping round to the main side of the remote, we're treated to a bevy of controls and a touch sensitive trackpad. The trackpad is quite small though, and we had some definite troubles using it to zoom in whilst using Google Chrome. This could have been -- and likely was -- an issue with Chrome though, as it seemed relatively responsive when being used to direct the on screen cursor.
The remainder of the keys are pretty much standard Google TV fare, although the Pulse Remote does have dedicated buttons for YouTube and for Netflix.
A quick look at the performance of the device highlights similar issues reported from early purchasers of the Vizio Co-Star. It isn't massively smooth in some areas, and when navigating around the menus there was some noticeable lag. In particular, Google Chrome seemed pretty slow to respond. However, we shouldn't forget that this is a trade show with pre-release hardware and software the norm.
All in all though the Pulse isn't a bad little box. It will be launching in the U.S. sometime during the fall, but Hisense did confirm to us that they have every intention of bringing the Pulse to Europe in 2013. As Google TV is still in its infancy on European shores, a set-top box in this price category could be what's needed to give it a little kick start.
Be sure to check out our photo gallery of the Hisense Pulse after the break.
Image 1 of 7