Exploring the ASUS ZenFone Zoom's camera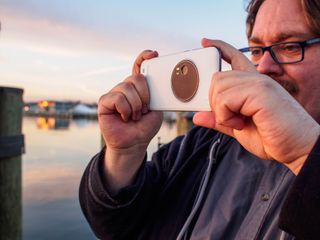 It couldn't be more clear that ASUS has positioned the ZenFone Zoom to be all about the camera. This 3X optical zoom sits like a small hockey puck in the body of a ZenFone 2, with a special camera grip on the back and shutter buttons for both photo and video on the side of the phone. This was clearly designed to bring out the professional phonetographer in all of us, but you need more than a camera-themed outer shell to make a phone into a decent camera.
Here's a look at the software that drives this hardware, and some camera samples to give you an idea of what this phone is capable of.
The ASUS ZenFone Zoom is using a 13MP sensor with 3X optical zoom, OIS, laser autofocus, and a dual-color flash. That all sounds great, but as many know from using Android phones in the past it's usually the software that makes magic happen. The camera app on the ZenFone Zoom is the same camera app they've been using for a while now, and it's called ASUS PixelMaster Camera.
Out of the box, PixelMaster is a fairly simple interface with a whole lot of screen dedicated to the view in front of you. Like many camera apps, you get a shutter button for photos, a video button, and a quick toggle to the Manual camera mode closest to your thumb. On either side of that capture interface you get a thumbnail for the last photo you've taken and a button for all of the camera modes available to you. If you're shooting vertical, that puts just about everything you need at the bottom of the interface. The notable exceptions are the camera settings, the buttons to switch to the front camera and control the flash sit at the top of the interface.
Turning the phone onto its side rotates all of these icons, but also gives you access to the physical buttons designed to interact with this interface. The physical shutter and video buttons under the volume rocker will launch the camera and start capturing once you press either button again. Using the volume rocker when the camera is open will increase or decrease magnification through the optical zoom and nothing else. There's an option in settings to enable optical zoom if you'd prefer it, but from our usage there doesn't seem to be a compelling reason to enable that feature. If you're not a fan of using the volume keys, you can pinch to zoom on the center of the camera UI instead.
The interface is easy enough to use, as is flipping between the 19 different camera modes, but the most impressive feature here is the way PixelMaster will auto-recommend you enable one of these camera modes. When the lighting isn't great, you'll get a little icon suggesting low light mode. Same for HDR and selfie mode when appropriate. These suggestions arrive with surprising accuracy, and switching between the modes is remarkably fast.
The big question with the ZenFone Zoom is how well this PixelMaster app works with the unique hardware inside this phone. Adding a 3X optical zoom suggests some fun could be had with macro shots, grabbing more detail at a distance, and maybe even offering some increased quality over the other cameras in this $400 price range. While we're going to save the full breakdown of this camera's capabilities for the review, it's already clear that some of these hopes have not made their way to reality. For starters, there's no RAW support, which is more than a little disappointing for a camera of this caliber. If you are closer than 30cm to whatever you want to take a photo of, autofocus fails nearly every time and you get a warning explaining you need to be further away. That 3X optical zoom helps a little, but your best bet is to either go manual or try your luck in auto.
There are also quite a few misfires when it comes to some of the camera modes baked into this phone. PixelMaster's HDR frequently returned grainy shots, sharpening in super resolution mode lead to some quality problems when you zoom in, and while night mode often works remarkably well the image size is dropped to 3MP to get the same image quality as the Nexus 6P.
Don't take our word for it, though. Here's a series of sunrise photos with the Nexus 6P, the Galaxy Note 5, and the ZenFone 2 in Auto, HDR, and super resolution modes.
Image 1 of 5
Check out the full resolution images here
As you can see, ASUS has a lot of great ideas with software but the execution isn't quite there. ASUS does give users great manual control and the ability to disable optimizations like sharpening and color adjustments, but for folks who want to just a straight-forward point-and-shoot experience this camera doesn't quite hit the exceptional mark compared to the other great cameras out there right now.
Get the Android Central Newsletter
Instant access to breaking news, the hottest reviews, great deals and helpful tips.