Everything you need to know about importing a Xiaomi phone into the U.S.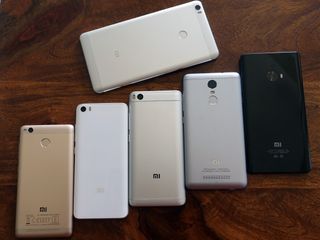 There are plenty of great options in the U.S. if you're on the lookout for a budget phone, but they don't hold up against the likes of what Xiaomi has to offer in this segment. Ever since the Chinese company burst onto the scene a few years ago, it has consistently released entry-level phones that raised the bar in this segment.
The only problem with Xiaomi is that its products aren't available in Western markets. The manufacturer is focusing its attention on India and other parts of Asia, and while a U.S. launch is on the cards "in the near future", the brand isn't ready to venture into the country just yet. Judging by the way its Chinese rival LeEco debuted in the market, it's likely Xiaomi will want to hold off until it has the infrastructure and marketing in place.
Right now, your best recourse to getting your hands on a Xiaomi phone in the U.S. is through third-party resellers. That said, there are a few limitations with this option as well. Before we get to them, here's a look at some of the phones that Xiaomi has to offer.
Xiaomi makes a lot of great phones
Xiaomi has outdone itself this year with budget devices like the $150 Redmi 3S Prime and the $200 Redmi Note 4 (opens in new tab). The Redmi 3S has a 5-inch 720p display, is one of the first phones to run the Snapdragon 430, and comes with 3GB of RAM, 32GB storage, 13MP camera, 5MP front shooter, and a massive 4100mAh battery. The phone lasts two days on a full charge without breaking a sweat.
The Redmi Note 4 is an incremental update to the stellar Redmi Note 3, offering a 5.5-inch Full HD display, MediaTek Helio X20 SoC, 3GB of RAM, 64GB storage, microSD slot, 13MP camera, 5MP front camera, and a 4100mAh battery. All for under $200. The phone runs MIUI 8 atop Android 6.0 Marshmallow out of the box.
If you're interested in a large phone, there's the Mi Max, which is essentially a larger version of the Redmi Note 3. You get a huge 6.44-inch Full HD display, Snapdragon 652, 4GB of RAM, 128GB storage, 16MP camera, 5MP shooter, and a 4850mAh battery. The Mi Max is available from reseller sites for $319 (opens in new tab).
We've also seen four high-end devices make their debut over the course of the year: the Mi 5 launched in February, followed by the Mi 5 in August, and more recently the Mi Note 2 and the Mi Mix. The Mi 5 felt unfinished, but the Mi 5s fixes most of its predecessor's niggles, and the Mi Note 2 is notable for being the first Xiaomi phone to offer global LTE bands.
The Mi Note 2 has a 5.7-inch Full HD dual curved display, Snapdragon 821, 6GB of RAM, 128GB storage, 22MP camera, 8MP front camera, and a 4070mAh battery. The global variant of the phone has 37 LTE bands in total, allowing it to access LTE on North American carriers. That's a big deal.
Then there's the bezel-less Xiaomi Mi Mix. With an 84% screen-to-body ratio, there really isn't a handset on the market quite like it. It uses ultrasound instead of a proximity sensor and has a piezoelectric motor for calls. The front camera is tucked into the bottom of the phone, and the result is a 6.4-inch handset that has the same dimensions as the S7 edge. The bezel-less panel will make it difficult to hold the phone and will likely result in a lot of unintentional touches, but once again, there isn't any other phone available today that's as drool-worthy as the Mi Mix.
What you get (and don't) when you import
Even though most of Xiaomi's products are limited to China, you can easily import its phones via third-party reseller sites like GearBest. These phones come with a global MIUI ROM that includes GMS (Google Mobile Services) — the Play Store, Chrome, Gmail, YouTube, and other Google services.
While Xiaomi's hardware is certainly exciting, there's one glaring issue when you're buying its products for use in North American markets: you don't get any warranty or after-sales service. The manufacturer has no phone presence in the West, so if something breaks on your handset, there really isn't a whole lot you can do.
That's a trade-off worth considering if you want to buy Xiaomi's entry-level hardware, but when you're investing over $400 on a handset, after-sales service is a major consideration. To put things into context, Xiaomi has been officially selling phones in India for three years now, and it is yet to figure out how to streamline after-sales support in the country.
Look through any Twitter or Facebook post by Hugo Barra or Xiaomi's India head Manu Kumar Jain, and you'll often see a litany of complaints by frustrated customers. To its credit, Xiaomi has announced that it will launch an in-house after-sales team that will provide much better service to customers in the country.
There's also the connectivity issue to consider. Xiaomi's phones are designed to work in Asian markets, and as such lack the requisite LTE bands for North American carriers. The exception is the global Mi Note 2, but if you were looking to buy the phone outside of China, you'll have to shell out $649. The phone is certainly loaded with features, but for that amount, you're better off with the S7 edge or the Pixel.
But if you're looking for an affordable phone with great specs or are interested in a backup phone, then Xiaomi's budget offerings are an excellent alternative to the likes of the Blu R1 HD (opens in new tab) or the Moto G4 (opens in new tab). Just make sure you're buying from a reliable reseller (HonorBuy or GearBest), and the phone comes with a global ROM with the Play Store installed. The Redmi Note 4 isn't going to connect to LTE bands in the U.S., but it should work just fine on 3G.
See at GearBest (opens in new tab)
Get the Android Central Newsletter
Instant access to breaking news, the hottest reviews, great deals and helpful tips.
Harish Jonnalagadda is a Senior Editor overseeing Asia at Android Central. He leads the site's coverage of Chinese phone brands, contributing to reviews, features, and buying guides. He also writes about storage servers, audio products, and the semiconductor industry. Contact him on Twitter at @chunkynerd.
I took a chance and purchased the Mi Max as a birthday gift for my mother. She was looking to upgrade from her Lumia 640XL. She loves larger displays and this one's huge so figured it's a worthy upgrade for her. Only cost me about $325CAN which is decent. But got hit with $65 in duty fees on shipping. I made sure to pick the international version with Google services pre-installed. The only confusion I found was some sellers had mentioned in their listings to NOT perform any system updates. Which is confusing to me. I'm not sure if this is something associated with International models specifically or why that's even a problem to begin with. I saw something about the updates not always begin considered stable or something? Not sure why you wouldn't want to update the phone..

Hi Lundon44, it sounds like the Mi Max you purchased might not be running official Xiaomi software, or at the very least has Google Play Services side-loaded onto the Chinese ROM. There are reports of some Chinese suppliers loading Non-Official tweaked ROMs onto Xiaomi devices before shipping. This would be the only reason a seller would warn you not to upgrade. I picked up an international Mi Max myself. The device arrived sealed in cellophane (an indication that the handset hasn't been tampered with since it left the factory). The international versions run a completely different firmware to the Chinese handsets with Google Services baked right into the OS. This "Global" ROM is still officially from Xiaomi and can be updated via OTA. It might be worth verifying the IMEI of your deivice via the Xiaomi verify link: http://www.mi.com/verify/ If this reports that your device was not Global, then your Google Play Services will have been side-loaded

It arrived yesterday and was sealed. It came preinstalled with the global ROM with all Google services. It was even in English on first boot up to my surprise. I performed a system update as well without any issues. So far, I have to say I'm pretty I'm impressed. The quality of this phone surpassed my expectations by far especially when you consider the price. Most phones at the $200-$300 range are cheap looking and feeling. Usually very plasticity. The metal body on the back is quite beautiful on the Mi Max. The display is huge and bright. No dead pixels from what I could see as well. I have the S7 Edge and there's a few little things about this new phone that make me a little jealous. I've read a lot of complaints about the Mi OS. And my only complaint is the lack of an app drawer. Everything basically has to be tossed into a single folder or multiple folders. But I'll assume this could be easily resolved with installing a launcher. The only odd thing I noticed was while installing apps was that Cineplex Mobile wasn't "compatible" with the device. But it sideboard and worked without any issues. Not sure if it's because I've set up the phone without a sim installed. Anyone know if the device will do an auto wipe when I install a sim? My Note 7 did this an it was pretty infuriating. Spent a good few hours setting it up only to have the phone factory reset when I inserted a sim at the end. My carrier explained this was a security feature.

Hey Lundon44, glad you managed to perform an update, sounds like it might have been a bit of miscommunication on the part of the seller. I know what you mean about the quality, I was pretty surprised considering the price. And the screen is just incredible, I haven't enjoyed using a handset this much in a long time! MIUIs stock launcher is pretty clunky, but like you said, the app draw issue can be solved with a 3rd party launcher. I'd recommend Nova Launcher.
I'm not sure about the SIM swap issue, but I don't think you'll have a problem

You refer to "North American carriers" regarding LTE Bands, not differentiating between the US and Canada. LTE Band 7 is available with 4 Canadian carriers: Rogers, Fido, Bell and Virgin so most Chinese phones and all of those made by Xiaomi will work on LTE in Canada on Band 7 (2600). Also, it is worth noting that, in addition to the global version of the Mi Note 2, there is also a global version of the Redmi 3S and the Redmi Note 3 - the one with SD650 (not the Mediatek version), so there are at least 3 Xiaomi phones that can work on LTE in the US. It's also worth noting that the latter two are among their more popular phones.

Let's buy a phone that can barely be used in North America, what a great idea.

Are you saying that Canada is not in North America? ALL Xiaomi phones can be used in Canada.

Having support to one LTE band on Telus only is still only barely functional in my book.
With a cell phone coverage is one of the most important things, why would I buy any phone regardless of the quality or price, which only gives me a portion of the coverage and speed I'm paying monthly for.
In the grand scheme of things the cost of the cell phone you use is much less than the cost of service, get something that fully supports the service and all of the bands of coverage your paying for.

Chinese phones mostly have LTE Bands 1, 3 and 7. So they don't work on Telus which only has Band 4. A few Chinese phones will work with Telus and US carriers - some Huawei phones and ZTE's Axon 7 for example but they have been built to work in North America. Importing phones from China, like those made by Xiaomi, tend to have only Bands 1, 3 and 7 except for 3 that I know of that have all Global Bands and will work on LTE with Telus - the new Mi Note 2, the Redmi 3S and the Redmi Note 3. If you are buying these phones you have to make sure that you are getting the Global ROM versions not the Chinese versions which will only have the 3 bands I mentioned above.

Not sure "a phone that can barely be used" is justified. As well as the person stating all Xiaomi phones can be used in Canada I've seen plenty people from the US saying they've imported Xiaomi phones

What's the story with software updates? Would you get them and are they supporting the global ROM version regularly? Pretty critical these days...

The ones with Global ROM do get OTA updates.

Informative read, but the lack of warranty is a deal breaker, for me.

You forgot to mention that most third party sellers install modified software on the phone. So you won't get OTA updates and sometimes you get ad popups and who knows what else. GearBest is notorious for selling Xiaomi phones with modified software on them. I got a Mi4C from them, and the software was not legit. You want to either look for a Xiaomi phone that has official global MIUI software available (Mi3/Mi4, Mi5, Mi Max, RN3, amoung others) Pretty much any Xiaomi phone officially sold in India. You can also look at Xiaomi.eu for Google enabled ROMs for the China only devices. When it comes to connectivity, as long as you're using a GSM carrier you're pretty much garunteed 3G/H+ speeds. You can get the Mi Note 2 which ensure you get GSM LTE capabilities or the Redmi Note 3 special edition which supports band 4, therefore LTE on T-Mobile. I have a RN3 special edition and get LTE just fine. I'm on my 6th Xiaomi phone, so I have some experience with using their phones and software in the US. As long as you can get the correct software situated and can deal with the lack of LTE on most of their phone models, they are great phones and MIUI really grows on you.

Huh. I bought a bunch of phones from them, and everything was running the global ROM.

Uh. Just because it has the play store installed doesn't mean it's running an official global ROM from Xiaomi. If you got OTA updates on your phone, then you're good. You were one of the lucky ones to get a non modified Xiaomi phone from GearBest I guess. From my personal experience and others, GearBest has been the worst when it comes to modified MIUI software on their phones.

This is an "everything I need to know" article, really? Then post a reseller link that charges almost 200% more for a Mi Mix. Sheesh they're making a killing on that mark up. You can find a reseller for much less than what GearBest is charging. Glad I didn't get mine from them.

There's a reason I didn't recommend the Mi Mix. I usually buy from GearBest and HonorBuy, and I've had no issues with either reseller. That's why they're the only two mentioned in this article.

I know this is an old thread but if you're still reading this is a great read about the different Xiaomi ROMS that are available: http://miui.my/miui-identify-rom/. Just to try and clear up a few things about REAL (OTA updatable) & FAKE (Not OTA updatable ).. Both the REAL China & Global ROMS will be able to recieve OTA updates. It's only the UNOFFICIAL/FAKE ROMS that will be stuck on whatever version that the phone came with. But these 'unofficial' ROMS still can be updated by manually downloading the most current REAL/OFFICIAL ROM from Xiaomi and doing the update using a USB cable. Xiaomi's site explains the 3 methods of doing this very clearly. Iv;e bough both UNOFFICIAL/FAKE ROM Xiaomi phone's and OFFICIAL ones before. Typically, If the box is sealed you'll be getting an OFFICIAL ROM phone. This is simply because to Fake the ROM the dealer has to flash the phone. If you get an open box then beware, but this doesn't mean all is lost. The dealer may have simply bought the Chinese version (without Google Play Services) and flashed the Fake ROM to include those. It's not a FAKE PHONE, its simply a reflashed Chinese version. Last thing, Xiaomi phones are cloned/faked very well. (the hardware is fake, not just the ROM) In this case its not a Xiaomi phone but a fake. So be very careful of the source your buying from. They will all say its real so don't even ask them.