Every free show and movie available on Roku Channel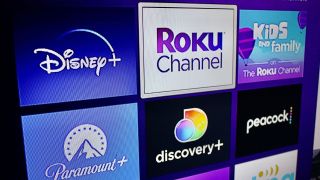 (Image credit: Roku)
While Roku devices make it easy to access your favorite subscription-based streaming services — including Netflix, Hulu, HBO Max and Disney+ — the streaming brand also offers a variety of content that's free to stream via the Roku Channel. With that in mind, we've put together an extensive, if not totally complete, list of the best films and television content streaming for free on the Roku Channel right now.
Free movies on Roku Channel
The Roku Channel provides users access to a rotating roster of free movies every month. Whether you're into action and comedy films or lean more towards dramatic and romantic flicks, the Roku Channel has a ton of free film content to choose from. Here's an extensive roundup of what films are streaming for free on the Roku Channel currently.
Action movies on Roku Channel
The Adventures of Shark Boy & Lava Girl in 3-D
Charlie's Angels (2000)
Charlie's Angels: Full Throttle
Cloverfield
The Day After Tomorrow
Gods of Egypt
Minority Report
The Day After Tomorrow
The November Man
The Saint
Space Cowboys
Troy
We Own the Night
Comedy movies on Roku Channel
Addams Family Values
Annie (2014)
Driving Miss Daisy
Galaxy Quest
Grandma's Boy
Madea's Family Reunion
Monster Trucks
Mr. Church
O Brother, Where Art Thou?
Rules of Engagement
Say Anything
Secondhand Lions
Seventeen Again
Drama movies on Roku Channel
A.I. Artificial Intelligence
Akeelah and the Bee
Ali
The Client
Contact
Dear John
El Dorado
The Fighter
The Fugitive
Gifted (2017)
Gran Torino
I Am Sam
The Joy Luck Club
Juice
The Manchurian Candidate
The Man Who Shot Liberty Valance
The Neverending Story
The Outsiders
Rain Man
Signs
Those Bedroom Eyes
The Women of Brewster Place
Romance movies on Roku Channel
The Bridges of Madison County
Broken Arrow (1996)
Down with Love
Elizabethtown
Hope Floats
Life As We Know It
Moulin Rouge! (2001)
P.S. I Love You
Sense and Sensibility
Unleashing Mr. Darcy
Thriller movies on Roku Channel
Brick Mansions
The Da Vinci Code
Eraser
The Recruit
The Sixth Sense
U.S. Marshals
Roku Originals on Roku Channel
The Roku Channel is also home to several Roku Originals series, which are free to watch at all times. Here's a roundup of all Roku Originals currently streaming for free on the Roku Channel.
#FreeRayshawn
About Face
Bad Ideas with Adam Devine
Barkitecture
Big Rad Wolf
Blackballed
Centerpiece
Chrissy's Court
Cup of Joe
Die Hart
Dishmantled
Dummy
Fight Like A Girl
Flipped
The Fugitive
Gayme Show
Iron Sharpens Iron
Last Looks
Let's Roll with Tony Greenhand
Most Dangerous Game
Murder House Flip
Murder Unboxed
Night Gowns with Sasha Velour
Prodigy
Punk'd
Reno 911!
Royalties
Shape of Pasta
Thanks a Million
You Ain't Got These
TV classics on Roku Channel
In addition to offering an impressive on-demand media library of Roku Originals, the Roku Channel offers a selection of episodes and complete television series that previously aired on other networks. Here's a list of popular TV series you can access in full for free on the Roku Channel.
The Almighty Johnsons
Bring It!
Charlie's Angels
The Client List
Crimes of Passion
Crime Stories
Degrassi: The Next Generation
Escape to the Country
Extreme Cheapskates
Extreme Homes
Fear Itself
Fit to Fat to Fit
The Hard Corps
Heartland
Hell's Kitchen: Young Guns
Hunter x Hunter
I Survived
It's Showtime at the Apollo
Judge Mom
Just Shoot Me!
Kitchen Nightmares
Lexx
Little Women: NY
Mike Hammer: Private Eye
Miss Fisher's Murder Mysteries
Naruto
News Radio
The Saint
Strong Medicine
Taken
That Girl
Touched by an Angel
Wise Guy
Xena: Warrior Princess
Quibi shows coming to Roku Channel
Roku recently acquired the rights to a number of original series that debuted on the now-defunct Quibi streaming platform or were set to debut on Quibi before it shut down. While a handful of those series have already returned as Roku Originals, here's a rundown of Quibi shows that will be available soon for free on the Roku Channel.
50 States of Fright
60 in 6 by CBS News
Agua Donkeys
All the Feels by The Dodo
The Andy Cohen Diaries
Answered by Vox
Around the World by BBC News
Athletes After Hours by TMZ
Benedict Men
Centerpiece
Close Up by E! News
Crescendo
The Daily Chill
Don't Look Deeper
Elba vs. Block
The Expecting
Fierce Queens
For the Cultura by Telemundo
Floored
Gone Mental with Lior
Hello America
Home Movie: The Princess Bride
I Promise
Kirby Jenner
Last Looks
Late Night's Late Night by EW
Life-Size Toys
Mapleworth Murders
Memory Hole
&Music
Musicology with Tim Kash
NewsDay and NewsNight by CTV News
Nice One!
Nikki Fre$h
No Filter by TMZ
The Nod with Brittany & Eric
The Now
Pulso News by Telemundo
Q Talks
The Rachel Hollis Show
The Replay by ESPN
The Report by NBC News
The Rotten Tomatoes Watch List
Run This City
The Sauce
Sex Next Door
Sexology with Shan Boodram
Singled Out
Skrrt With Offset
Slugfest
Speedrun by Polygon
Spielberg's After Dark
Sports AM by TSN
The Stranger
Survive
Ten Weeks
Thanks a Million
Theatrical Trailers by Fandango
This Joka with Will Smith
TV + Streaming Trailers by Fandango
Useless Celebrity History
Weather Today by The Weather Channel
When the Streetlights Go On
Wireless
You Ain't Got These
Your Daily Horoscope
More free content on Roku Channel
In addition to offering the collection of free movies and television series listed above, Roku recently inked a deal with Saban Films that will enable Roku users to stream a selection of Saban's 2021 film slate for free exclusively on the Roku Channel.
The first Saban Films project set to debut on the Roku Channel will be the Michael Shannon and Patrick Schwarzenegger-starring Echo Boomers, which premieres on June 15. Other Saban Films projects scheduled to premiere in the near future include Happily, starring Joel McHale and Kerry Bishé; Percy VS Goliath, starring Academy Award winner Christopher Walken, Christina Ricci, and Zach Braff; and Under the Stadium Lights, starring Laurence Fishburne and Milo Gibson.
While Percy VS Goliath will only be released on the Roku Channel in the United States, Saban Films is expected to announce more films coming exclusively to the Roku Channel across the globe at a later date.
Get the Android Central Newsletter
Instant access to breaking news, the hottest reviews, great deals and helpful tips.
Keegan Prosser is a freelance contributor based in the PNW. When she's not writing about her favorite streaming apps and devices for Android Central, she's listening to a true-crime podcast, creating the perfect playlist for her next road trip, and trying to figure out which fitness tracker she should try next. You can follow her on Twitter @keeganprosser.