European Galaxy S5 updated with 'improved performance'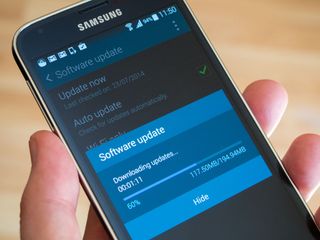 The unlocked European Samsung Galaxy S5 (SM-G900F) is today receiving an over-the-air update with "improved performance." It's the second major update for the European version of Samsung's 2014 flagship, the first having arrvied a month after the device first went on sale. The upgrade comes in two parts — first, a 194MB update, then immediately after, another 1MB update, both updates touting the aforementioned performance tweaks. After all that, you're bumped up to firmware version XXU1ANG2, which is still based on Android 4.4.2 KitKat.
The hefty size of the update suggests there's more to it than mere performance tweaks, though we've not been able to track down any other differences thus far. Nevertheless, our handset seems just a little quicker following today's updates, which is a welcome improvement.
We've received the XXU1ANG2 update on our UK model GS5 today; as usual, other countries and carrier variants may take an extra few days or weeks to see the OTA.
If you've already updated your Galaxy S5 to the latest software, hit the comments and let us know if you're seeing any other changes.
Alex was with Android Central for over a decade, producing written and video content for the site, and served as global Executive Editor from 2016 to 2022.
More bloat? Coming from Samsung, it could be. Posted via Android Central App

Nope. No bloat. Received mine two days ago and everything feels a bit more responsive and smoother now. Fingerprint scanner also is now more accurate and seems to register less mistake.

When will the update come to the middle east? (International version of S5) Posted via Android Central App

When I tried it's shows 'The latest updates have already been installed'.I live in uae Posted via Android Central App

Same here man. I've been waiting for an update since a long time to fix all these bugs. Posted via Android Central App

I've got a European custom GS5 and I didn't get the latest update! ..!,... Posted via Android Central App

Optimization update, it seems. Given how TW has a bad rep for performance, this is good.

The S4 is the only one that had the issues but haters gonna hate. As stated by one of the editors yesterday, the S5 has no more issues than the G3

Even so, I still appreciate performance updates.

Yep, it almost never (I mean that sincerely) can be a bad thing.

Any update for the USA version? Posted via Android Central App

Probably in 4 months when the carriers feel like it Posted via Galaxy Note 3, OnePlus One, or Nexus 7 (2012)

We had this update in the philippines about a month a go and the only thing we'd noticed is the fingerprint image on lock screen and the power saver icon on the upper left of the screen if your on powersaver mode off course

The icons which indicate a correct or incorrect fingerprint swipe have been changed.. That's the only visual difference I've noticed.

Can you make some screen shots ? Thanks

Did it improve camera quality, has anyone checked? Posted via Android Central App

Few things I noticed.
1, incorrect finger print image has changed
2, the tick is different when its a correct finger print
3, the weather widget now has the maximum and minimum temperature for the day.

Please, can you make some screenshots? Thank you very much

Is it just me or is 'Potential Threats' new?

Currently under testing in US carrier labs... In order to enhance customer experience we want to thoroughly test this, hence will be pushing this update between the next 3 to 6 months. Posted via Android Central App

Volume button to zoom in the camera app.

dobry den mam samsung sm-g900f a zatial som nedostal aktualizaciu...

Got the update today..for indian s5 (SM-G900h) ... apart from fingerprint recognition improvements ..RAM has been downgraded to 1.75gb from 1.81gb which is not a fair thing cuz we already have poor amount of available RAM memory ... :/ And on no use itself the RAM uses 1.35gb... happy for the update but still sad for the RAM .. :/

Thanks for info on the update. I just started mine. Its 201.37 mb. Regarding decreased ram, means it has gone to GPU which might improve graphics and smoothness. Lets hope for the best. Else I'm planning on rooting and installing XtreStoLite rom finally.

Please please please can you make and upload some screenshots? I really want see new features.

After doing update only thing not working now is screen mirror as finds device then disconnects

I noticed when I swipe to delete an email, I can now go straight to the next email without it going back to email list.

After this performance update ram has lowered down from1.81 gb to 1.75 gb.

Hi there my ram has been reduced down to even less its currently 1.67gb??
Is this right as im seeing other people state theirs is 1.75gb.
Could anybody let me know if this is a mistake on my phone as im thinking to reset the phone to get my 1.8gb ram back as so far i have seen no improvements....

Hey
Please don't get shocked.
And do not reset your phone.
It's just that it turns to be 1.67 for the lte or g900f variant
But it turns to 1.75 go for the 3g or g900h variant.
The ram is reduced because some part of it is allotted to the gpu which means better graphics and more smoothness in the phone.
And if you question is why does the 3g variant get more than lte. Then the answer is that the 3g variant has only 1.9 gigs processor but where as the 4G has a processor of 2.5 gigs. So Samsung gave more concern to gpu in the lte variant. So what I am saying is that the lesser ram that is 1.67 is better that 1.75 because we will have a faster and better graphics and smoother phone.

Ruined the swipe-type option completely. I don't know who else uses it but it's literally my favorite feature that Samsung has to offer ------ With auto-spacing option "on" the cursor would remain at the end of the word, with the blue highlight on the word that will be used should I choose to continue typing, and there were other words offered, such is the case when I swipe from 'O" to "F", it would give me the choice between "of" and "off" for example. Now, with the new update, it spaces away automatically so I can't choose the best option any more. The word above was a simple example, and with the longer words, it gets more annoying. Before, when the cursor stayed, and if it was the word I wanted, when I continued typing, the auto space would happen and everybody lived happily ever after. Now... no more. It needs to be fixed! Also the RAM has decreased to 1.67…?

Power saving icon appears in the notification bar when this option is enabled.
Android Central Newsletter
Get the best of Android Central in in your inbox, every day!
Thank you for signing up to Android Central. You will receive a verification email shortly.
There was a problem. Please refresh the page and try again.