Essential team takes to Reddit AMA, promises Oreo update and Verizon certification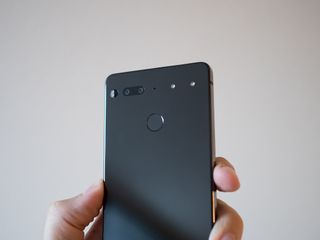 After a few delays, the Essential Phone was finally released last month to awaiting fans and critics. While the Phone certainly has a nice design and exotic materials, there are parts of the device that are a bit of a compromise at the retail price of $700. In our review we noted that the camera felt far from finished, and general issues with stability have been ongoing despite multiple OTA updates since.
In a Reddit AMA today, Essential co-founder Andy Rubin (as well as other Essential staff members) responded to numerous questions regarding the camera and stability problems the Essential Phone is facing, as well as other questions on the community's mind. Rubin himself says the team is happy with the hardware of the camera, and they're still working on tuning it in software. That's fortunate since it means the issues can (technically) be fixed for existing users, rather than having to wait for a hypothetical Essential Phone 2 to get a great (or even acceptable) camera experience. But before they get there, they're also nearing completion of an update to fix the major bugs and crashes users are currently facing.
Elsewhere, the team says that kernel sources and factory images will be released in the next few days. That will be very beneficial for custom ROM developers to learn just how the phone ticks, while the factory images are always a great way to get back to safety after some experimentation. In the same comment, the Essential team said that Android 8.0 Oreo will be released for the device in the next month or two. Given how little Essential has customized in terms of interface, it should be pretty straightforward to build the upgrade. Interestingly enough, Oreo will also make the device compliant with Project Treble. There will also be a beta track for enthusiasts who want to test upcoming releases.
One of the unique but currently underutilized features of the Essential Phone is the modular pogo pins on the back. The only shipping accessory at the time of writing is the 360-degree camera attachment. Next up will be the already announced charging dock, followed by a high-end 3.5mm headphone jack attachment (sigh). As far as third party accessories go, companies will soon have a reference design to build off of, and there will be cases from "several brands" soon — the latter being a real pain point of early Essential Phone buyers.
While the release of the phone is now mostly complete in North America, Essential is looking at releasing the device in Europe soon. A mark of progress is an EU-compliant power adapter being completed this month. Back in the U.S., the company is also in the process of certifying the device to work on Verizon. It already has all of the radio bands necessary, but without official certification the phone won't work with Verizon's advanced features like VoLTE. That should be finished in the coming days, Essential says.
That's a whole lot to digest, but it's great information. Surely it raised a few more questions as well — let us know what you're thinking in the comments below!
Android Central Newsletter
Get instant access to breaking news, the hottest reviews, great deals and helpful tips
Did they ever answer a question as to why they released a device with a terrible rear camera?

It seems they are happy w/ the hardware and they are stating it's a software thing... pulled from the AMA: Hi! We are pretty happy with the hardware design of the camera. We are using computational photography to fuse a monochrome and color sensors. That's the part we're not too happy about, but luckily it's software and we've already done a number of updates to the app to fix bug and add features. - andyR

As well as how a phone running stock Android can run so erratically.

Thats why peoole want stock Android, right? /sarcasm

It's "stock" in terms of the interface, but no phone is truly "stock" underneath. There's a ton of optimization to be done and code to be written to make sure the phone actually performs well. They haven't quite figured that part out yet.

Glad somebody pointed out that being stock doesn't automatically make it run perfectly.

yep. I really want this phone to work and if possible available at Verizon store, so I can get it cheap like Z series :)

Don't count on it actually being available from Verizon.

People think they can just copy the pixel software over to another phone and voila!

Remember on I Love Lucy when she wrote that manuscript and she thought it was a "how to", and it turned out to be what not to do..
Yeah...

So basically they're saying is that this overpriced, very compromised and unfinished device was not supposed to be out just yet. Rushed anyone? Also pogo pins to just attach something very "essential" "high end" (whatever that means) 3.5 headphone Jack??? Really brilliant!

I have the essential phone and the galaxy s8 and I reach for the essential phone every time. It may not have a headphone jack, but the screen is gorgeous and the feel is near perfection. I wouldn't trade it any phone on the market. I would check it out at a local best buy before judging. It's not much on paper, but it's something else in the best of ways.

how is the battery life - SOT and all ?

I'm sorry, SOT? And I get a day of heavy use out of it. Many accounts. Videos, regular emailing and texting. Couple hours on the phone. The usual.

Every phone that isn't a Samsung should be half the price? I get so tired of hearing this.

Not that Samsung is a standard to go for but basically a startup can't expect to charge premium prices for their products.

Cluster, from top to bottom, here's to hoping for better on the second generation, if there is one.

I suggest you read it. I find the phone to be incredible. Had it a week so far. I have never seen a company this transparent before and that gives me undeniable faith in this product and future products.

I agree. I was contacted by an upper management figure about the whole ordeal I had trying to return the phone. His conversation has made me decide that I may keep it after all. I can respect a company who tries to right the wrong that happened.

That is why I pre-registered, pre ordered, and support Essential. This phone was released too soon and now they will fix all the issues we are currently having. I do not mind being a beta tester....

Solid, full day. Especially for a phone that's actually smaller than the standard Pixel.

After using the phone for the past week I think some of the criticism of the camera is overblown. No it's not awesome, but it isn't nearly as bad as some of the reviews make it out to be

Should've seen how bad it was for the first couple weeks when people wrote their reviews. I agree it has gotten better, but it's still nowhere near what other $700 phones offer, let alone legitimately challenging $450 phones in terms of consistency and stability.

Despite all the backend that happen, this phone is amazing. The Developers have already created and app to utilize the full screen for apps and hide the navigation bar that make this phone truly stand out. Running with Blackberry Launcher has made is run extremely smooth. I have not had a hiccup or closed app yet. And I love the full screen less bezel. Make my S7e look quite big even though the screen looks smaller. And I agree the on the camera. While it's no S7e, it's not as terrible as people who never had the phone and judge off others. And the battery has been amazing and well managed in the systems. And already got the Sept security updates. So to each their own.

Why BB Launcher and not stock or Nova? Curious since I had a Priv.

It clean near stock with just enough options to make it better than stock. Mainly icon and dark theme.

May I ask which options? I too liked BBL but am on Priv now and trying to decide the pros and cons

The fact that Android OEMs are still promising updates to make sales points at a fundamental issue with this platform... IMO.

There is a DAC in the dongle
, don't loose it. https://www.reddit.com/r/essential/comments/704guo/dac_in_the_dongle/ Regarding the camera, it's a software issue that they are working together with Qualcomm to fix. Interesting AMA tidbits https://www.reddit.com/r/essential/comments/7057mm/interesting_ama_tidbits/

Why didn't you build wireless charging into the phone? - Because otherwise we couldn't sell you an overpriced accessory to add it!
Android Central Newsletter
Get instant access to breaking news, the hottest reviews, great deals and helpful tips
Thank you for signing up to Android Central. You will receive a verification email shortly.
There was a problem. Please refresh the page and try again.