Essential Phone users can now join the Oreo beta with a simple OTA update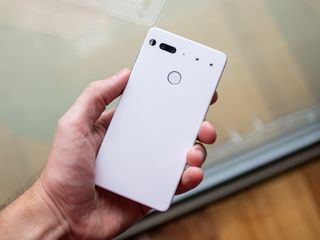 Although we're still waiting for the Essential Phone to get a public Oreo update, the company's been running an Oreo beta since November. The process for getting the beta isn't the simplest around, but Essential is now making it much easier to sign up and join.
Up until now, if you've wanted to sign up for the beta to get Oreo on the Essential Phone, you've had to manually sideload the software onto your device. This isn't an overly complicated process, but if you aren't careful with what you're doing, there's always the chance you could accidentally brick your phone. Thankfully, Essential is eliminating this barrier and allowing you to join the Oreo beta with a simple over-the-air update.
To do this, the process couldn't be any simpler. Just head to Essential's beta page, choose the "Over-the-Air" option under "How Would You Like to Install the Beta?", and then enter your name, email address, and device serial number. Once you do this, your Essential Phone will receive an update to download Oreo.
The last Oreo beta was released on Valentine's Day, and with it came an update to 8.1, a fix for jittery scrolling, and the latest February security patch.
Joe Maring was a Senior Editor for Android Central between 2017 and 2021. You can reach him on Twitter at @JoeMaring1.
Nice, just signed up for it. Was going to sideload it this week but this is an easier option. I hope this release is good, so far I have been really liking this phone and the updates are great!

Same here. Can't put the phone down ;]

Question for all Oreo beta users: Is it worth doing or should I wait for official release?

I'd say it's worth it. I haven't had any stability issues so far, and perhaps with the exception of battery life not being fully as good, it's all great. It fast-charges all the time now, something it didn't do earlier

Thanks for the response. I've been hesitant to give it a go but might now that they've simplified the process.

The beta is well worth it. The only issues I've had.. notifications seem inconsistent. Sometimes they are on point..and sometimes I get like 30 minutes worth of notices all at once when I wake up the phone. I had it freeze once after I restarted and put in a wrong pattern. Facebook messes up with the KB when trying to respond to posts (might be a FB thing). I think that's about it. Oh! My Qualcomm 3.0 charger always charges slow for some reason. Every other charger works fine.

Essential doesn't support QC 3.0, they support USB power delivery.

Nice!! Loving this super underrated phone

hey, this update became available to me this morning, downloaded no problem, did the requested restarted to apply update and low and behold now it will not start, nothing, dead. can anyone help :-( . assuming since it is a beta update my service provider won't help. haven't checked yet because it's 5:00 am

I'd try to sideload it by entering recovery mode. Hopefully it will connect. Make sure you've installed the latest drivers.
Sideloading takes a bit of time but it is fairly easy

I didn't sideload, I used this ota option, I do keep it up to date as much as possible so I don't believe it would be a driver problem

update.. so i was watching the Olympics an i sort of lost track of what i was doing. i guess i had my finger on the power button for about 2/3 minutes an it turned on, phew!. so if this happens to anyone else, don't panic, be patient.

Good to know, I just got the update notice, fingers crossed lol.

I was part of the original beta and it bricked my phone using the OTA. Essential swore that I did something wrong. They have the brick now. I could careless. And I know I didn't do anything wrong, because I was in the grocery store while it was updating and rebooting, the phone was in my truck. Got back to the truck and had a dead phone.

Best phone to date. For me battery works well. But I wish it was bigger because I have about 60-100 calls a day.
Oreo OTA works wonderful

Yep, that was the fastest update ever, no issues, like the subtle differences from Nougat 7.1.1.0, cleaner interface. Noticed that there is now an emergency information section in 'Users & accounts' (go to the bottom)

Oh that's cool. I noticed that my phone is buttery smoother now Hmmm maybe my imagination.
But I like it so far a lot more

Signed up last night and got the notification to download Oreo this morning. Did so and it went off without a hitch. Definitely like some of the new features and so far absolutely no issues.

Anyone loose info when installing? Do you need to format so there will be no(fewer) issues?

No, all your stuff should be there still

Correct, although my notification LED no longer works, otherwise everything is OK. Oreo is (to me) a refinement on Nougat, not a revolutionary change. Nice to have it and hopefully Trebel will make the update process even better in the future.

The update seems perfect, I feel like this is a very near final release. Worth getting for anything with an essential phone.

Did the OTA install this morning. I feel that the responsiveness & sensitivity of the touch screen is better. I don't have to press the screen as hard as I used to to launch apps. Having Android 8.1 on both my Pixel XL & Essential is great.
Android Central Newsletter
Get the best of Android Central in in your inbox, every day!
Thank you for signing up to Android Central. You will receive a verification email shortly.
There was a problem. Please refresh the page and try again.