Essential Phone receiving update for 40% faster camera performance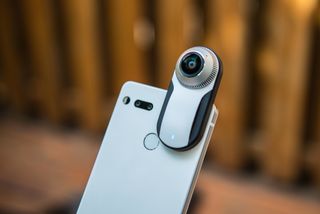 (Image credit: Android Central)
The Essential Phone has left a lot to be desired since its release last month, but regular software updates have slowly been resolving one of the device's biggest pain points — its camera. Essential just announced that it's pushing out a new software update for the device and Essential Camera app, and there are some big promises being made this time around.
For starters, Essential says that this latest update will improve the brightness of photos and the quality of shots taken in low-light scenarios. Low-light performance is definitely one of the Essential Phone's weaker points when it comes to the camera, so any upgrades here are greatly appreciated.
Along with this, Essential is also promising a 40% faster capture rate for regular and low light photography. That's a substantial increase, and one that we're sure many will be thankful to have considering that the Essential Phone's camera has never been considered a fast performer.
Essential is also throwing in some improvements for its 360 Camera attachment, including spatial sound when shooting 360-degree footage (supported locally and on Facebook and YouTube), a countdown timer, and the ability to use the volume rocker as a shutter button when you're in 360 mode.
As for future updates, Essential says that it's working on adding more HDR upgrades, the ability to livestream in 360 to Facebook and Periscope, filters and animated stills for 360-degree footage, as well as a Portrait and Pro Mode.
The latest software update will change your build number to NMI81C, and once you've done that, be sure to update the Essential Camera app through the Play Store to ensure that you're able to access all of the new goodies that are included here.
Joe Maring was a Senior Editor for Android Central between 2017 and 2021. You can reach him on Twitter at @JoeMaring1.
This phone will be lost with the Pixel 2 and XL 2 release. Best decision I ever did to return this phone. But big ups them keeping head first to make this phone be successful and keeping updates rolling. Let see if they can keep it up for 2 years now.

Say what you want, but when a 700.00 needs a 40% update on the camera it wasn't ready for primetime! No wonder they have sold only 5,000 phones! That's terrible!

Hope all 5,000 of their users care, because nobody else does.

Such a nice phone, shame it didn't come ready...

Minor glitches for me, though it's getting great very quickly. Funny, not many Ess owners trolling the Pixel release wondering about Bluetooth issues in the 2. Gotta remember, all press is good press... when people stop posting is time to worry.

No one cares. The Google Keynote was the crashing sound of the last bit of relevance this phone has.

It's a good phone and many of you do not understand that.

We know it's a good phone. Fluid and about stock android smooth. But when a phone is missing the essentials features with a bad camera at launch and charging for $700 premium price tag. No one gonna get it.

The one main thing I want from a phone other than performance, is build quality. And this thing has it in spades.

as most every major phone does !!

To little too late to make much of a difference. The die was already cast when all the reviews came out with the older camera software.

All the negative comments most likely for people who haven't even seen much less used the phone. I have one and LOVE it. It is the most impressive piece of hardware introduced in years and with the continual software updates it just keeps getting better. I have bench marked it against iphone 7 plus, HTC U11, Samsung Galaxy s7, and OnePlus 5. I guess haters just gotta hate.

same for me. Been fun following the Reddit bi-weekly AMA. Then ESS updates, and the experience gets better. Kinda like my beta-Oreo on Pixel, without the direct tech team contact.

I reserved the phone. Bought it and the 360 camera. I held on to them for three weeks.
1. The build quality and feel was crazy good.
2. The performance was bad. The phone I had would throttle after a single run of Antutu. I could hit close to the theoretical limit of the SD 835, then performance would drop from ~177K all the way down to 120K or so in Antutu. It was never consistent. I bought a LG G6 to replace it and am much happier with performance.
3. The camera was just so, so.
4. They did not and have not released the kernel source so unlocking the boot loader is useless.
5. No cases. They say you don't need a case. Some people like me, like cases. While the phone may be durable, I want it to look new in a year. Anyway, the product wasn't ready and by the time I bought the phone and camera, along with the extended damage protection and paid taxes, I was out ~$925. That's too much for a product that felt like a public beta. YMMV

Yeah it's basically a really expensive beta.

Good luck with the g6, that's what I got rid if to get my essential and couldn't be happier. The 821 is a slow processor and not to mention the fact that LG rarely does software updates. That 32gb of storage fills fast. The LG camera sensor in the g6 is the same one the essential uses. On my essential I get 7+ hours if sot regularly my g6 got 4 if I was lucky. All my apps run better in the essential compared to the g6. I have a way better network experience with the essential.

Great phone at a great deal (through Sprint) Been really surprised at the negativity based on non users reviews. Got an opinion...then share it. Having a headphone input really important to you...fine. That's what is important to you. But to bash this phone (when you don't own one) and the people who share their positive experience (like me) is silly. I have been loving this phone, its lack of bloatware, and it's OS. It is fast and only carries the apps I want and install. Camera has been better than my previous phone (SG5) and is now improving. I understand the rollout wasn't great, but I got the phone after those issues. I hope this company and its mission succeeds. For what it is worth, I think the other phone are awesome too. Great for us consumers! But for the price I paid for this, it is the clear winner for me.

Still pretty darn good that they're still working on it. Just hope that their second try is better.

If 5000 units justifies a second try..

I've had almost every single Nexus device prior to this. This phone appealed to me because the specs we're top notch and the thing is Rock solid premium. I have the same screen size as my old Nexus 6P and the hand factor is the same as the small pixel I will NOT be returning this phone, the Pixel 2 offers me nothing worthwhile in comparison. I only hope they can improve this camera to the same quality as the Pixel.. but after today's update it is pretty DAMN close!

Hmm, your last statement is interesting. It sounds like you have confidence in the camera.

They sold like what, 500 so far? Not a good start

Worst phone of the year, that thing is already dead, with Note 8 ,V30, Pixel 2 and soon the Mate 10 out, the "essential" phone is an essential garbage.

You definitely haven't tried out this device. Me neither, but the difference between you n me is the fact that I'm willing to try it before posting strong opinions like yours. Clearly, the phone cannot be that bad. Cheers.

It is that bad, not worth the price at all, build quality might be good but the rest is average at best, in a world when u can get S8+ over it with a cheaper price, makes thr essential phone useless

Some people like myself run as far away from Samsung as possible. Personal preference.

Unless the S8+ was light years beyond the S7 Edge there is no way I would use that thing even at half the price. Curved screen is terrible for usability, thing would get hot to the touch doing anything other than browsing (sometimes even then), my screen died and had to RMA, the aluminum is so soft it'd dent/scratch just looking at it, and hate to pile on but, the skin and bloat was just terrible. Went from a S7 Edge to an Essential and the camera, yeah its not the best but its not as terrible as people think. It's my opinion that everything about the phone is better than S8, Pixel, LG, etc with the exception of the camera. It's that void, plus the fact that since most Android phones are identical with only the camera being a point of differentiation that people tend to lavish praise on whoever does that best. Think of it as a OnePlus 5, where the $160 premium is for a higher resolution, smaller form factor, and more premium materials. In terms of picking it up, and using it for what you use a smartphone for 90% of the time it's fantastic.

There are far worse phones out there. Know the Doogee Mix? Has a "dual camera" where its secondary camera is a fake.

I'm surprised nobody mentioned the Google Camera app modified to run on the Essential phone (and other phones based on SD 820/821/835). https://www.xda-developers.com/essential-phone-camera-quality-fix/

This all feels a bit like the old Nexus 5.
That feeling like there's a good camera in there somewhere, and maybe with a few updates we will finally get it.
That old Nexus 5 camera got better and faster, but was always a flawed beast.

I have yet to experience any ****** pictures with this camera. I don't take a lot but the ones I do always turn out really nice.

Never posted before but the constant negative reviews of this phone are annoying.
I own this phone - worth every penny.
I love this phone - beautiful hardware, impeccable build, essential software.
No issues with blue tooth, cell signal, call quality.
It has frozen a couple of times, so did my Pixel, so did my OnePlus 5, so did my Nexus 6p. It happens.
Essential PH-1 is my new love.
Camera gives me everything I expect and need - have always used post processing even with my pixel XL - sometimes the photograph has a lot to do with the photographer and not the camera.
Criticize, say what you want.
It was my dollar and I feel it was well spent.
Android Central Newsletter
Get the best of Android Central in in your inbox, every day!
Thank you for signing up to Android Central. You will receive a verification email shortly.
There was a problem. Please refresh the page and try again.