Essential Phone gets February security patch one day after Pixel/Nexus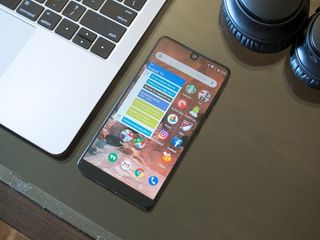 The Essential Phone is far from a perfect device, but one thing that it's excelled at since its release is fast software updates. Aside from a delay with Android 8.0 Oreo's public release, the team at Essential has kicked out updates for the PH-1 faster than just about anyone else.
Google officially released the February 2018 security patch for Pixel and Nexus devices on February 5, and just one day later, Essential announced on Twitter that it was pushing out a software update to the Essential Phone that contained this new patch.
We're rolling out a software update (NMK24B) that includes February 2018 Security Patches from Google.We're rolling out a software update (NMK24B) that includes February 2018 Security Patches from Google.— Essential (@essential) February 6, 2018February 6, 2018
Security patches aren't the most exciting thing in the world, but there's no denying their importance. While we've been critical of Essential in the past regarding its clunky camera app, annoying touch latency, etc., this is one area where it's always been strong.
In the meantime, I'm over here with my Pixel 2 that's apparently "up to date" with the January 5 patch ¯_(ツ)_/¯.
Joe Maring was a Senior Editor for Android Central between 2017 and 2021. You can reach him on Twitter at @JoeMaring1.
Maybe the ph-1 is not a bad buy after all. As long as it's under 500.00. There's hope yet Andy! I sure hope there is a ph-2. Improve the camera and keep the price resonable!

Also , as important security is, he needs to update to latest os faster than other oems . For us nerds. 8.1 is the benchmark right now, not 8.0. Seems plausible since he is Mr. Android. I was a big supporter when this endeavor went down. I am very disappointed.

Of course, in reality Rubin probably didn't write a single line of code for the essential phone. Him being "Mr android" is basically a marketing gimmick.

Was he supposed to? I thought the cool part of the phone was that he was supposed to make sure it all worked well with the OS he helped design. Not that he was going to be coding it...

Oreo 8.1 beta is being released in 2 days. (Friday)

Essential mentioned on the last Reddit AMA that they are making the Oreo 8.1 public beta available in few days. They scrapped the 8.0 beta in favor or 8.1, which makes sense. While they may not be the fastest with pushing the major builds, they have been on top of pushing the monthly updates as mentioned in the article. I have seen some of these monthly updates arrive on my Essential phone before my buddy's Pixel 2. Essential is a very small company and I am glad they are trying hard to stay afloat. I have a feeling that they'll be able to overcome these hurdles in the next few months before they launch their next phone.

So... They've been great with software updates except they failed to get the only OS update they've armoured to run stably... If they couldn't get 8 to run properly, how can we expect they'll do better with 8.1? From what I hear, they never even got 7.1.1 running well.

7.1.1 is running fine on my nearly two-week-old unit. Got the update a couple of hours ago, so far I am very impressed with this phone.

Props for getting the updates out fast. There's been a total of eleven updates for the camera too. Not enough to make it great, but it has improved.

Will you guys consider publishing a table each month showing the security and software update levels of every android phone you have?

It would need to include carriers, for all the different carriers of Samsung Galaxy S phones that update at different times. brand, model, distribution, OS, patch code, patch date
and another column computing months old

The criticism of this phone is old news. It is incorrect to use the stale terms that have been associated with this phone at launch. Updates have been great. Camera is now very good camera. Touch latency a non issue.

Hypercritical of everything that isn't a Pixel. It's just the AC way.

In the comments it is...hypercritical of everything (outside the phone owned by the commenter). The negativity seems to be a contest of some sort.

Yeah let's be real the negativity is almost solely in the comments of these articles, not the articles themselves. People take this ish way too personally.

Just got the phone a week ago. I have mixed feelings. Camera is no where near very good. My G5 took much better photos, the OG Pixel blows it away. These devices are about 1 year older than it. It's honestly worse than I thought it was going to be. Overall, it's a good, snappy phone.

Hopefully when the newer security patch updates push down to the unlocked U11 it will fix the battery drain.

I'm really happy for Essential I guess. My Pixel 2XL hasn't gotten the patch yet, wonder why?

+1 No update yet for my Pixel 2 XL on VZ

Pixel 2 XL on AT&T - got mine yesterday. 8.1; Feb 5 patch

Yeah not sure. I got my patch the day of, at around noon.

My Nexus 6P has yet to get the February patch. In fact, I didn't get the January patch or 8.1 until the last day of the month. This, after getting monthly patches in the second week. If I have to wait for OS updates or security patches, I may as well have a Samsung phone, which may still happen with the S9+, pending it ticks all the boxes.

If that tickles your fancy - make the jump. When the S8 was just out - it took me 170+ days to get the Nougat update on my 7 Edge. Selling phones appears to be Samsungs main focus - OS and security updates for their phones about a year out - not so much... They do make fine phones no doubt... Essential still has my interest, and the price I think is right..

That's the thing, it doesn't tickle my fancy. I just don't know where to go at this point. After all the issues with the 2 XL, with the screen, and then others were piling up at the start, I got scared off of it. IMHO, it's not a "premium" device, worthy of spending $1,000 on. Does "premium" mean all glass? No. For instance, to me, the Nexus 6P feels premium and substantial. When I held the 2 XL in hand, it felt like a plastic toy. I'm not spending $1,000 on a phone with sub-par hardware as a showcase for software is wise. That's Google trying to take cues from the Apple business model, while still using remnants of the Nexus business model. It doesn't work that way when you wanna play with the Big Boys. Will the 3XL be different this year? We'll see.

Sometimes it's like a blood letting for specific new phones. And I'm sure the Essential phone is on that list. I've got the Pixel 2 XL, I do see a blue shift if I tilt it at extreme angles and the OLED screen has a different feel to it. Also I use the Natural color state. So - personally the only is the blue shift - everything else works fine for me. I totally agree - the price is high - and I did buy the 128 gig model. The pricing structure - Google's - is similar to Apples. Money. And both offer frequent updates. I cannot disagree there at all. I will say I think the price is right - close - on the regular sized Pixel 2, but not on the Pixel 2 XL. As an old hobbyist programmer, I love the integrity of frequent updates. And I love the software experience. As options - the Moto 4 with Fi capability - or the Essential phone without Fi. That's what I'm personally watching. Could any other phone be optionally be able to use Fi at a later date? Wouldn't that be something... Samsung makes great phones. But I question their commitment to their user base. However - I do expect Samsung to create the new next 'thing' in the mobile hand held market.

No doubt that phone is a great choice for updates if the Pixel isn't your cup of tea.

The Pixel is, but I can't afford one so I went with Essential!

"far from the perfect device"?? What is that supposed to mean? Essential phone gets WAY too much underserved crap for some reason. It's faults are vastly overblown. It's one of the best available.

My system is up to date Jan 5th security patch smh... OG Pixel XL...

Follow this and get February update immediately. https://www.droid-life.com/2018/02/06/google-play-services-12209-pixel-2...

Follow this and get February update immediately.
https://www.droid-life.com/2018/02/06/google-play-services-12209-pixel-2...

https://www.droid-life.com/2018/02/06/google-play-services-12209-pixel-2...

When this thing (eventually) gets 8.1, I may actually consider getting one.

Yup, got the update this morning.
My 6P in the other hand, still on January patch.
So far my Essential has gotten the patch on the same day/a say or 2 before my Nexus. I know the 6p isn't a pixel 2, but still, I'm impressed at how fast they essential is getting the patches

Well if their next phone has more RAM and bigger screen it will be on my very short list based on update speed.

I have been pleasantly surprised at how good my PH-1 is. I got it for 499 in the Black Friday sale and just took a chance that the software defects evident back then would be improved over time. The many timely updates and Oreo beta 3 are much appreciated. After having been abandoned by HP (Palm) and OnePlus, Essential has restored my faith in Android phones.

Nice !!! Good job Essential on at least keeping up to date on security patches. Something to cheer on otherwise a disappointing phone as a whole.

I'm so bloody torn. I can't decide which to sell. I have a pixel 2xl that has a great camera and promises

I can't pick between the pixel 2xl and the OnePlus 5, which to sell. The pixel has the great camera, but the OnePlus is so much nicer to hold. I prefer the OnePlus software, but the pixel is meant to be supported for longer. Damn.

Only issue I see repeated by the people who actually have this phone is the poor quality camera.
If you're not too fussed about that seems like a great phone at a great price.

Well done Essential. Updates are addictive, I am expecting the Nokia 8 8.1 beta to finish soon and get the full 8.1 with Feb security in a couple of weeks.

"the team at Essential has kicked out updates for the PH-1 faster than just about anyone else." That's because they needed the updates more than just about anyone else.

I received January security patch update on my Galaxy S7 like 30 mins ago.

Several months later, still very happy with my PH-1. Worlds better than the Note 5 it replaced apart from not having wireless charging.

Nokia also has started rolling out the Feb update today.
Android Central Newsletter
Get the best of Android Central in in your inbox, every day!
Thank you for signing up to Android Central. You will receive a verification email shortly.
There was a problem. Please refresh the page and try again.