Essential Phone to get Android Oreo beta in coming weeks, night mode included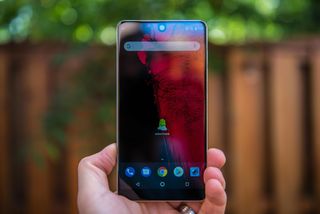 Update 6:25 PM EST – Essential mentioned in the AMA that the kernel source for the PH-1 would be coming soon, and it's just been released. Check it out here.
Although the Essential Phone is far from perfect, one thing that's worth commending Essential as a company for is its transparency between customers. The Essential team recently started to host AMAs over on Reddit to answer any questions that its customers have to ask, and in this week's session, a lot of details were shared regarding Android Oreo for the Essential Phone, a new night mode, and bug fixes galore.
Regarding Android 8.0 Oreo, Essential confirmed that its quality assurance team is currently testing a build of Oreo for the PH-1 and that it hopes to release a public beta for users to download within "several weeks." Essential says that it will make an announcement once the beta is available, but that's as specific of a timeline that we have for the time being.
Once Oreo does drop for the Essential Phone, it will also bring a highly-requested night mode that should make using the device in the dark much easier on the eyes. Speaking of new features, the next OTA update that's released for the PH-1 will bring fingerprint gestures for controlling certain aspects of the UI (similar to what's found on the Pixel).
Along with these new features and upgrades, Essential also says that it's working hard on bug fixes for its phone. The biggest issue that a lot of users are facing at the moment has to do with poor touch responsiveness and jitters when navigating through the user interface, and fixes are in the works.
In one post, an Essential employee said:
Essential also addressed the release of system images, delays for the white model of the phone, and plenty more. You can check out the full AMA here if you want to read through the entire thing, and assuming that the company sticks to its schedule, it'll be hosting its next session on October 18.
Joe Maring was a Senior Editor for Android Central between 2017 and 2021. You can reach him on Twitter at @JoeMaring1.
Before the note and s8 Plus wow. Samsung needs to step it up

Any surprise? Lol . Expect Samsung late January.

Do Samsung release public beta software? Either way, it hasn't actually happened yet. Don't count your chickens.

Or hardware like Essential

Essential has no extra work to do, so why is that surprising.
I really root for this phone and hope they Iron out the OS.

The OS needs to be ironed out? Heard it was just the camera software that was lacking and everything else has been great. Am I missing something?

yes you are. the first complaints had to do with screen touch sensitivity, lag while scrolling , etc.

They've since been worked out, so what else am I missing?

no, they were not all fixed. even if they are, you are missing the point. releasing a phone that is pretty much bare bones stock Android, shouldn't be as flawed as Essential was. And the lack of proper CS , doesn't leave one with much confidence in this company. Now, if they really ironed out the whole OS (camera is a part of it as well) , that's great news, but that's for Nougat, not Oreo.
If I was to buy this phone before the 2nd gen is out, I would wait out and see how this upgrade plays out and also if they are finally communicating properly and timely with their customers.
Again, I really want them to grow steady and strong, but i don't have money to throw at experiments yet, no matter the "potential" they may have. I do believe, that if they keep the investors interested, it will only get better. As of now, they are apparently short on everything.

I'm so shocked a company with only one phone that runs stock Android who promised quick updates is updating their phone before Samsung is updating their entire line up.

Not talking about there entire line, speaking on the flagship devices from a multibillion-dollar Corporation.

That's what happens when you buy non stock phones. Remember HTC promise? How that work out for them?

Essential Kernel source is released https://www.essential.com/opensource

Nice. I'm interested to see what they mean by a night mode... Could be anything from a blue light filter to a system wide dark theme. If it's the latter they'll get my attention. I'll forgive a lot for a system wide dark theme.

I'm starting to get interested again. I hear the camera update did some good. Oreo only a few weeks after Pixel is also impressive. We will see.

yep. since I'm about to ditch VZW - literally cutting my data completely off in "congested" areas- all over LA in last 2 weeks, I'm finally gonna be able to shop for phones I really like. This one is on the top is the list and gotta check Pixel 2 as well.

It's a blue light filter which was missing in their current build.

I bought this a little apprehensively just before the Pixel launch. If you wanted a Pixel with an edge to edge screen, this is it. No regrets about purchasing it, best phone out there IMHO.

*insert joke about Essential users already being beta testers here*

Ooooooo.... Ahhhhhh.... A beta update to fix fingerprint sensor bugs...... I'll take a stable OS vs a rushed glitch update every time thanks. Let's read an Android Oreo review... Google any of them.... 1. Looks (material design). The lead point is cosmetic? Are you serious? Why should I care? That's the big news? We mess around with android to set up our phones... And that's it.... We use apps. Your interaction daily with android is turning on/off: WiFi, sound, Bluetooth, mobile data, and maybe the power button.

Best phone at there IMHO and still improving

Straight no substitute for the real deal... Enjoy the beta "in a few weeks" ol Andy said Nexus like updates or something to that effect... Not quite but good on em for the try... And now that Google has added another year of updates it's a done deal

Any white phones out there?

« one thing that's worth commending Essential as a company for is its transparency between customers » They areso transparent they shared personnal info between their early customers 😁
Android Central Newsletter
Get the best of Android Central in in your inbox, every day!
Thank you for signing up to Android Central. You will receive a verification email shortly.
There was a problem. Please refresh the page and try again.