Enabling Android Pay loyalty card location notifications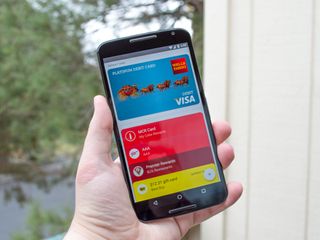 Using Android Pay, not only do you get to keep all of your loyalty and rewards cards together, you also can be notified when you can use the card. Simply by turning this feature on, Android Pay will let you know when and where your loyalty card can be used in the vicinity of your location. By then paying using your phone, you will earn rewards without being inconvenienced.
Adding your loyalty cards
If you have not yet added your different loyalty and reward cards into Android Pay, do not fret because it is extremely easy to do. Simply click the large "plus" floating action button found at the bottom of your display and tap on the Add a loyalty program option. The process only takes a couple of minutes to complete and if you need more assistance, head on over to our in-depth guide on adding your different cards into Android Pay.
Additionally, during the setup process, you have the option to turn on the location notifications. If you do not have your location services turned on, Android Pay will ask you for permission to enable it. If you ever turn off your phone's GPS, the notifications will no longer be enabled but when location services is turned back on, the notifications are also enabled once again.
Turning on notifications
Now that you have most likely spent a decent amount of time adding every card from your wallet into Android Pay, it is time to enable or disable location notifications. When viewing the app's homepage, you should see several cards which might include all of your credit, debit, gift, and loyalty cards. Find any of your loyalty cards and tap on it two times so that you end up loading the card's settings page.
Here, as long as the feature is available with the selected loyalty program, you will see the option to turn on notifications. Simply tap on the toggle icon and as long as you have location services turned on, you will now start receiving notifications. If location is turned off, Android Pay will ask for your permission to turn it on.
That's it! From this point forward you will get a notification on your phone whenever you are near a location that your loyalty card can be used at. Do note that at any point that your device's location services are turned off, you will not receive any notifications. Thankfully, if you turn location back on, you will not need to go back into Android Pay and turn the feature back on.
Doesn't work for Walgreens. Which is weird, because it worked fine in Google Wallet. Posted via the Android Central App

My Walgreen's notifies sometimes. Posted via the Android Central App

Mine pop up at the lock screen which I find absolutely convenient. Posted via the Android Central App

Really great feature. It's that little reminder to use those cards. Posted via the Android Central App

Just a shame that you can't use any of your loyalty cards with the new Android Pay app if you're unable to set it up (due to root, or other problems). They worked fine in the old Google Wallet app. Google needs to fix that.

You know what's weird? I recently opened the Android Pay app and I noticed my Showcase Showcase rewards card was in there. I never added that in. Then I remembered that I had linked my Showcase online account to my Google account, and now it shows up automatically. Posted via the Android Central App

Trying to find a gas pump that accepts Android Pay is like searching for the holy grail!

I can see my battery draining now....
Android Central Newsletter
Get the best of Android Central in in your inbox, every day!
Thank you for signing up to Android Central. You will receive a verification email shortly.
There was a problem. Please refresh the page and try again.