You can now send self-destructing photos in Google Duo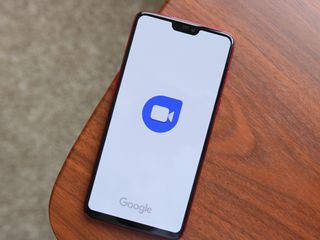 (Image credit: Harish Jonnalagadda/Android Central)
What you need to know
Google Duo now allows you to share self-destructing photos with contacts.
It requires version 56 of the app which is now live on the Play Store.
Photos must be shared via a third-party app as there is no way to initiate sharing in Duo itself.
After several failed attempts to conquer chat, including the shuttering of Allo and impending shutdown of Hangouts, Google is now adding new features to Duo. Starting with version 56 of the app, Duo can now send self-destructing photos.
It's still a little half baked at this point though because you cannot begin the sharing process within Duo itself. Instead, it requires you to initiate sharing via another app such as Google Photos. Surely, this will come in later versions because it's a little convoluted to offer photo sharing without including a file picker in the actual app.
To share a photo via Duo, locate the photo you'd like to send and browse the share menu for the Duo icon. Once you select Duo, you'll be taken to an edit screen which allows you to draw on the photo or add text in a multitude of colors.
After you've finished your editing, your contact list appears and allows you to share the photo with up to five contacts. Afterward, the photo shows up as a square thumbnail with the time sent and a message that it will expire in 24 hours.
From here you can open the photo and choose to call now or reply which opens up the video message screen. While it's not exactly a streamlined feature, the ability to send self-destructing photos is a welcomed addition to Duo.
Many chatting apps offer this feature these days and this could be the first step in turning Duo into a full-featured chatting app. All we're missing now is a feature-rich way of sending texts to our contacts and Duo could start to compete against Whatsapp, Telegram, and others.
Android Central Newsletter
Get instant access to breaking news, the hottest reviews, great deals and helpful tips
Wait, so now Duo is potentially Google's next iMessage/Whatsapp/Viber/WeChat/LINE/Kakao and 20 others competitor? The app that launched as and was designated solely as single 1-on-1 video chat, while its partner app Allo was for messaging. Google then infamously axed Allo and moved all efforts to Android Messages with RCS support, and says that's their focus. But with all these strange features coming to Duo, it's seemingly becoming more snapchatty & instagrammy, perhaps Facebook messengery (I've never used a Facebook account so I'm ignorant about that one)... I'm more confused as ever about Google, despite being a huge fan of 10-12 years. Why am I even surprised though? Pretty much par for the course with Google for the past 5 years I suppose. Maybe even more.

Well the difference between Allo and Duo, is that people actually used Duo. Duo cought on and is popular, Allo never was, so Duo is what Google focuses on. Duo was never meant to be a standalone app, it's was supposed to be used in Tandem with Allo, but since Allo failed, it's now partnered with Messages. Google has had Duo integrated with Contacts, Phone, and Messages apps for months, there's shortcuts to directly video call from a text conversation, from the phone app, and from the contacts app. Duo and Messages together are certainly evolving and gaining the features of Hangouts and Allo; Group video calling, Naming chats, Assistant in text conversations, a text conversation in Messages looks almost identical to Hangouts, for me, every function I liked from Hangouts has already had an equivalent made in Messages + Duo.

I'm not James Bond. I'm not in the Mossad,MI6, the Sureté,KGB, CIA etc. I didn't know sending photos of one's body naked had become so widespread Google intends to make money out of it.

It's almost harder to not know that sending explicit pictures to people is extremely widespread than knowing that it is.

I agree that the chat like features are confusing here. We don't want another place to need to check for messages. I already have Instagram, FB Messenger, Snapchat, Hangouts, Messages, Twitter, WhatsApp, and LinkedIn for my social needs.
Android Central Newsletter
Get instant access to breaking news, the hottest reviews, great deals and helpful tips
Thank you for signing up to Android Central. You will receive a verification email shortly.
There was a problem. Please refresh the page and try again.