How to set up and use Google Duo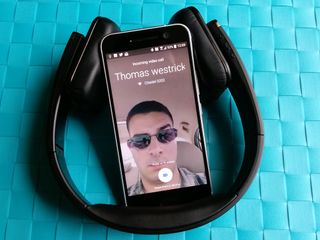 Duo is Google's latest foray into video calling, and rather than basing it on your Google account or your email, it's tied to your phone number, making it easier for you to chat with the contacts that are already in your phone. Google launched Duo on Google Play and on iOS (opens in new tab) so you can chat with friends on Android and Apple. The keyword for Duo is simplicity, and here's how simple the app is to use.
How to set up Google Duo
Download Google Duo

(opens in new tab)

from Google Play.
Open Duo.
Agree to Google's Terms and Conditions for the Duo app.
Allow Duo to take pictures and video so that the app (and whoever calls you) can see you.
Allow Duo to record audio so that the app (and whoever calls you) can hear you.
Allow Duo to access your contacts so that it can see which of your contacts are on Google Duo and who you could invite to the service.
Allow Duo to send and view text messages to that it can send invites to your contacts and so it can see the verification code you'll receive in a few steps.
Type in your phone number to use with Google Duo.
Your phone will receive a text message to verify your number. Sometimes the app will read the verification code text message itself, but if it doesn't, enter it manually. (If the SMS code doesn't work, there's an option to receive an automated voice call with the code.)
You are ready to use Duo!
Making a call in Google Duo
Tap Video Call.
Select the person you'd like to call from your contacts or type in the number you'd like to reach. Note: The number of your contact must include the country code, for example a U.S. number would be 1-XXX-XXX-XXXX.
Duo will call your contact, making your video visible with Knock Knock.
To end your call, tap the red phone button in the bottom center of your screen.
Receiving a call in Google Duo
When receiving a call in Google Duo, you will see what your caller looks like and what they're up to if they have Knock Knock enabled.
Swipe up on the call button to accept it.
Swipe down on the call button to reject it.
In-call controls in Google Duo
Tapping the screen while in a Duo call will bring up controls for the call.
To mute your microphone during a call, tap the mute button above your video preview in the bottom left corner.
To switch cameras during a call, tap the camera button above the mute button on the left side of the screen.
If you are connected to a Bluetooth headset, you can switch between Bluetooth and the internal speaker/microphone using the Bluetooth button above the camera button on the left side of the screen.
Google Duo settings
You can reach Google Duo's settings by tapping the three-dot menu in the top-left corner of the app's main screen and selecting Settings.
If you don't want the people you call to see you before they accept the call, you can slide the toggle for Knock Knock off.
By default, the setting to limit mobile data usage is on, knocking down the video quality when you're away from Wi-Fi, so if you want full video quality while you're on the side of the road with a broken-down car asking your gearhead buddy what's smoking under the hood, this is where you can enable it.
Get the Android Central Newsletter
Instant access to breaking news, the hottest reviews, great deals and helpful tips.
Ara Wagoner was a staff writer at Android Central. She themes phones and pokes YouTube Music with a stick. When she's not writing about cases, Chromebooks, or customization, she's wandering around Walt Disney World. If you see her without headphones, RUN. You can follow her on Twitter at @arawagco.
wasnt Hangouts cross platform as well?

yes, as a matter of fact there were times features (VOIP calling) in Hangouts turned up first in the iOS version of the app.

Hangouts is more useful because you can communicate with more Android users because it was tied to your Gmail account while Duo is tied to your phone number which limits your audience to friends with phone numbers in your address book. This is a very stupid idea on Google's part. This was a perfect opportunity for Android to match iMessage and FaceTime which are tied to your Apple ID while also able to communicate with phone numbers. My daughter who has a WiFi only iPad always uses iMessage and FaceTime with her friends and she doesn't have a phone number. I was hoping I could use Allo and Duo to communicate with her but I can't because she doesn't have a phone number. So while we both have compatible devices and Gmail accounts, I now still have to use a Microsoft service (Skype) to communicate with her! Google dropped the ball on this big time. Allo and Duo should be tied to your Google account NOT phone number SMH. This could have been the answer to iMessage and FaceTime but they screwed it up. Posted via Nexus 6

Hangouts for iOS? Wouldn't that solve your problem?

I don't use Hangouts for anything and neither does she. I tried to use it but I couldn't find a way to send an SMS to another Google user without it automatically sending as a Hangouts message. She uses FaceTime and iMessage and I use Skype and SMS so we use Skype since I already use it. My point was that these new apps could replace the SMS apps and Skype so that the experience can be more like iOS with less confusion.

Pretty simple, in hangouts you tap new convo button, and then send as sms. The old and better version of Hangouts, with merged conversations, was even easier. There was a drop down menu to the left of the text box. This menu allowed you to select how to send. Hangout message, carrier sms, or Google voice sms. You could switch back and forth between sending options, in the same thread, anytime you wanted.

This is the real reason these new apps exist! Hangouts is an "all-in-one" communications tool. ALLO, DUO, GOOGLE MESSENGER,and GOOGLE VOICE are the separate pieces of HANGOUTS. Smart people can figure out how to use Hangouts, and NORMAL PEOPLE can't. So to fix that, you separate the core features into different apps.
(G-Voice for calls, G-Messenger for SMS, Allo for instant messaging, and Duo for video chats.)
Download the parts you want/know how to use and leave the rest.
This is why Flagships have an "EASY- DUMMY" mode. NORMALS are the one of the reasons we have to take technology on a step-by-step basis.

Thank you!! I wish that could vote this up 50x

But how can you use Allo and Duo for instant messaging and video calling if they are tied to a phone number?! That's my gripe. I can't instant message nor video message my daughter on her WiFi only iPad with these new apps because she doesn't have a phone number. It's not about separating the apps it's about usability and these new apps are much less usable because they are tied to a phone number rather than the Google account. This is why we use Skype.

You seem to have misunderstood the difference between Instant Messaging and Video Calling... ALLO is the Instant Messaging client =no phone# needed... Duo is the Video Calling client =phone# is needed...

@DWR_31: You should listen to the keynote. They specifically said that "Allo is based on your phone number". So yes, you need a phone number for both.

Whatsapp is tied to a phone number, too. Still an instant messenger, regardless of how they link it to you. You're confusing sms and instant messaging just because you seem to believe sms can only be linked to a phone number and instant messaging must be linked to an email or other internet based account.

Intelligent people are able to communicate with those not-so-intelligent by being able to translate technical matters into lay-man's terms without being arrogant, belittling or obnoxious. One usually finds its the not-so-intelligent-who-think-they-are-intelligent that are usually so rude and obnoxious.

FYI - not having a number is not a problem since a free google voice number is available and can be registered and used with Duo - works great.

Thanks Billy have you successfully activated Duo with a Google Voice number? And if so how did you receive the activation code? Through Hangouts? Thank you

Google voice app, website, hangouts. Google it, there's other options, I spent 30 seconds looking and came up with these... https://www.androidcentral.com/e?link=https2F2F... https://itunes.apple.com/us/app/google-voice/id318698524?mt=8&at=10l3Vy https://www.google.com/voice https://www.androidcentral.com/e?link=https2F2F... https://itunes.apple.com/us/app/hangouts/id643496868?mt=8&ign-mpt=uo%3D2...

Interesting that you need to use a phone number. Why is that? Why not associate it with your google account? Can you use a Google voice number so we could use this on a tablet?

google voice number does work

You can use a Google Voice number, but Duo is not tied to a Google Account.

Which is a mistake. It should be tied to the Google account so that WiFi only (Tablet or media player) owners could use it also like iMessage and FaceTime. This will hurt user count since not everyone has a phone number but anyone can open a Google account.

Wifi only tablets can get Google voice calls. If I don't answer my phone my tablet rings.
Then I look stupid trying to talk on a tablet. But it works.

So you are saying get a Google Voice number on a WiFi only tablet then use that number to activate Duo? Would that work?

I can't say that for sure. Google voice works on tablets but idk about duo.

I've had a Google voice number for years and have dodged getting a phone because I can make calls and texts and photos in hangouts, although the photos were slow coming. Currently, Duo isn't compatible with my nexus 7 gen 2,but that doesn't mean it will always be that way -they may open it up for wifi only tablets. When this tablet bites the dust the next one will be nexus LTE. Then I'll get a data only card and be able to use hangouts anywhere. Hopefully alloy and duo will be opened up for use with my Google voice number, which I've had since they first offered them!

I think that's part of why they made it, to have Duo be tied to phone like WhatsApp, and Hangouts tied to Google Accounts. Tying it to a Google Voice/Project Fi number seems like a good compromise to use it on multiple devices. Posted via the Android Central App

Not everyone on iPhone has a Google account, nor wants one. Posted via Techmology

I was able to set Duo up on my phone with my Google Voice number, but I get the dreaded "Your device is not compatible with this version" message when trying to install it on my WiFi Shield Tablet. Maybe it'll work with an apk install, but it's looking like a no go for WiFi tablets. Disappointing.

I installed the apk on a phone and wifi tablet. It works on both but only one device can be authorised per number at any one time.

Only available in the states? Posted via the Android Central App

That's my question too. Not sure if it's a US only launch at this point or just a phased rollout to prevent server overload. Anyone know? I didn't see anything in the announcement about US only.

Thanks! Posted via the Android Central App

Trollout. Posted via the Android Central App

Same **** different year.

Does work great. Just did a video call with my wife and it was smooth and crystal clear. Hopefully it stays that way as more people use it. Posted via the Android Central App

Anyone else bothered by the fact that the guy's last name in the header image was not capitalized? ... Just me...?

Well NOW I am! Posted via the Android Central App

If it makes you feel better, it's my name and I'm not bothered

I love it Posted via the Android Central App

I had no idea you were famous Posted via the Android Central App

It doesn't work on the PC (web) does it? Unlike Hangouts and Facebook Messenger and all the rest of them...

correct, no web client yet.

If Google wants Allo and Duo to be successful, they need to tie it directly to the phone app as well. Duo, Allo, and Dialer all working nicely together, much like iMessage, FaceTime, and Apple's Dialer all work together. Posted with the Nexus 6, Nexus 5, or Surface Pro 3

I agree. My concern is no web client. Why not give people the option of adding their Google account as well? These need web clients to be successful. Posted via the Android Central App

Web Client feel like a hack to me, compared to the way iMessage is integrated into the Messages client on iOS and OS X, across all of Apple's devices. It sucks to be beholden to a browser tab. Real applications offer better performance and better system integration. Google simply needs to add Allo to "Messages" and Duo to "Phone." Carriers already do this on Android devices with their RCS Video Calling service. It's built into the dialer app. Somehow, they have been able to accomplish in record time what Google has failed to do for years? On the flip side, I think regulators are a reason for this. If Google integrates services the way Apple does on the iPhone, they are going to get hammered by regulators. Their market position makes it very hard for them to design a user experience as good for these services as their competitors.

This! Posted via my Nexus6P

Except you're wrong because iMessage and FaceTime are not connected to only the dialer they are connected to the Apple ID. This requires no phone number and allows WiFi only devices to use iMessage and FaceTime without a phone number. Duo and Allo will not be as successful because not everyone has a phone number. Young teens many of who don't have a phone number and who use Wi-Fi only iPads and iPod touch can use iMessage and FaceTime but they won't be able to use Duo and Allo. Big mistake on Google's part. Duo and Allo should be tied to the Google account period!

Does your contact you're trying to call need to have Duo too? Posted via the Android Central App

Yes. Posted via the Android Central App

Yes. If they don't, the app with generate an SMS message with a download link.

I tried a call, but the link to install was sent to the first number for the contact, which was a landline, with no way to change it. Posted via the Android Central App

Same. Even when I chose "mobile" option!

I'm more interested in Allo but this looks funny hopefully Allo gets released today too Posted via the Android Central App

I'm interested in the cross platform (IOS to android) video quality. I installed hangouts on some family members iphones, but the video quality was always crappy and barely useable if at all. Hopefully Duo addresses this and is better

I did a duo call with a friend earlier today who has an iPhone. We were both on cellular and not on WiFi and the video was clear with out any delay or lag. I thought it worked pretty well..

I works well. Only issue is that it leaves on my 4G radio on my vzw note 5, even on wifi. I know the idea is to make sure there is always a stable connection, but the 4G radio always stays on. Have to look further in the settings. Posted via the Android Central App

Unknown effect on my battery with the 4G radio on.... I uninstalled... Posted via the Android Central App

Apparently if you sideload it onto a tablet, it will work. But I wouldn't exactly count on that being consistent, or lasting. Posted via the Android Central App

Still says coming soon for me.

When you search Duo in the Play Store, tap the three dots on the right side rather than tapping the app itself, that's how I installed it this morning.

It's gonna be so sick when Google releases a app that combines SMS, Video chat, and messaging. I bet they make it work across the web and devices. So excited. I bet the call it something awesome like Google Chat or GoogleHang or Hang Chat...or Hangouts. Yeah. That sounds awesome.

This is exactly what I was going to type :). For me, no web client means it's useless during the hours of my workday I'm chained to a laptop. While I knew Duo was a mobile priority app, I never thought Google would half bake it without a web portal from day 1. Oh, well, I've already uninstalled Duo. While I'm no great fan of Hangouts' interface, I can use it everywhere (tablet, PC, Chromebook, laptops, phone) and that's worth quite a lot, enough to haggle with its UI certainly. I hope Google keeps it around for a long time to come. I'm actually shocked that no programmer out there has figured out a better interface to skin Hangouts on the web or phone...

I hear there is no knock knock on IPhone no apparent for tablets even with a sim card come on Google you can do better
Ps still no download in Australia Posted via the Android Central App

I think that I will pass on this one:
- Linking to phone number instead of email - strike one,
- Using SMS for some kind of pairing - strike two,
- Not having web client and / or being tied into existing gmail / hangout ecosystem - strike tree,
Did Google had to do it this way just because Whatsapp, Viber, Facetime are using phone numbers and SMS?

No thanks will pass on this and allo. Already way to many video and message apps out that are better. I'll stick to my stock HD voice and video calling already on my phone. S7 edge...Soon to be Note 7!

That was just to dang easy.... Scary

If you need instructions on how to use this then just go back to a flip phone. Posted via Techmology

Has potential. It's clean and simple. I like the design EXCEPT that it NOT having the ability to input Emails like FACETIME! Is its downfall. Google wants to compete with Apple, then be onpar or surpass them! #TeamFrosty Nexus 6P

I love this app. I was at work and my wife was at my daughter's cheerleading practice and I got to chat with my wife and she would flip the camera app occasionally for me to see my daughter. I know we could of done this before with other video apps, but we don't use ANY of them for video.. even hangouts. I'm so pumped for these apps and can't wait to get friends and family hooked on iOS and Android.

And she handed the phone to some friends I haven't seen in a while and we were yucking it up video style.

Wait...so you could do this with an already existing Google app. But because a new Google app with the same feature was released you are super excited?

Yes.
People do that with innovative iPhone features all the time. Posted via the Android Central App

Still not here in the uk yet on play store

I got dou on my tablet is it safe to sign up to that with my number and then on my moblie some time this week will it let me use the same moblie phone number on tablet and moblie for dou

Like this a lot! Easy to use, good vid pic quality and it works the first time. I am using this with an iPhone user and everything works the first time! We are both happy Posted via the Android Central App

So far, so good with this. Video and audio were noticeably better than on Hangouts. Posted via the Android Central App

Cool,talking with my wife with it.She's one of those iphone people.haha The grandparents on both sides will be on board tomorrow. Posted via the Android Central App

Been using it all day. Once I got a few of my iPhone using friends to install it used it to vid call them too. This works excellent on wifi & 4G. really liking this one, good job Google! Via the Android Central App

Can international calls be made with this app?

I don't get it. Why couldn't they just integrate Allo and Duo with their existing programs? Do you need a make a new app because it's the cool thing thing to do?

I don't understand the rationale of Google. Facebook Messenger isn't perfect but it's got the right idea. I can text, call and video call all from my phone or from my browser just using my Facebook login. I don't even have to touch the main Facebook site. Duo and Allo seem to be going down the route of only being mobile only and being tied to a number. I just don't get it, should of just fixed Hangouts.

I agree. It seems like a big backwards step. Anyone who wants to chat on a PC or tablet, as you can do with other major chat platforms, are out of luck. People are going to try it and go straight back to whatever they were using before. Posted via the Android Central App

It was fun, aside from killing my battery. My phone is usually close to 50% the next morning if I forget to charge it. I found my phone completely dead at 1 am. First time in history this phone has ever died. GSam graph looks like the battery started a severe and steady drain beginning from the time Duo was installed. Posted via the Android Central App

Not available in Canada yet... Maybe rolling out in stages

I like it Posted via my Nexus 6p

Interesting, will check this out:)

So far I have used Duo a few times with my girlfriend... and I have to say that the quality is way better than when we used google hangouts. Plus for my iPhone friends who refuse to create a google account just to video chat with me, they now have the option to use just their phone number. Simple interface... works well... what is there to complain about...

Take a second to leave feedback in the app. I suggested the ability to set a custom ring tone for the app.

I've been waiting for Duo to launch for months and i finally have it.
It's so much better than Hangouts and does not take up too much memory like I expected.

The good things about the app are the ease of use, simple and clean UI/UX, lightweight and fast and seamless switching between video and audio-only when the connection is bad. The latter is implemented really well and living in India, where fast Internet connections are rare, Duo is a godsend. Where Skype used to drop off the call if the connection suffered (because your sister is hogging all the bandwidth watching YouTube), Duo seamlessly switches to audio-only with a nice fade out animation and switches back to video when the connection's good.
Honestly, after using Duo, it feels like going back in the time when I have to use Skype to video-call with my gf (she uses her laptop sometimes where Duo is not available).
I'm just waiting when Duo's available for Windows 7 or even a web client so that I can finally uninstall Skype from my phone.