Motorola Droid Turbo 2 hands-on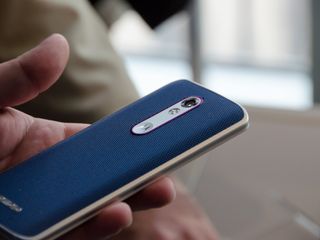 Since 2009 you've been able to count on Verizon to release a steady stream of Droid-branded phones, and this year the leading device is the Droid Turbo 2. It's actually one of two devices, with the Droid Maxx 2 being released alongside it, but the Droid Turbo 2 is the much higher-end model with some distinct features and spec bumps.
The headline selling points are simple: Lots of power, a super long-lasting battery, and a shatterproof display that's ready to take a beating and keep on going. Does it add up to a solid device? We're taking a look after the launch today to get an idea of what this phone is all about.
Familiar hardware, with some notable changes
Like the last few generations of Droid phones, the Droid Turbo 2 is loosely based on another phone (rather than the preceding Droid itself) that was released earlier in the year — in this case that'd be the Moto X Pure Edition. I say "loosely" because while there's a clear DNA share between the two phones, the Droid Turbo 2 is very much its own device.
The Droid Turbo 2 at a glance looks like the other modern Motorola phones, but it has a considerably different shape and proportions upon further inspection. Despite having a smaller screen — 5.4-inches versus the Moto X Pure Edition's 5.7 — it's actually wider and only slightly shorter. The Turbo 2 generally feels a bit swollen, with really big bezels on the sides of the screen and a different back plate design — it's flat for a majority of the back rather than sloped continuously, which makes it a little more awkward to hold but has the upside of not wobbling on a table.
Like the Moto X Pure Edition you'll find a metal frame around the outside, as well as hundreds of different hardware combinations available through Moto Maker — a first for a Droid device — including a familiar ballistic nylon option and a new soft touch with a subtle pattern. The front of the Turbo 2, however, is a bit of a calamity — at least, if you go with the white front. Across the top of the screen you'll very clearly see a camera flash, proximity and brightness sensors, a speaker, an IR sensor, and a front-facing camera. On the bottom? Two more IR sensors, two more speaker grilles, and a rather large Verizon checkmark logo. Yeah, that's a lot happening on the front of the phone, and it's enough to recommend strongly that you consider a black model.
More: Full Droid Turbo 2 specs
On the inside, there are a few bumps. A Snapdragon 810 processor is running the show, along with 3GB of RAM and a base of 32GB of storage — plus a microSD card, if you want. Of course the Turbo name is synonymous with battery now, too, and Motorola has bumped up this cell to 3760 mAh. It also includes super fast Turbo Charging from the included Turbopower wall charger, which aims to add 13 hours of use in just 15 minutes of charge. Motorola included both Qi and Powermat charging, too — this really has everything when it comes to power.
A shatterproof screen
Motorola's Rick Osterloh wasn't on stage more than 10 seconds at the launch event in New York City before he painfully dropped a Droid Turbo 2 directly, screen down, onto a concrete slab beside him. The crowd winced, which played right into his sales pitch — because the Droid Turbo 2 has a shatterproof display. Motorola is calling it "Moto Shatter Shield" — and it comes down to the combination of a flexible P-OLED display, a dual touch layer, a super strong glass covering and a secondary shatterproof lens on top.
Motorola is going so far as to guarantee that your Droid Turbo 2's display will never shatter, which is pretty bold but is a huge selling point when you consider how many shattered screens you see on phones out there today.
As you'd expect, there are compromises involved with having a nearly indestructible display. The 5.4-inch screen runs at QHD resolution, which is nice, but the color temperature and brightness leave something to be desired — even compared to the 1080p AMOLED screen on the much cheaper Droid Maxx 2. You'll also have to manage the much larger side bezels, as noted earlier, and you may be slightly put off by a small (but noticeable to my eyes) gap between the "top" of the glass and the actual display, which is thanks to the multiple layers of protection.
Despite being very high resolution the Droid Turbo 2's display just doesn't look all that good, which once again may have been manageable on a sub-$400 Moto X Pure Edition but is less acceptable when you start pushing Note 5 price territory.
Quick camera impressions
Want to know how the Droid Turbo 2's camera performs? Take a look at our impression of the Moto X Pure Edition. Once again Motorola has trotted out a 21MP sensor, backed up by the same camera software and yes the distinct lack of OIS. In my first few snaps it seems to take solid — albeit unspectacular — shots that can really be described as "Motorola-looking" if you've used any of the last two generations of Moto phones.
That'll do just fine for most, really, but it seems to still come up short of the highest-end phone cameras out there (looking at you, Samsung and LG). And while that was acceptable in a sub-$400 Moto X Pure Edition it's a bit tougher of a sell for a phone that's retailing for $624 and up.
Hope you like Verizon software
Since Motorola took over as the exclusive Droid manufacturer for Verizon we thankfully saw a new software approach for the latest models, and everything you find on the Moto X Pure Edition is also here. The software experience is simple, light and has a few useful features baked in. The Droid Turbo 2 also has plenty of Verizon ... enhancements, though.
There are dozens of pre-installed apps, as you'd expect, ranging from a few Amazon additions to several different useless games and the full suite of Verizon's own apps. Those are annoying and take up space, just as they have on every previous Droid, and the Turbo 2 has about 19.5GB of free storage on the 32GB model.
More to come
We're just scratching (but not shattering) the surface on the Droid Turbo 2 here after a handful of hours using it. Beyond a forthcoming complete review, be on the lookout for Android Central to provide you with all of the additional information you need to know about the phone.
Andrew was an Executive Editor, U.S. at Android Central between 2012 and 2020.
Those bezels... no thank you. Plus the specs are not what I thought they would be. Nexus 6p here I come.

I agree about the bezels, especially the bottom, but what about the specs didn't appeal to you? It has very high end specs.

Nexus 6P will have durability issues because Huawei. Motorola's ballistic nylon cover look amazing btw. Posted via the Android Central App

Agreed ... Just ordered my 6P ... Will try the nano-SIM transfer from my Turbo, but I will just use ProjectFi as I use the phone part of my phone maybe once a week. Posted via the Android Central App

I actually like the the bezels. My 1st Gen X has very thin side bezels and it makes it hard to select things (scroll bars) on the side of the phone with a case on.

Jesus Christ that Verizon tramp stamp (and its not even in the current logo.) Reminds me of the old Note 2 button stamp. *shudders* Posted via the Android Central App

As ugly as that logo is it pales in comparison to the Verizon bloatware on it. Pass.

Don't have an issue with the Verizon Logo. Not sure why people continue to troll these posts to complain about it, either. The issue I have is the lack of cemetery between the bottom and top bezels. The bottom bezel is bigger, and the screen looks obviously off-center. Off-center screens are a bit no-no unless you have a home and/or capacitive buttons down there. It's just too odd to look at. HTC didn't seem to get the message, and it doesn't look like Motorola has, either.

You bought a Hyundai Sonata, you wouldn't want Goodyear logos on the fenders because it uses Goodyear tyres now, would you? Or an Android Auto logo on the grille because it uses it on the infotainment system? The same thing applies in why we complain abiout Verizon tramp stamps. Posted via the Android Central App

Actually, I make it a line item on the deal sheet that I will not accept any dealership logo, sticker, etc when the car is delivered. They've never once argued that point.

Ah, but did Verizon make it? The manufacturer gets to put on whatever they want. And yeah, if you want, they will debadge a car as much as you like. I know people that don't like having the trim level advertised on the outside of the car, so that comes off. Theoretically, you could tell them to take off whatever you like - my own car is debadged - but my point was more than the analogy is pretty weak. If Verizon wants to advertise on the outside of the phone, then to me it should be compensated by being subsidized. Since it doesn't seem to be subsidized, they can keep their checkmark to themselves.

I get the point you're trying to make, but that's a terrible analogy.

Android central 2015 in review: shitty car analogies. Posted from my Nexus 6/Nexus 7 2013/Surface Pro 3

Yeah but this year as opposed to last year, I understand that having the optional steering wheel is a must have. In previous years the steering wheel just was not that big a deal +++ Insert witty signature, watch as others not get it, profit +++

Symmetry the quality of being made up of exactly similar parts facing each other or around an axis.
Cemetery the place you get buried when you die. Posted via the Android Central App

"The issue I have is the lack of cemetery between the bottom and top bezels." And that's why you want to bury the phone?

Tramp stamps are on the back of the phone. This is more like a face tattoo. Posted via the Android Central App

After using it for a few days I literally never notice it. IRS like the little flat tire on the Moto 360

Smack it against the corner of your desk. I want a review of the warranty process.

Hell yes Posted from my Nexus 6/Nexus 7 2013/Surface Pro 3

This. Posted via the Android Central App

Yes,such a huge bezels,Moto X 1st gen was best in this,even X Style got better screen ratio. However i think its all because Verizon logo,they do this thing pretty often because of their logo

This phone is a winner for sure! Dam It Feels Good To Be A Google Gangster

This phone looks like a galaxy note 2 from the front

Serious demerits for not mentioning it ships with 5.1, with no promise of 6.0 ever.

However, they did promise Marshmallow for both. But no firm commitment on timing. Posted via the Android Central App

5.1.1. Is very stable. No big deal. Dam It Feels Good To Be A Google Gangster

Yeah but it's kind of a concern as 6.0 is freakishly stable right now. this won't get marshmallow until late Q1 or early Q2 at the earliest. Not that I expected them to have 6.0 ready yet Posted from my Nexus 6/Nexus 7 2013/Surface Pro 3

Not to mention screen on time on devices running 6.0 due to Doze is a huge upgrade from 5.1.1

It has 5.1.1, and Motorola isn't saying when it'll get 6.0 — what else is there to say?

+1 Posted from my Nexus 6/Nexus 7 2013/Surface Pro 3

Exactly. Hell some most phones are still running KitKat and working just fine. People need to chill. Dam It Feels Good To Be A Google Gangster

For that is the case, my droid turbo didn't receive lollipop very fast so I prefer pUrchasing when they have marshmallow Posted via the Android Central App

By the time this has marshmallow you'll have another phone in sight. Posted from my Nexus 6/Nexus 7 2013/Surface Pro 3

This is one of the ugliest phones that I've seen in a while. Even if there were no obnoxious Verizon tramp stamp, this one is still atrocious. Note 5/Edge+/AC App

I agree but the Verizon stamp is not helping either. I mean what they split the speakers just so they can put their logo? Verizon obsession is getting out of hand Posted via the Android Central App

That was my thought exactly. The white version looks like shit (just no reason to sugarcoat it).

That is one shockingly fugly phone ... wow.

Sorry Verizon, while I love your network I've bought my last bloated up, locked down phone. Come next year, if I can't bring a nexus phone I'm saying goodbye. Posted via the Android Central App

Well, not up to "Nexus"... It's a concept, a brand identity perhaps, but not a manufacturer.

Yet I still can't remove the bloatware or install a custom ROM on my S5. Personally, I don't care who's to blame for that, VZ, Samsung or Google, but it's the last phone I'll buy with those restrictions. Posted via the Android Central App

What makes you think you can't bring a Nexus phone to Verizon, my non Verizon variant Nexus 6 64 GB works just fine on Verizon, and the 6p does the same from what I have heard. Posted via the Android Central App

I just put my Verizon sim in my new Nexus 5X and it's working just fine. You don't have to wait till next year.

I'm Canadian, so it doesn't matter to me, but damn, they put nice batteries into these Droid phones! It looks like a great phone overall.

Not sure how I feel about this phone and I love my current Turbo. I take a lot of pictures on my phone, so I'm looking for my next one to have some sort of stabilization assistance. I was hoping Moto would add that to the Turbo 2.

Do my eyes are really seeing the bottom speaker splitted in half to fit that horrible logo or am I daydreaming? Lol Posted via the Android Central App on Moto X 2014/Moto G3/Moto G1/Lenovo Tab S8/ Lenovo Yoga 11 on $35 Cricket wireless plan.

In English please. Posted via the Android Central App

Just what I've always wanted, a weirdly angled check mark on the front of my device. Man I seriously hate Verizon's logos, and their new one is worse, something I never thought possible.

But... but... why? Seems like Moto forgot people don't like major bezels. :(

Yeah it's pretty hideous looking. But I guess you need those bezels in order to maintain that shatter-proof screen. Posted via the Android Central App

So, they get rid of the capacitive buttons on the front so they can put a giant logo... Posted via the Android Central App

I'm viewing this on my phone but... Is this really a hands on article without a video?

The post says "hands on" not "video hands on" so yeah.

I was so looking forward to this phone. A bit disappionted with design. Dont know which phone to buy now.

Buy last year's turbo. Still great specs, much better aesthetics, and much cheaper now that the 2nd gen is out. I still love mine... Posted via the Android Central App

Sooooo let's recap -bloated af (makes sense it's Verizons phone) -definitely won't get M until Q2 -awkward design -shatterproof (one thing it definitely has going for it) No but seriously there's going to be another Huge thread for updates for this phone, lol Posted from my Nexus 6/Nexus 7 2013/Surface Pro 3

I always liked the Droids and have had a few. However this time I went with the Pure and am really glad I did. Not having all the VZW crap on my phone is priceless!

That giant ugly Verizon check can't be unseen.

The front kind of looks like my three year old Note 2 with the Verizon logo on the home button (never minded it). But here it looks out of place and outright hideous (could that bottom bezel be any bigger? Ugh!) :(

Wait, isn't the Maxx 2 just a Moto X Play? Because the Play has an IPS LCD display not AMOLED. Did Motorola and Verizon change it to AMOLED for the Maxx 2?

What with the 820s and fingerprint sensors common to all phones just around the corner, phones like this are pretty much DOA.

For those in the know yes.
But for the average Verizon customer that goes into a store to by a phone that's not an iPhone, these will be the first to be recommended (unfortunately). Posted via the Android Central App

That's exactly why I see a good bit of turbos around where I live. Posted from my Nexus 6/Nexus 7 2013/Surface Pro 3

You see a good bit of turbos because it is a great phone. Posted from my Droid Turbo

Can you use data while on a phone call. The first Turbo didn't do this well. Had to be in 4G on VoIP call or data dropped. The first Maxx didn't have these problems. Thanks! Posted via the Android Central App

It appears all Verizon phones will that way going forward. I imagine that Verizon wants to retire all of that older technology. Never mind that it is still useful to the consumer and currently works better for us!

Probably one of the ugliest looking phone. This phone should not come in white lol. Also what's with those massive side bezels. Posted via the Android Central App

"Turbo 2 has about 19.5GB of free storage on the 32GB model" That's unacceptable. Verizon is ridiculous. Posted via the MATERIAL AC App

A 32GB Note 5 has about 20-ish too so it's not just Verizon...

You mean bumped down to 3760

no fingerprint scanner Posted via the Android Central App

Wish that shatter proof display was in my Pure Edition.... Had to send it in for a "like new replacement". Time to order a Supcase Unicorn Beetle or Otterbox. Posted from my Sony xperia z3v or Moto Pure Edition

I've been waiting for this announcement for a while, nearly convinced this would be the phone I was going to buy. Until now, that is.... The Turbo 2 is the same width as the Nexus 6P! This destroys any advantage for using it one-handed, and I can see no reason at all to prefer it over the Nexus 6P.

Odd choices. From the logo to the apparent screen visibility issues. Odd since my turbo was devoid of v logos, wasn't expecting them to return. Not that I would have upgraded my amazing turbo 1 so soon, if I was, it wouldn't be for this phone Posted from my Droid Turbo

I feel like I have the need to hedge my bet with the battery game these days. Yes, most new phones will get me through a full day of heavy use. Thats all I need since I almost always charge at night. Why do I need a big battery then? Because over time, say 18 months from now. That battery life will whittle away and you need a big one just to get through a single day. My Droid Maxx used to last 2 days. I write this now, plugged into a charger at 6:45 pm. I want it to be able to last 6am-10pm for the full 2 year lifespan of a phone. Thats what concerns me, and I can't be alone in that feeling. Posted via the Android Central App

Thank the terrible (for consumers) decision by almost every OEM to go with non removable batteries.
The 1850 in my old Galaxy Nexus was practically useless from day one, so I upgraded to the factory 2100. Still not enough for that juice sucking modem, so I upgraded again to a 3900. When that battery began dying out, I replaced it. I did it. Me.
I'm loving my new Nexus 6, but when lithium death starts creeping, how long will I be without it, while it's sent somewhere to be pried apart for battery replacement? I curse non removable batteries. Unlocked Nexus 6 on Verizon. I'm a happy guy.

I think you've answered your own question. If you get a phone that lasts 1-2 days from the start, it will barely squeak through one day after 2 years, which is the average life of a phone. However, with a huge battery that pushes 2-3 days at first, you should still easily make it through one full day after 2 years. Posted via the Android Central App

I know looks are subjective and I've never called out any phone as being ugly, but......for the 1st time ever, I've got to say.....Motorola took a generic phone and made it ugly. Those bezels
are huge. I'm not saying my 1st gen Turbo is thin, but bezels usually get smaller, not bigger. That shatter proof trade off isn't worth it when the phone is wider than the X and yet has a smaller screen. I really wanted to like this phone. Posted via the Android Central App

The funniest thing about the Verizon logo... thats not even the logo anymore. The new check is more concise.

My God that white version is hideous

Put a case on it - hide that logo. Disable or uninstall all the bloat. This is simple people. I have to see that screen in person... No OIS is a bummer Posted via the Android Central App

I agree. I'm not sure why all the complaining about bloatware. I get that it's an extra few steps to get rid of the crap, but after that the memory is cleared and you're good to go.

Something didn't sit right about this phone. I was really excited for it, now after today I'm much less so. I just ordered a Droid Turbo (original) for half the price on swappa. There's just not enough of a bump in specs or features (or aesthetics) to justify that kind of money. The original Turbo is still a great phone by the specs of it, and it should last me until the right phone comes along. For my 2013 Droid Maxx, not so much. Posted via the Android Central App

I dont mind the bezels, i think its a fair trade off for the shattershield. Im still waiting to see if the loud speaker is improved over last years turbo.. i love the phone but the loud speaker had a lot of static compared to the original maxx. I know its not going to be great, but i want to hear what reviewers say. Sent with my white Note5 with nonremovable back and no SDcard!

Why does it look like a Nokia? No original designs. Also the absolute worst phone i ever had was Motorola so pass. Posted via the Android Central App

My take as a 2014 Turbo 1 owner, phone technology is on a 2 year cycle at this point, the hardware has matured to the point (same as PCs) that one year doesn't make a huge difference in overall performance. This phone is evolutionary (not revolutionary) like most in 2015 cycle. I am glad they kept the big battery and wireless charger features, the shatterproof screen and Moto choices are very nice selling points. Much has been argued about the lack of svelte-ness in Droid design, so you either like the chunky look or go for the super slim premium design elsewhere. For me I always think of Droids as already having built in case and battery power is my major concern so I like what I see. I think for 2013 Droid owners and new customers this is a great phone to consider.

Yeah, the black model is the way to go. I think every white face phone has that issue. Also, if you think they split the speaker grille just to put the logo, try actually firing up that brain and think it through. Droid Maxx 2 is the better option in my mind.

I don't like the appearance , also the price is also high, not deserve this price
Now I am considering to buy a xiaomi or Bluboo Xtouch which also have 3+32, octa core 64bit, dual sim card and FHD IPS scree

Man, no way. I love the hardware in the thing, but it's ugly, has ridiculous bezels and at the end of the day I'd still be stuck on Verizon. Pure Edition is still the way for me to go.

I do think Moto gets props for Motomaker options.

Now that Lenovo owns Motorola, we'll see more of the Verizon Logo and more of the Verizon Bloatware. I'm fading away from Motorola.

I thought Amazon was sold out of the Fire Phone... This thing is fugly.
Android Central Newsletter
Get the best of Android Central in in your inbox, every day!
Thank you for signing up to Android Central. You will receive a verification email shortly.
There was a problem. Please refresh the page and try again.