Motorola Droid Turbo 2 hands-on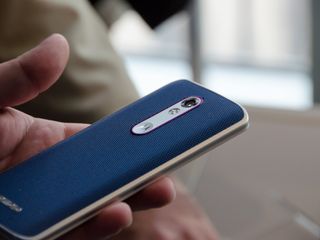 Since 2009 you've been able to count on Verizon to release a steady stream of Droid-branded phones, and this year the leading device is the Droid Turbo 2. It's actually one of two devices, with the Droid Maxx 2 being released alongside it, but the Droid Turbo 2 is the much higher-end model with some distinct features and spec bumps.
The headline selling points are simple: Lots of power, a super long-lasting battery, and a shatterproof display that's ready to take a beating and keep on going. Does it add up to a solid device? We're taking a look after the launch today to get an idea of what this phone is all about.
Familiar hardware, with some notable changes
Like the last few generations of Droid phones, the Droid Turbo 2 is loosely based on another phone (rather than the preceding Droid itself) that was released earlier in the year — in this case that'd be the Moto X Pure Edition. I say "loosely" because while there's a clear DNA share between the two phones, the Droid Turbo 2 is very much its own device.
The Droid Turbo 2 at a glance looks like the other modern Motorola phones, but it has a considerably different shape and proportions upon further inspection. Despite having a smaller screen — 5.4-inches versus the Moto X Pure Edition's 5.7 — it's actually wider and only slightly shorter. The Turbo 2 generally feels a bit swollen, with really big bezels on the sides of the screen and a different back plate design — it's flat for a majority of the back rather than sloped continuously, which makes it a little more awkward to hold but has the upside of not wobbling on a table.
Image 1 of 5
Like the Moto X Pure Edition you'll find a metal frame around the outside, as well as hundreds of different hardware combinations available through Moto Maker — a first for a Droid device — including a familiar ballistic nylon option and a new soft touch with a subtle pattern. The front of the Turbo 2, however, is a bit of a calamity — at least, if you go with the white front. Across the top of the screen you'll very clearly see a camera flash, proximity and brightness sensors, a speaker, an IR sensor, and a front-facing camera. On the bottom? Two more IR sensors, two more speaker grilles, and a rather large Verizon checkmark logo. Yeah, that's a lot happening on the front of the phone, and it's enough to recommend strongly that you consider a black model.
More: Full Droid Turbo 2 specs
On the inside, there are a few bumps. A Snapdragon 810 processor is running the show, along with 3GB of RAM and a base of 32GB of storage — plus a microSD card, if you want. Of course the Turbo name is synonymous with battery now, too, and Motorola has bumped up this cell to 3760 mAh. It also includes super fast Turbo Charging from the included Turbopower wall charger, which aims to add 13 hours of use in just 15 minutes of charge. Motorola included both Qi and Powermat charging, too — this really has everything when it comes to power.
A shatterproof screen
Motorola's Rick Osterloh wasn't on stage more than 10 seconds at the launch event in New York City before he painfully dropped a Droid Turbo 2 directly, screen down, onto a concrete slab beside him. The crowd winced, which played right into his sales pitch — because the Droid Turbo 2 has a shatterproof display. Motorola is calling it "Moto Shatter Shield" — and it comes down to the combination of a flexible P-OLED display, a dual touch layer, a super strong glass covering and a secondary shatterproof lens on top.
Motorola is going so far as to guarantee that your Droid Turbo 2's display will never shatter, which is pretty bold but is a huge selling point when you consider how many shattered screens you see on phones out there today.
As you'd expect, there are compromises involved with having a nearly indestructible display. The 5.4-inch screen runs at QHD resolution, which is nice, but the color temperature and brightness leave something to be desired — even compared to the 1080p AMOLED screen on the much cheaper Droid Maxx 2. You'll also have to manage the much larger side bezels, as noted earlier, and you may be slightly put off by a small (but noticeable to my eyes) gap between the "top" of the glass and the actual display, which is thanks to the multiple layers of protection.
Despite being very high resolution the Droid Turbo 2's display just doesn't look all that good, which once again may have been manageable on a sub-$400 Moto X Pure Edition but is less acceptable when you start pushing Note 5 price territory.
Image 1 of 5
Quick camera impressions
Want to know how the Droid Turbo 2's camera performs? Take a look at our impression of the Moto X Pure Edition. Once again Motorola has trotted out a 21MP sensor, backed up by the same camera software and yes the distinct lack of OIS. In my first few snaps it seems to take solid — albeit unspectacular — shots that can really be described as "Motorola-looking" if you've used any of the last two generations of Moto phones.
That'll do just fine for most, really, but it seems to still come up short of the highest-end phone cameras out there (looking at you, Samsung and LG). And while that was acceptable in a sub-$400 Moto X Pure Edition it's a bit tougher of a sell for a phone that's retailing for $624 and up.
Hope you like Verizon software
Since Motorola took over as the exclusive Droid manufacturer for Verizon we thankfully saw a new software approach for the latest models, and everything you find on the Moto X Pure Edition is also here. The software experience is simple, light and has a few useful features baked in. The Droid Turbo 2 also has plenty of Verizon ... enhancements, though.
There are dozens of pre-installed apps, as you'd expect, ranging from a few Amazon additions to several different useless games and the full suite of Verizon's own apps. Those are annoying and take up space, just as they have on every previous Droid, and the Turbo 2 has about 19.5GB of free storage on the 32GB model.
More to come
We're just scratching (but not shattering) the surface on the Droid Turbo 2 here after a handful of hours using it. Beyond a forthcoming complete review, be on the lookout for Android Central to provide you with all of the additional information you need to know about the phone.
Get the Android Central Newsletter
Instant access to breaking news, the hottest reviews, great deals and helpful tips.
Andrew was an Executive Editor, U.S. at Android Central between 2012 and 2020.