Droid RAZR about to get bugfix update, including data and camera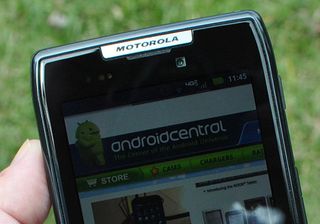 Some good news for those of you suffering with that little slice of sexy otherwise known as the Motorola Droid RAZR: An update's on the way (and we're told that a soak test has already begun) that's going to squash a few bugs, including that blasted SIM card error, and to improve the camera. Here's the list:
SIM error notification has been fixed
Improved camera features and quality
Improved stability of menu access, browser, phone dialer, video playback and music player to prevent force-close errors and lockups
Updated group message notification in e-mail
Improvement in 3G/4G data connectivity
Maintain network connection upon completion of a voiec call
Background color has been adjusted to improve readability in Lapdock connection UI menu items.
Good stuff. Look for the update to drop any time now.
Source: Verizon (pdf); thanks, @yankees368
We got our update. It fixed connectivity *mostly* seems to have created a while slew of new bugs though. I've had more random reboots than I've ever had with an Android device.. even more than my Incredible running Ice Cream Sandwich.

Moto always seems to have problems with buggy updates.

It is old news. You won't get anything anytime soon for that.

Again, updated last week. I have had no data issues, and the camera is now MUCH better. I actually got rid of ZOOMCamera FX and am using the stock camera now.
Unfortunately didn't do anything for the audio whine/buxx on my device.

Unlock. Your. Bootloader. Now.

This would obviously be an instant win for Christmas!!
But... with "Ebenezer Verizon Scrooge" in charge of the updates, fat chance.
So much for a white Christmas. :P

Requisite question: Will this break root? I have the OTA Rootkeeper from the market installed, so I'm guessing no. I haven't checked for the update, but wanted to make sure I won't have issues afterwards. I'm not experienced in whether or not the rootkeeper actually works across updates.

I manually did a "Forever root" which is basically the same thing as OTA Rootkeeper. The soak test OTA still broke the root. However, just re-run the original Zerg Rush root exploit and it rerooted without issue. Minor hassle.

Thank you Motorola! I'm very happy with this phone.

I was happy with my bionc till it updated now they are sending me another one. Connectivy is worse and so is battery life and i'm gonna stop there. Good luck razr

I got the update last night. My house & most of the rest of the places I go have solid 4g coverage but my office is in a business park at the edge of town where 4g coverage is a bit spotty. Before the update my phone would hunt between 4g and 3g, sometimes losing the connection entirely while making the handoff. So far after the update I still get a decent amount of switching between 4g/3g but it seems to have fixed the issue where it loses the connection entirely. So, preliminary verdict: nice job by Motorola.
Android Central Newsletter
Get the best of Android Central in in your inbox, every day!
Thank you for signing up to Android Central. You will receive a verification email shortly.
There was a problem. Please refresh the page and try again.