Droid Charge on eBay, might (or might not) beat out the official release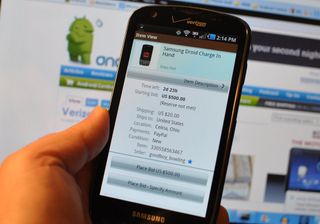 Yeah, it's a bit of a bummer that you have to wait on the Samsung Droid Charge. And, no, Verizon's not yet saying when it'll go on sale after today's official postponement. But if you're the gambling type, there's one apparently up on eBay, starting at $500, which is a fair initial asking price. It's said to be in the retail box, with all the Droid Charge accessories you'd expect.
No bids yet on the Droid Charge auction, but we'll keep an eye on it, we suppose. Anybody bidding?
Source: eBay (opens in new tab). Thanks, Nate, for the tip!
Droid Charge Specs | Droid Charge Forums | Droid Charge Accessories
It's not postponed anymore. I work at Best Buy Mobile and yes it was this morning, but around 12pm we received an e-mail saying that we could sell the Samsung Charge. Probably the reason this guy got one.

Meh. I don't doubt the screen is nice, but this is 2010 hardware/software (except for LTE, of course). If I were due for an upgrade, I would hold out. But hey, that's just me.

My walmart has them for sale #1711
Android Central Newsletter
Get the best of Android Central in in your inbox, every day!
Thank you for signing up to Android Central. You will receive a verification email shortly.
There was a problem. Please refresh the page and try again.