Does the Fitbit Charge 4 charging cable work with the Charge 5?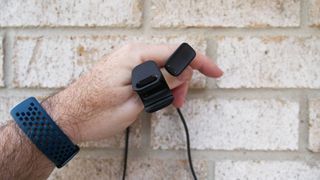 (Image credit: Jeramy Johnson / Android Central)
Best answer: No. Fitbit introduced a new proprietary charger with its latest tracker. So you won't be able to use the Fitbit Charge 4 charging cable with the new Fitbit Charge 5 tracker.
Time for a change
Whenever a successor is released, there's always the question of accessory compatibility. In the case of the new Fitbit Charge 5, most people will want to know whether the previous Charge 4 charging cable will work with their new device. Unfortunately, the answer is no.
Fitbit has released a new proprietary charger and its latest fitness tracker. While this is frustrating, especially for users who own the Fitbit Charge 4 and want to use the accessories they already have available, it's not the craziest concept to grasp.
When you take a closer look at the Fitbit Charge 5 and the Charge 4, it's easy to see there were many positive improvements made to the physical design. In fact, it's an entirely different shape than its predecessor. Not to mention that the Charge 5 is also significantly thinner than the Charge 4 — a full 10% slimmer, to be exact.
The charging cable isn't the only new accessory associated with the release of the Fitbit Charge 5. The changes to the physical design also mean there's a new proprietary band system. While many users will be satisfied with the band that comes with their tracker, you'll have to buy new Fitbit Charge 5 bands if you're looking for something different.
You won't be able to use any previous Charge 4 bands with your new tracker, nor will you be able to use the Fitbit Charge 4 charging cable with the Fitbit Charge 5. While change can be difficult after being used to the same thing for so long, these are all improvements that you'll be thankful for later. If you can embrace change now, it'll be worth it in the grand scheme of things.
Out with the old, in with the new
Time for a change
If you're one of many people who's impressed by the Fitbit Charge 5's stunning new design, you might not be too shocked to learn that it also comes with a new proprietary charger. With so many changes to the size and shape of the case, it makes sense that Fitbit had to add a new charger to the mix, too.
Be an expert in 5 minutes
Get the latest news from Android Central, your trusted companion in the world of Android
Courtney Lynch is a freelance writer at Android Central. She's obsessed with all things health, fitness, and music. At any given time, she can be found checking out the latest and greatest gadgets while simultaneously petting her dog and sipping iced coffee.