Does anyone actually use Digital Wellbeing?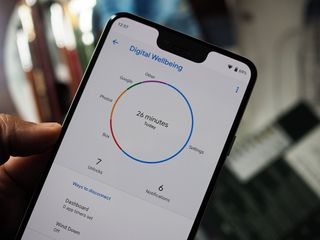 (Image credit: Android Central)
Android 9 Pie is full of all sorts of features, one of which is Digital Wellbeing.
Google created Digital Wellbeing with the intent of helping you use your phone less. This is done by showing you how much time you spend on certain apps, how many notifications you receive in a given day, giving you the ability to block apps after X amount of time, and turning your screen to grayscale at night to make it less enticing to use.
All of these are helpful features that can make an impact on how often you use your phone, but is anyone actually taking advantage of them?
Here's what the AC forums had to say.
What about you? Are you using Digital Wellbeing?
Get the Android Central Newsletter
Instant access to breaking news, the hottest reviews, great deals and helpful tips.
Joe Maring was a Senior Editor for Android Central between 2017 and 2021. You can reach him on Twitter at @JoeMaring1.
I agree. I love the wind down feature. I recently started using and it reminds me when my phone screen turns greyscale to go to sleep.

Just about the single most useful feature for peace of mind. App limitations are nice as well.

Digital Wellbeing is just another collection of data for Google about how you use your phone. I have no doubt they use the data to better target ads to users. Stop being sheep for Google.

Yes, because they didn't collect the same data before they introduced Digital Wellbeing.

Lol. Like the sarcastic response above, Google is actually showing us inside their analytical process with this app. On a serious note I love wind down. I rarely pick up my phone before bed now. Nice to 'tune out'.

Point taken, lol. I got better things to do than obsess over what I use my phone for though... Seriously.... Here are the details how you blew two hours of your life.... 😂

We're already modern slaves so ¯\_(ツ)_/¯

I don't use it because it's not available on the OnePlus 6. I'd love to be corrected but it seems it's only available on Pixel and Android One devices.

I never use any of the silly health stuff on Android or iOS. The report of how much time I spend on screen is always like "yeah, that's about right" and that's it.

Wind down is nice. I already was using the night filter in a similar fashion before.

Well the feature is on, but I never really check to see how I use my phone everyday. When the feature was first available I was curious to see how and when I use my phone. It was very interesting information, now I know which means I don't check in everyday to see!

ZERO interest in the app.

I completely forget it exists until I see an article like this but 5 minutes later I'll forget again.

I use the app timers for social media and think it's a great reminder not to check out of real life too much.

I've read about it but never even opened it. I don't spend hours on my phone too often to need my phone telling me to "STOP IT"

I just checked: "Your device isn't compatible with this version'. (OnePlus 5T, running Android Pie). Regardless, this is probably a moot point as I'm not looking to have my phone usage nannied. I don't think I'd use it even if I could.

nope, cant use something you don't have!

I can't see it integrating with Action Launcher at all. I have them both and nothing shows up in the long press menu on the launcher. Am I missing something Ara?