Do you use microSD cards with your phones?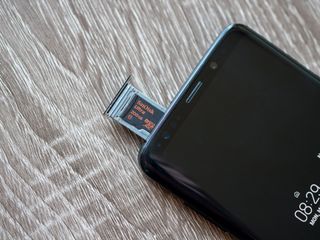 As time goes on, there are some smartphone features that we see come and go. IR blasters used to be a staple on most flagships, but in 2019, they're non-existent. Just about every phone had a removable battery a few years ago, but that has long been forgotten.
Most recently, we've started to see the gradual death of the 3.5mm headphone jack and microSD card slot. These two features used to be staples of Samsung's Note series, but on the Galaxy Note 10, they're nowhere to be found.
This got some of our AC forum members talking about their own usage of microSD cards, and this is what they had to say.
Now, we want to hear from you. Do you use microSD cards with your phones?
Joe Maring was a Senior Editor for Android Central between 2017 and 2021. You can reach him on Twitter at @JoeMaring1.
There are certainly ppl that fall into both use/need and never used/no idea. Personally, storage expansion is critical to me. Just as ppl have said on board memory is all they need, but if that device is broken your pix, downloads, etc are all lost. Some will go for cloud upload of pix which is good, but you have to pay for that in MOST cases. I also store music on my phone. 20-30GB of it. The whole purpose of having local music is to avoid excessive data usage, or when data isn't even available. The lack of microSD card combined with the gross look and boring/no features have stopped and will continue to stop me from even considering a Pixel. Especially at flagship prices.

I totally agree with everything that you've said. I also still use SD cards because I don't believe in only having cloud storage since I don't want to always depend on the cloud. Anything can happen there and has happened before. Why would I trust all my stuff to someone else? What if their services shut down temporarily? What if they decide to shut everything down? I'll have to scramble to find ways of storing all my stuff. What if I don't have an internet connection? What if I don't have a reliable one? There are too many factors out of my control there.

For me, it's not a question of trust, it's more a question of why I need to use data to access my files. Plus, when my Note10+ arrives in a couple of weeks, I can swap my SD card from my Note8 and I'll be up and running in no time at all. Sure, SD cards are known to fail occasionally, so you back up the contents on a computer once in a while.

Exactly! I don't understand why people don't see this. I have 128 in my current phone, 6T, and I'm constantly running low. I'm going to use USB-C drives to transfer my data, but MicroUSB would be so much easier, and the possibility of losing the drive is what I need to consider now.

I haven't used micro SD cards since 2016. Once I upgraded from the HTC One M8 to the 1st Gen Pixel with 128GB there was no turning back.

Not anymore. I have a OnePlus 7 Pro with 256GB of storage. That's double the 128GB I had on my last phone (64GB built in + 64GB SD card).

Yep, I use mine everyday. Got a 512GB card in my Note 9. Pretty much used for flac files, videos, pics and backup purposes...

I agree. I have 64gigs on my Note 8 and use my 256 gig SD Card for various music, movies, pictures and every other thing I backup.

I dont need storage space for music or even videos. I do have a number of photos that I consider important. Those are backed up to cloud on two different services. My phone has 64 gigs onboard and while that is adequate I covet a bit more. A future phone needs to have 128 gigs. But no I never use expandable storage.

I had always used them and even tried in my note 9.
Then I kept having problems with the card randomly not being recognized.
I realized with 128gb storage I really didnt need a card anymore and have been fine so far.

Yes. Indeedy. Still comes in useful. Even if current devices are starting to offer more than enough on-board storage. It's good to have what basically acts as an augmentation to the physical memory of the device. Besides I don't want my information on the cloud in any shape or form...so a memory card can help there too.

Using a 128GB card in my Note 8. Its where I put all my music files - downloaded playlists from Spotify, and Apple Music files.

No, I don't have the option. Thanks Google.

An sd card slot is a requirement before I'll buy a phone. The card on my galaxy s10+ is 256 GB. It serves as a backup to phone docs and files. It also has all my dslr photos uploaded from pc as well as music. I've already used 135 gb. I prefer to minimize my exposure to the cloud.

Never missed it with my Pixel 3a. 64 GB together with cloud seems enough for everything for me.

Sd cards are a great way to store away music, movies and memories. But what the heck, technology demands that it should be done away with. I used sd cards before but not anymore. Most of my important stuff is stored in the cloud. The rest in the phone memory. That's why I go for phones with at least 256gb memory.

I always use an SD card. Didn't you used to have a poll system where I could just click my answer and it would show the results of those who responded -?

Yeah, whatever happened to that?

Not sure if this happens much any more, but I've done updates to my phone that don't go well and I've had to factory reset the phone. Had I not had an SD card, all my photos and music and videos would have evaporated. Call me a millennial curmudgeon, but I'm not on the 'upload everything to the cloud' (especially google cloud) bandwagon. I just like having my stuff local. It is a big factor in my device buying process. I was hoping to get a Zenfone 6 which has all my boxes ticked as far as no notch, SD card and big battery, but it won't work on Verizon, so I may have to settle for a One+ 7Pro, which is ironic since that's the antithesis of their motto, but whatever. It's just a phone right?

Sd cards always...when switching phone moving data can be a pain..with ad card its soo much easier...just brought 200gb card for my Note 10 plus

Not yet mentioned- MicroSD cards are WAY cheaper than internal storage. I can get 512GB for $100, vs $300 to upgrade a Note 9 to that point. And it's only $20 for 128GB. Combine that with not losing photos if the phone dies, and ease of setting up the phone in the first place, and it's a must-have.

It is nice to have some local storage for things when signal drops for streaming (upper Michigan is not fully covered by anyone), plus additional media storage is dirt cheaper (and gets cheaper by the day) with microSD, but all companies charge a premium to up internal storage.

Yes, definitely. I use my sd card on my Galaxy s9 plus since I take alot of videos with my phone and adit them on phone. The cloud is not an option for me.
Another thing is that I keep alot of music tracks on my sd card to use on planes or other places without wifi or signal.

Always default to SD card and backup every 6 months. All my pics do go to my Google account, but nothing is infallible. I always want redundancy. Also, if your phone breaks, how would you get your pics off of there? My last phone, I was at camp, with no signal. I took a bunch of pics, nothing would upload to the cloud, and then my phone took a swim (long story). I was able to recover all my pics, because I had an SD card. The phone would not connect to a PC either.

Yup, just recently had a road trip, driving for hours each day. Large portions of that time, there was either no signal, or it was pretty unreliable. If I'd kept my music stored in the cloud, that would've been a pretty quiet drive. But I keep all my music on an SD card, so I can just shove it into each new phone and instantly have all my music already. No depending on the cloud or a 4G signal, and don't need to spend hours transferring it from phone to phone.

I won't get a phone without SD Card storage unless it comes with much larger than 128GB.

Prefer one with a SD slot it was one feature that separated Android from Apple.

Neither my Nexus 5 nor my Galaxy S6 featured a card slot. My Huawei and Honor do. - Android tablets? Neither my "toy" Tom-Tec, nor my Nexus 10, nor my Pixel C. I think my Xiaomi Mi Pad 4 Plus does. Not sure about the Huawei Mediapad M6 I ordered yesterday.

Until the internal phone storage exceeds 1TB, I won't have one without a SD card. All "MY" data is on the SD card, none in the phones storage.

No I've never used an SD card. I've never came even close to full capacity on any phone I've ever owned. When I got this S10+ a couple of months ago I accidentally threw away the SD card removal tool because I didn't recognize what it was.

Apart from my oldest smartphones (Qtek 9100, Sony Ericsson Xperia X1), only two of my latest feature a card slot, microSD or that nanoSIM-card format.
No, I don't use memory cards with my smartphones and tablets, but I could use card readers (even with my iPhones). However, I'm entirely into cloud storage (including a NAS).

Sd cards have given me issues so I'll do without them in phones

I love having an SD card. I like being able to just pop the SD card into my new phone and all of my music and pictures are already there with no delay. I don't care if my new phone has 1TB of storage. It takes way too long to have to back it up and then transfer it to the new phone. I'm guessing they will stop putting the slot in phones within the next year or two and it's going to be a real bummer for me. I hate how they stopped putting the IR blaster in phones a few years ago too. That was super useful to me.

SD cards have their place and fire me, pictures, vids,etc. If anything happens to the internal storage, they are safe. I can transfer the card from one phone to the next in seconds. I can access the files I need whether I'm online or not. If I am running out of storage on my phone, my card will be the go to in the event I need to move them (again in seconds). Some secure situations wouldn't allow to transfer files to the cloud. There's still a place for them. Best to have it as an option. Don't like it? Don't use it.

SD cards are mandatory for me when buying a new device. It's great having that peace of mind that your stuff will always be there when your phone craps out. Screw the cloud.

Definitely use the SD card on very phone that will take it. System and apps on internal memory, media and data on the card. That data includes the blueprints for entire hospitals, the entire Studio Ghibli collection, and several full length movies as well as several GP movie downloads. Current card is a 256 GB Samsung card on top of 64 GB internal storage. Phone supports two terabytes, so it should be pretty future proof. I had a couple SD card failures in the old days with Palm devices, but never had a card go bad in an Android phone (yet). But when that day comes, I have backups which are easy to make just by plugging the phone into the computer. The phone is just as fast as an iPhone XS Max and Galaxy S10, so I'm not buying the "Slows your phone down" story. That happens when you run apps from the card, which I do not do.

Those that supported it, yes, I used the microSD. That's where music, video, maps go.

That reminds me I have to get another SD card for my phone, for some reason the one i have got is not playing ball anymore.
i prefer local storage and tend not to use the cloud if I can help it.
Android Central Newsletter
Get the best of Android Central in in your inbox, every day!
Thank you for signing up to Android Central. You will receive a verification email shortly.
There was a problem. Please refresh the page and try again.