Do you think the Pixel 4 is still worth getting?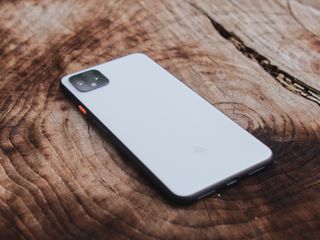 (Image credit: Joe Maring / Android Central)
Here in mid-2020, the Pixel 4 (opens in new tab) and (and 4 XL (opens in new tab)) are two phones we still tend to recommend quite a bit. They aren't perfect devices, largely in part due to lackluster battery life, but things like the camera and software allow them to stand out as worthy Android handsets.
The fact of the matter, however, is that the Pixel 4 series is quickly approaching its one-year birthday. With the Pixel 5 expected to drop in the coming months, are other people still eager to recommend the Pixel 4 as a good purchase?
Here's what some of our AC forum members have to say.
Now, we want to hear from you — Do you think the Pixel 4 is still worth getting?
Get the Android Central Newsletter
Instant access to breaking news, the hottest reviews, great deals and helpful tips.
Joe Maring was a Senior Editor for Android Central between 2017 and 2021. You can reach him on Twitter at @JoeMaring1.
Pixel owners already have additional years of Android OS software support, so I don't see them benefitting from upgrading from one average spec phone to another. The poor specs are a deal breaker for me. I buy the best from Samsung, but only every five years. I won't consider replacing my Note 8 until 2022. The Pixel 5, whenever it gets released, should struggle in the mid range because it is still expensive. Expandable micro SD storage is something I value greatly, and is missing on Pixel phones, among other factors that make it inferior, even among other mid range phones. The Pixel 4, now with a discounted price, is probably a phone worth at least considering, if you don't need a lot of storage space, nor spend a lot of internet or app content time on a smartphone beyond the basics.

PS There is zero long term value in phones. Any mobile phones should be purchased at a discount in the month before or months after its successor.

If you don't mind me asking, what Android version is your Note 8 on, and are you still getting security updates?

Android 9, 1.0 UI, yes, getting security updates, usually a month behind. I have zero concerns about my mobile security. Name the last mass hack of an android device that did not require physical access? That's right, you can't, because it has never, ever happened. But I hope my reply helps you.

I think so, but my sister complains a lot about the battery life.

It wasn't worth getting when it was new. Now we live in mask-world, a phone with no fingerprint sensor seems even less appealing than it did when the phone released.

Yeah, good point. I like having additional options when I'm wearing a mask.

Other then the camera I don't see the reason to get it over my Android one device that was considerable cheaper. If I was going to spend that kind of money I'd spend even more for the Fold due to opening drawings (I work for an architectural firm) instead of carrying a tablet or laptop around.

I got the 4xl for 300 off from the Google store 8 weeks ago. At this price It's worth the 💰. But I would have never paid full retail. Don't get wrong I enjoy it very much but the asking price was just too much when it was released!

Not worth replacing my P3XL at all really imo. Hopefully the 5 ends up being great or I may end up jumping back to Samsung or even a One Plus phone.

I'm new to using Pixel devices as I just switched from my G10e to the now discontinued Pixel 3a XL. Love this phone and of course the camera!

All these "negative Nancys" who have never owned a Pixel 4 making comments about it. Your opinion is worthless. I actually own and use a Pixel 4 every day. I've had it since they were first introduced and have not had one problem with it. Battery life for me is fine. The ease of use, the performance, the cameras all make it one of the best phones I've ever owned. I'll take a Pixel over anything from Samsung, with all the Samsung bloatware and issues, any day.

Call people negative, then tell them their opinions are worthless. Great way to be positive lol. Whether you like them or not, our opinions were asked. Just like your own, they are largely worthless, but were still solicited. Calm down, the fact we don't like the game y phone as you isn't a personal slight, just personal taste.

Exactly Fuzzy... And no, I've never understood people who regularly upgrade average spec phones... It's irrational.

If it is only $350 you are darn right its still worth getting!!!!

All things considered...I love my Pixel 4 XL. would I have in hindsight waited a few months and pay bus for it yes. But it does everything I needed to do and more and does it fast does it clean and with good battery life. As much as I am at my desk with access to a charger or in my car with access to the charger battery life is not a huge deal for me.

If you can find a new one for like $400-$450 or so then maybe. At the $799 minimum that Google is charging? Nope.

Do you think the Pixel 4 was ever worth getting?

The Pixel 4 isn't worth getting and neither is the 4 XL especially when it loses to the standard iPhone 11 in battery life lol. I'm so glad I'm getting an iPhone 11 instead.