Do you still use Samsung Dex with your Galaxy smartphone?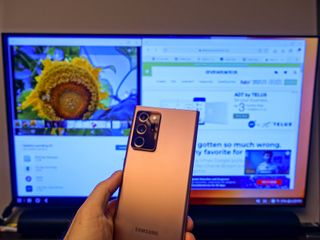 (Image credit: Daniel Bader / Android Central)
We're revisiting another popular forum discussion today and checking in with our AC community on Samsung Dex. Samsung introduced this new computing form factor back in 2017, and over the past couple of years, it brought the ability to connect your Galaxy smartphone to a computer wirelessly.
The problem is, not everyone knows how to use Dex with their Galaxy phone, or even if they do, they still report issues in the process. In particular, AC forum members report issues using wireless Dex with a monitor or TV.
Now we want to hear from you — Do you still use Samsung Dex? Do you have any issues with it? Let us know!
Join the conversation in the forums!
Jeramy is proud to help *Keep Austin Weird* and loves hiking in the hill country of central Texas with a breakfast taco in each hand. When he's not writing about smart home gadgets and wearables, he's defending his relationship with his smart voice assistants to his family. You can follow him on Twitter at @jeramyutgw.
I use it almost daily and I really enjoy it. It has a few bugs, but overall, it's an excellent experience.

I toyed around with Dex a bit when I first got my Note9, but I've never really found much of a real-world use for it since then.

Same. No point. I bought an iPad instead, cause it has the apps android lacks for using a phone or tablet in that way while working g out of the box with apple keyboard and mouse.

Use it on my Galaxy Tab S7 all the time. Genuinely considering returning to a Samsung phone because of it.

I don't use dex much at all. Microsoft's Your Phone though has been very useful. I suspect that some of the work with dex is what enables the multi window support there.

I can see a real world use for Dex. However, my work flow and use case doesn't call for it. It's a shame because I have tried and I do like it. I hope they keep developing it.

I keep coming back to Dex, thinking it's possible to integrate into my every day. Dex on Windows works decent, but I have a Windows desktop so it seems kind of redundant to run Dex on it. Maybe if I had a tablet to run it on while I'm not at work or at home, maybe I could use it.

I use it daily together with a lapdock. It makes any app on the Note 20 Ultra that can use a keyboard or displays more than a phone screen of info so much easier.

Yes, although not wirelessly because that is still a pretty terrible experience. Instead, I use either a Samsung DeX Station dock (the original from back in the S8 days), or a Skull & Co. Switch dock, both of which allow 1440p display output and full DeX support. I use it on a daily basis with my Note 10+ (prior to that on my S10+) for all sorts of general tasks, as well as things like photo and video editing as it's just a lot easier to do the work on the source device rather than exporting and uploading or syncing to another device. I went so far as to sell my desktop PC in favour of just using DeX. I also use it for gaming, whether it's native Android games (Grid Autosport plays very well on DeX, even supporting ultrawide 3440x1440 resolution), retro emulation or streaming services like Game Pass and Stadia. I would love to see developers start to port full desktop-class software over to Android to make use of interfaces like DeX (as well as Huawei's, LG's, and Motorola's desktop modes). Phones are more than powerful enough these days to run such software without issue.

Yes, everyday since 2019, it's my Chromebook, my computer for work and personal use.

I use it when I travel and it works well enough.

Before lockdown I used it while travelling and appreciate the functionality... Can't ever see me using it at home or in the office because I use a PC when sat at desk...

never even tried it. no need for it
Android Central Newsletter
Get the best of Android Central in in your inbox, every day!
Thank you for signing up to Android Central. You will receive a verification email shortly.
There was a problem. Please refresh the page and try again.