Do you still use Google Hangouts?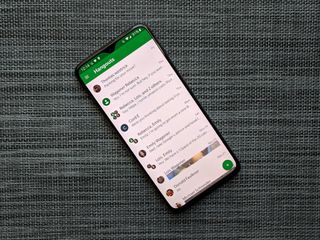 (Image credit: Ara Wagoner / Android Central)
Google Hangouts is in a bit of a weird spot. Google has been very upfront about the chatting/video calling app being shut down at some point in the nearish future, but for the time being, it continues to operate and work perfectly fine. In fact, the app was just updated on June 11 — indicating that Google is still working on it to some degree.
Seeing as how the app is in something of a limbo right now, we ventured into the AC forums to see if anyone was talking about it.
One user asked if anyone out there is still using Hangouts here in 2020, and the responses were somewhat surprising
What about you? Do you still use Google Hangouts?
Joe Maring was a Senior Editor for Android Central between 2017 and 2021. You can reach him on Twitter at @JoeMaring1.
yes. I use it with my kids, and they use it with soem friends/family.

I too use it with my kids since they can't use duo on their tablets.

Never used it. Like iMessage and RCS it's only a thing in North America. Oh wait I used it once in Gmail about a decade ago. WhatsApp is too ubiquitous outside of North America.

Barely ever. Annoyed of all shy google attempts. I used gtalk a lot, gave an opportunity to hangouts... Disappointing. Then I gave another opportunity to allo, which was nice (I'd like the ability to increase the size of a text in Whatsapp...) but then they gave up ...

I did because I enjoy much better the call quality as well as the FaceTime feature on it.

Funny, I just used Hangouts the other day because Apple's stupid ecosystem does not "easily" have a way for me to copy and paste links from my PC to my daughter's phone or Chromebook. Yes I could have picked up my phone but it is so much easier to copy and paste links from a PC and I don't have a Mac. I used Hangouts through gmail's web page, I was surprised it still works but that just shows how useful the Google ecosystem is over Apple. Side note, the fact I can download most google apps from the apple store makes my iPhone bearable.

UK here, no one I know has ever used it.

I use it but mostly due to the tie-in with Google Voice

I have been using it since the outset with two friends, and we still use it. None of my other family or friends are still using it (if they ever did).

I honestly don't know anyone who used it in it's prime....did it even have a prime? Most people in the UK don't even know it ever existed

I use it everyday with friends and family.

I use it daily with my wife instead of text. I like that we can go from our laptops to our phones, or any combination of all the devices, and still keep the conversation going. I will miss it when it's gone, but we have both already started using Telegram, and I am happy they have apps for our laptops and phones.

Yes I still use hangouts, I love it. I use it on my tablet, phone and mutliple PCs. i use it for SMS and chats. The interface is easy to use an flexible, I wish Google could keep it around.

Yes, I use it with all of my immediate family members.

I use it, but once Google shuts it down, I won't be using any of their alternatives since at some point they will just shut those down, too.
Android Central Newsletter
Thank you for signing up to Android Central. You will receive a verification email shortly.
There was a problem. Please refresh the page and try again.