Do you plan on upgrading to the Galaxy Note 10 from the Note 9?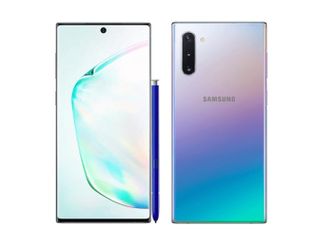 In just a matter of days, the Galaxy Note 10 will be made official. At this point, we already have a pretty good idea of what the phone will look like and what specs it'll be bringing to the table.
There's a lot of excitement surrounding Samsung's new phone, even among some owners of last year's Galaxy Note 9.
Taking a look through the AC forums, here's what some of them have to say about the Note 10.
Now, we want to hear from you! Do you plan on upgrading to the Note 10 from the Note 9?
Android Central Newsletter
Get instant access to breaking news, the hottest reviews, great deals and helpful tips
Joe Maring was a Senior Editor for Android Central between 2017 and 2021. You can reach him on Twitter at @JoeMaring1.
Not a Plan as such, but I will take a look at the Note 10 Pro. I have Notes 8 and 9, and I don't anticipate enough of a performance boost to justify another outlay of cash, particularly since it seems likely that the Note 10's will also be subject to that delightful, recurring rash of home screen pop-up ads! The Note 10 Pro will be bigger enough for me to take a hard look and consider swappa-ing the 8 and 9 to upgrade. One thing is for certain, before I decide, I will re-assess the Galaxy Foldable, if ever there is such a thing actually launched.

Yes I definitely would only IF it promises and brings everything to the table.

Not with that ugly middle hole punch

Not much to gain going from 9 to 10. So answer is NO.

I was excited at first. But I simply can't. I can't justify - even to myself upgrading at that price. Maybe when it goes on sale... Maybe. No upgraded chip over the S10. No 5G. My screen would be a downgrade from my Note 9 is I get the cheaper version. No headphone jack. No SD card. So at this point, I'll be losing functionality for a phone that's only hardly noticeably faster in speed with cosmetic changes. I will be keeping my wonderful Note 9. for the foreseeable future...

I am waiting on the announcement at this point I am still thinking of maybe going back to Apple but I may know one way or another after the announcement. Too many rumors that change almost daily. What I miss most is the Apple watch but most of my office are Apple users and they all use the walkie talkie thing instead of emailing or texting each other. If the one rumor of not having a sd card on anything except for the highest value phone I might even just get the largest S10 that has the sd card slot

The Note line has been my phone of choice since the Note 4.
Ive had every Note since then and the Note 10+ will be mine when available.

No I don't plan on upgrading to the Note 10.

After having the motherboard replaced a little over a month ago, and the screen, chassis and back glass replaced yesterday, my Note8 is practically brand new. That being stated, provided the larger Note10 has SD card support - I have read differing reports on this subject - I do plan on upgrading.

Nope. Going back to iPhone. The apps are better. I know it sounds cliche, but the Note 9 has been nothing but a host of compromises due to the bad Android app quality compared to iPhone. It completely let's the hardware down, IMO. Also, I miss iMessage. THe bad MMS quality and removal of Video Pro Mode are enough for me to ditch it. I have to send people Google or OneDrive share links for media, when I could just iMessage it before switching. I may even switch to the iPhone XS Max earlier, since I'm confident with Apple's support track record and am less of a spec hoe than I used to be. SD card support is unremarkable with 256-512GB storage capacities being commonplace.
Android Central Newsletter
Get instant access to breaking news, the hottest reviews, great deals and helpful tips
Thank you for signing up to Android Central. You will receive a verification email shortly.
There was a problem. Please refresh the page and try again.