Do you need a VPN service with unlimited bandwidth?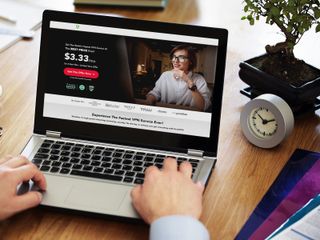 (Image credit: Shutterstock)
Amongst the many features that the best VPNs offer, one of the biggest selling points in marketing material is when a VPN offers unlimited bandwidth. That sounds appealing, right? Who can resist unlimited anything? In reality though, few of us will really need the promise of unlimited bandwidth.
Like a lot of the decision-making process about what VPN is best for you, it comes down to how you're planning on using the VPN and why you've signed up to the service in the first place.
Think about when you'll use the VPN
Why are you buying a VPN service? Is it solely for use when you're accessing public Wi-Fi and you want to make sure that your data is protected? In which case, you almost certainly don't need unlimited bandwidth as an essential add-on. If you only occasionally visit coffee shops or other places with public Wi-Fi to work then you almost certainly won't use much bandwidth each month. A limited bandwidth plan will be just fine, giving you plenty of data-based room for essential tasks before you head home to use your far more secure home network.
However, if you don't have a permanent base for your work, this may change. If you know you spend all day going from coffee shop to public library and so forth, it's smart to have a VPN that can keep up with you. After all, you have no way of knowing which Wi-Fi networks are legitimate or how secure they are. If you're switching between Wi-Fi networks numerous times a day, you want to know that your data is secure via a reliable VPN service.
That goes doubly so if you know that your work involves regularly checking your online banking or other security-intensive services. You need to weigh up how often your VPN will come into play. If, for the most part, you work from home, you really don't need masses of bandwidth courtesy of your VPN service. There are exceptions though.
When unlimited bandwidth is useful at home
Ok, so we're going to sound hypocritical here but there are actually scenarios where a VPN with unlimited bandwidth can be useful at home. Crucially, some ISPs use bandwidth throttling to control your online speeds if you happen to have downloaded a lot of data in recent times. Not all ISPs do this but if you're unlucky enough to be with such a service, you might find your speeds dipping every once in a while because you've downloaded a lot of content in recent times.
If you use a VPN, you can bypass your ISP's attempt to throttle your internet connection meaning you always have decent speeds when browsing (although typically at a little slower speed than your ISP offers due to the extra VPN connection). VPNs won't help you get around your ISP's data cap but if you're with a company that limits certain activities after a time, it can be useful sometimes to put your ISP off the scent. It's worth weighing up the price difference though. Sometimes, it may be cheaper to simply upgrade to a more expensive data plan with your ISP if this is a regular activity.
What about when I watch streaming services?
Hooked on that TV show that only an obscure flavor of Netflix country offers? If your VPN only offers limited bandwidth, you might find yourself running out of data before you've finished binge-watching. If you're watching standard definition Netflix, it eats up about 1GB per hour but that goes up to 3GB per hour for high definition content. An unlimited bandwidth plan could be essential here if you want to get to the end of your favorite show. Be sure to check out all of the best VPN options for streaming now!
When you might as well go with unlimited bandwidth
While some VPNs are considerably cheaper if you opt for a limited bandwidth plan, you really need to know how far that bandwidth is going to take you. Services like TunnelBear have a free service with only 500MB of data available to you, which is ideal for occasional use of public Wi-Fi when out, but it's not much use for longer sessions or if you tend to spend all day working between coffee shops.
For the most part, the price difference is minimal or non-existent between limited bandwidth and unlimited bandwidth plans when you look at more substantial services like ExpressVPN or NordVPN.
We're not recommending you pay for something you'll never use but that's exactly why it's worthwhile researching the different VPN service providers out there. That way, you can find one that suits your needs best. Be sure to take a look at our picks for the best free VPN services and the best cheap VPN services that you can sign up for right now.
We test and review VPN services in the context of legal recreational uses. For example:
1. Accessing a service from another country (subject to the terms and conditions of that service).
2. Protecting your online security and strengthening your online privacy when abroad.
We do not support or condone the illegal or malicious use of VPN services. Consuming pirated content that is paid-for is neither endorsed nor approved by Future Publishing.
Sign up for Black Friday email alerts!
Get the hottest deals available in your inbox plus news, reviews, opinion, analysis and more from the Android Central team.