Dish isn't too happy about T-Mobile shutting down Boost Mobile's 3G network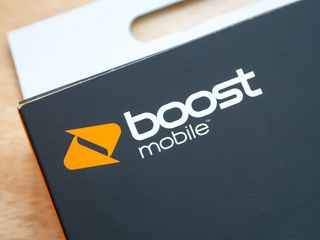 (Image credit: Android Central)
What you need to know
Dish is complaining to the FCC regarding T-Mobile's shutdown of Sprint's legacy 3G CDMA network.
T-Mobile is scheduled to shutter the network on January 1, 2022, earlier than the other major carriers.
Dish says this move could affect 9 million Boost Mobile customers who rely on the CDMA network.
Dish has a few choice words about T-Mobile. On January 1, 2022, the Magenta carrier is scheduled to shutter the 3G CDMA network inherited from the Sprint merger to refarm the spectrum for T-Mobile's own network. The move, however, took Dish by surprise and the new up-and-coming wireless carrier isn't happy about it. In a letter to the FCC (via Axios), Dish complains that the move blindsided it and that T-Mobile should wait longer.
The letter argues that roughly 9 million Boost Mobile customers will be affected by the shutdown since the prepaid carrier is now owned by Dish as part of the Spring-T-Mobile merger. Dish is allowed to piggyback on T-Mobile's network for a few years while it builds out its own. Still, apparently, the timeline that T-Mobile has set for its CDMA shutdown has not enough time for Dish to properly accommodate the customers still utilizing it. Dish calls T-Mobile out for contradicting itself on with anti-competitive such as this:
Even though CDMA access was not part of the terms of the Sprint-T-Mobile deal, Dish expected that T-Mobile would wait two to three years before shutting the legacy network down. The letter then brings up Verizon's CDMA shutdown date, which was recently extended for a final time to December 31st, 2022 despite "less than 1 percent of its customer base is still accessing the company's 3G network." That's about a full year following T-Mobile's shutdown date, despite fewer customers relying on it.
That said, if T-Mobile commits to its timeline, customers on Boost Network still have plenty of affordable choices when it comes to newer smartphones that don't rely on CDMA. Some of the best cheap Android phones like the Moto G Fast will work on T-Mobile's "expanded network." There are also plenty of affortable prepaid plans on some of the other best MVNO carriers that might be worth looking into.
Android Central Newsletter
Get instant access to breaking news, the hottest reviews, great deals and helpful tips
Derrek is a long-time Nokia and LG fanboy who loves astronomy, videography, and sci-fi movies. When he's not working, he's most likely working out or smoldering at the camera.
all.i have to say is it's about time CDMA gets totally shut down. I bet majority of boost customers have a phone not using CDMA as primary connection. Just shows even further how out of touch dish is in wireless. Good on TMobile for moving things forward instead of holding on to dead out of date Tech

Psshhhh 3G is soooo 2007. Get with the times ppl. Mobile technology progresses--you can't just use old dated tech and expect it to keep up to date with todays speedy phones

Not everyone requires or even wants a fast phone. Still plenty using a phone as a phone; have some friends who still use flips. However, in this case appears T-mobile outwitted Dish. If dish has needed it to hang around a bit longer, they should have written it in a contract and considering the circumstances, T-Mobile might have agreed. Too late to know now.

Imagine if instead of sitting on the spectrum that they have (and were supposed to be building their own network out years ago) they would have actually built out their own network, then they wouldn't be in the position. I have 0 sympathy for Dish.

For those who think T-Mobile is doing the right thing here (and I use T-Mobile) and that Dish is out of their league...without Dish all we have is 3 carriers which leads to LESS competition and HIGHER prices for us all!
Everyone is already complaining that all we have now is 3 phone OEM's...Samsmug, Pixel, and Crapple! Are we happy about that?

They have a whole year, that's plenty of time to get their customers in for a new phone. 3G came out in 2001, 4G UMTS came out in 2009 and 4G LTE in 2011. Dish/Boost had lots of time to know that with two newer technologies out, and a third, 5G on the way, that the legacy tech would have to go away. It's time to tell their customers "sorry, you've got a 15 year old phone, it's time to upgrade"
Secondly, while I understand some customers do not want to upgrade as often as mainstream customers due to budget or other reasons, I find it hard to believe that all of their customers bought phones 15 years ago and have never upgraded since 2011.
Third. It costs T-Mobile and the other carriers to continue to support old tech. Their workers have to maintain those old pieces of tech, repair them when they go bad (this crap is too old to be produced anymore), the old equipment takes up space on towers, the old tech requires precious frequency bandwidth that could be used for 5G or even LTE quite easily. All that, nationwide on thousands of towers, really adds up. Dish is trying to force this cost on T-Mobile, which forces the cost on customers, a recurring cost of maintaining this old tech on thousands of cell towers.
As a customer, I'd rather pay an upgrade charge of $100, rather than knowing that they're forcing millions of customers to pay an additional $5 per month to support 3 generations old technology to make some 15 year old phones work.

Old tech? They're disabling devices, some of which THEY were still selling less than 6 months ago.
Android Central Newsletter
Get instant access to breaking news, the hottest reviews, great deals and helpful tips
Thank you for signing up to Android Central. You will receive a verification email shortly.
There was a problem. Please refresh the page and try again.