Did you pre-order the Samsung Galaxy S9?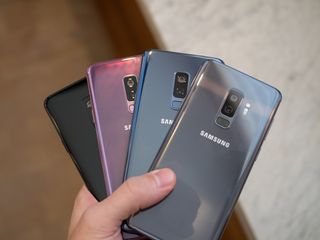 Just a few short days after they were announced at MWC 2018 in Barcelona, the Samsung Galaxy S9 and S9+ are now both available for pre-order.
You can pick up the phones from a variety of different retailers/carriers, and there are a number of on-going promotions to help offset the cost of the phones. Samsung is sweeting its trade-in offers with additional savings for students.
The Galaxy S9 and S9+ are likely going to be two of the best phones of the year, and now that you can reserve one for yourself, have you placed your pre-order yet?
Now, we want to hear from you – Have you pre-ordered the Galaxy S9/S9+?
Android Central Newsletter
Get instant access to breaking news, the hottest reviews, great deals and helpful tips
Joe Maring was a Senior Editor for Android Central between 2017 and 2021. You can reach him on Twitter at @JoeMaring1.
Yes, I did. I like the 6gb's, 845 processer, stereo speaker's, micro s/d expansion up to 400gb's, ip68, the variable aperture camera, wireless. When it comes to premium features this phone is unmatched, that's why. End of story!

I wanna wait to see colors in person

What did you upgrade from? Yes, you will notice the RAM... You can truly multitask and have a **** tonne of apps running and chrome browser tabs... That was the biggest difference when I upgraded from a Note 5 to an 8.

I think it's pretty awful that you need 6GB of RAM to multi-task on a mobile OS, when you can do this without issues on a Desktop OS with 4GB, and people will probably still be asking for more. I don't see this as a selling point, I see this as a workaround for an in-built platform deficiency. That being said, my Note 3 with 3GB RAM never felt like it was missing anything. I'm not even sure what people are doing on thier phones to feel like they need 6GB of RAM for "multi-tasking." It's not like they're running Photoshop on their phone, and any app that uses those types of resources really should have its developers thinking about what they have done wrong. Most of that stuff is PR spin and hype-generating niche features. This happens every year. I stopped caring about cameras about 3-4 years ago, when even mid-range phones became "more than good enough" for the average user. I almost never use my FFC and I only use it for video analysis apps. Stereo speakers have been a thing on phones for years now, so there have been other choices. IP68 is not new, and most OEMs won't cover water damage, so it's not something I'm going to change about how I use phones. I will never intentionally use my phone during a rainstorm, or take it in the pool, shower, or ocean at the beat... "Premium" features usually means "stuff that they use to jack the price up, which really aren't worth the price difference." This is why Samsung has always dumped features into their phones. To say "but it can do this" everytime someone asked why they were so expensive. Personally, the only thing that can make this phone attractive to me is if the Google Services were completely optional (able to completely turn them off) and it had a flat screen with a FP scanner on the front of the device.

I agree with all of of this except the last sentence. Well said regardless. Most people do not use all the "features" they use to rip people off.

Yes.........and then I woke up.

Pre ordered 3 S9+'s me and my wife are keeping our Note 8's though. Just will use both and switch Sims when we feel like it 😁 I'll trade in my Notes for the Note 9!

I never buy a phone before comprehensive reviews are out. Quality of images etc...

It's tempting, but I will most likely keep my Note8 until the Note9 comes out later this year. I really don't want to give my S-pen up.

Waiting for a link to preorder a unlocked from Samsung.com

No I didn't. I love samsung, but after giving up my S7 edge for the LG V30, there's no going back UNLESS samsung puts in a hifi dac that can, at least, match the fabulous one in the V30.

I'm actually impressed with the improvements made to Samsung's latest flagships. But there's nothing that's grabbing me yet, that I can't live without. I'll take a look at the Note 9/iPhone 10s in the fall instead. These phones have become too expensive to buy on a whim. There's needs to be a solid reason that I need it over my current phone. I think S7 owners should absolutely upgrade to this one however!

Totally agree. High prices these days have made it impossible for me to justify buying a phone "because it's new." This was a no brainer up until a couple of years ago. Now, prices rise year over year and it's simply not sustainable for me. You can build a complete gaming rig for the price of these phones. There are better things I can do with my money, considering how limited these devices are when compared to a real PC/PC OS.

Yes. Black S9. Some hiccups on the Sprint web site, likely due to user demand, but I got it ordered.

I'm thinking about it. I have the lilac S9 in my Best buy cart right now. Just haven't pulled the trigger. Really want to see reviews first tho to see if camera is good as Pixel 2 XL I have right now

Hell no ! After the Note 7 fiasco? Once burnt twice shy. 😀

I did only because I'm on the 12 month Next plan. Just trade in the s8 and get the s9 basically paying the same amount each month for it anyway.

I'm with T-Mo and they offered me $200 to trade in my Samsung S5 to pre-order the S9. I'm not throwing away my shot ($200)!
Also, my wife has the 8+ and I love it. I'm excited to upgrade from the 5 to the 9 and try out that new aperture option.

On the upgrade program here in the UK... Going from S8+ midnight black to S9+ coral blue. Similar monthly cost.

Pre-ordered the S9 plus at Best Buy, 100 bucks off! I'm trading in my S8 plus through ATT and looking forward to the stereo speakers and the camera!!

Of course not. Why would you pay full price for a phone at these prices?

Pre-ordered. The clincher for me was being able to get the unlocked phone directly from Samsung, and finance it at 0% APR. I'm still grandfathered on the $30/month T-Mobile prepaid plan, so as much as I despise paying $840 for a phone, being able to spread that out over 2 years without signing a phone contract at least took some of the sting out of it. LG, you missed your shot here-- I've been waiting for months for the V30 price to drop, but after reading more and more complaints, I just can't justify paying $40 less for six month old tech.

No pre-order for me. Sticking with my unlocked Galaxy Note 8 until the newest LG comes out sometime in June or July. It's all about the hifi dac for me. I wanted the V30+ but Lg being Lg wanted to announce the V30 and release it almost 2 months later. My Note 8 & V20 will have to do till the G7 or what ever its going to be released in June or July. Thanks for playing.
Android Central Newsletter
Get instant access to breaking news, the hottest reviews, great deals and helpful tips
Thank you for signing up to Android Central. You will receive a verification email shortly.
There was a problem. Please refresh the page and try again.